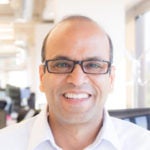 As we've watched the recruiting industry mature over the years, one thing has become perfectly clear: recruiters are an essential part of any company's success. They strategize, research, and rally around building the best teams possible, and they're increasingly using sophisticated, smart technology to do so.
We know how important this technology is to helping recruiters be their best — and we've always had the vision of creating a product that helps our customers learn from this technology to make more intelligent decisions about their talent acquisition needs.
I was reminded of this vision recently while driving. I drive my Chevy Volt to and from work every day, and I'm constantly in tune with how it's moving, what it sounds like and where it's going. How? Like most cars, my Volt has a centralized dashboard that helps me stay connected to my journey at all times. The speedometer offers me the most essential metric — a single score that describes control, visibility and a benchmark for future trips. With my electric and gas meters, I can see historical reports and trends of my car's performance based on miles driven and fuel needed — and it even forecasts the impact of terrain on future fuel optimization based on historical and current trips. Finally, the built-in GPS offers a roadmap of my journeys — past, present and future — so I can understand what's ahead with this trip and those to come.
Drawing on the Chevy Volt's comprehensive dashboard for inspiration, Jobvite has launched a brand new homepage dashboard, offering the support of complex analytics, reporting features and custom interfaces to better optimize their recruiting strategies. The dashboard's predictive insight will allow recruiters to forecast the success of their goals with a single glance, and offers recommendations stemming from performance-based metrics.
We like to think of it as a roadmap for recruiting, helping our customers on every (recruiting) journey they embark on. By offering the insights they need to make smarter decisions about talent acquisition goals, we're happy to provide an essential platform to drive any organization's recruiting success every day.