Do you remember that old saying about advertising? "I know half the money I spend on advertising works, I just don't know which half." Well, we all know that this is not the case anymore, and that marketing professionals are highly tuned into the performance of their marketing spend on search engines, on-line ad networks and even measured television and radio. But, recruitment advertising and sourcing has continued to be too much a mystery.
Companies spends thousands, and some hundreds of thousands of dollars, advertising jobs, primarily in on-line job boards. And most have no idea which job board nor which job advertisement is really working. New ways to reach prospective candidates have only increased this complexity. We at Jobvite heard these frustrations from our customers, and we thought it made sense to offer recruiters and HR staffing professionals similar insights on which parts of their candidate sourcing budgets are working – the same kind of data-driven insights which have been transforming marketing.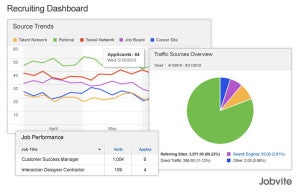 That's why today we're unveiling real-time recruiting intelligence in an intuitive dashboard that anyone can use. Now you can easily see in real-time where on the web applicants are coming from and which sources provide the most applicants that you actually interview or engage with. It's an intuitive overview of complex information for large enterprises and an actionable view of the data that matters to each individual.
The new recruiting dashboard built into the Jobvite recruiting platform is designed to be highly useful on a daily basis,  so you can better target the talent needed for your jobs – and get better every day.
You'll see:
Source Effectiveness: Relevant metrics on source performance throughout the candidate pipeline – traffic, referrals, applications, interviews, etc.
Complete Metrics: Consolidates performance by all candidate sources used by companies for filling open jobs.
Social Recruiting Performance: Tracks results of job information sharing in and across social networks.
Career Site Benchmarking: Reports career site and microsite traffic data and provides benchmark.
Highest Data Accuracy: Accurate intelligence derived from tracking every way job information is shared on the open, social web.
Personalized Recruiting Dashboard: Each user views relevant information specific to their needs.
Integration: Integration with human capital management, applicant tracking and recruiting software products provides data continuity and integrity – and one place to see results of all recruiting efforts.
You don't need to pay high priced consultants or implementation specialists to get this first of its kind recruiting intelligence. You'll find it in both Jobvite Hire and Jobvite Source products. So, don't wonder what works, stop wasting time with spreadsheet updates or pulling data from different systems – step up to the new recruiting dashboard. It's easy.