The Burson-Marsteller 2011 Global Social Media Check-up recently became available; this study quantifies how the Fortune Global 100 use Facebook, Twitter, YouTube and corporate blogs. Take a look at the full report for all the trends including:
A six percent increase in the number of companies using at least one social media platform.
A 25% increase in the number of companies using all four platforms.
Similar growth gains for Facebook, YouTube, and blogs.
More of these companies use Twitter (77%) than Facebook (61%)  – but corporate Facebook pages have exponentially more "likes" than Twitter accounts have "followers".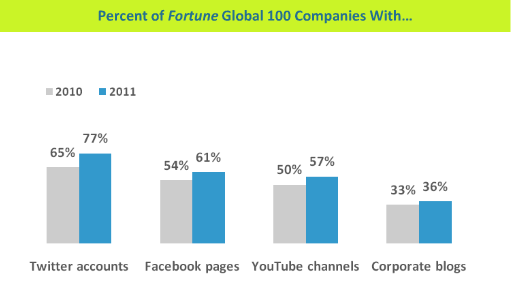 One big change is engagement and interactive conversation in social media. Last year, the report found that companies were mainly using these channels for one-way communication.  Now Burson-Marsteller reports:
 
 "76% more companies use the @ mention to reference or direct tweets at other Twitter accounts. This suggests a much higher level of engagement by corporations, as they use Twitter to converse with others and not just push out their own messages."
Among the Global 100, most corporate social media accounts are used for news, updates and customer service issues – but only one in ten companies mention career information or jobs. That's a missed opportunity; but we expect this number to grow as big employers realize the upside of integrating social recruiting with other social media initiatives.
We see many companies now using social media for marketing, customer engagement and recruiting – and those that do are building an advantage in competing for talent. For example, this Facebook page for Whole Foods  Austin features a job feed, so that fans can find out about opportunities without leaving Facebook. And this StarbucksJobs Twitter channel blends job news with information about the company and conversation with prospective candidates. Brand building and engagement in social media can easily do double duty to attract the talent companies need to hire.
And fortunately, social media is a great equalizer.  You don't have to be a Global 100 company to create a big presence in the community that matters to you.