From a jobseeker's standpoint, your career site is most likely the first touch point they have with your organization's recruiting process.  You are most likely directly or indirectly paying for jobseekers to visit your career site through your recruiting marketing efforts.  Imagine jobseekers coming to your career site looking for opportunities that fit their background, but not finding the right role at that exact moment.  Are you doing everything you can to capture them before they leave?  These are prime passive candidates – capture them into your pipeline!
With our award winning recruiting CRM, Jobvite Engage, you can easily improve jobseeker engagement by offering them an easy way to sign up for automated job alerts and simultaneously add them to your organization's own talent pipeline.  By using the Jobvite Engage "Join Us App", our customers can easily add this capability to their career site.  They can also configure the app to automatically augment the data coming in with tags, notes, and even add the jobseekers to recruiting campaigns.  It's an easy and effective way to have some of your sourcing run on autopilot.  Here's an example on Zappos, a Jobvite Engage customer: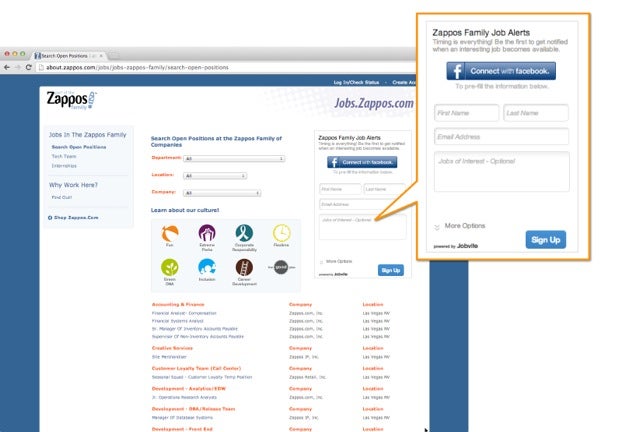 The "Join Us App" can also be configured for other recruiting pages and Jobvite Engage customers can create as many as they want.  We'll cover that in an upcoming post.  Stay tuned!