We had a great turnout yesterday for Laurie Ruettimann's social recruiting webcast. Laurie Ruettimann is the founder and chief blogger on Punk Rock HR, and a Human Resources speaker and writer who advocates for a common sense approach to traditional employment practices.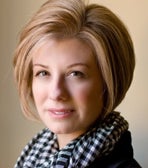 Clearly, people are very engaged in the topic Laurie addressed – Shake Up Your Recruiting Strategy in 2010: Get Social and Get Results! Over 1000 signed up before the webcast and more have continued to access the slides and the full webcast recording.
Social recruiting is top of mind as many human resource and recruiting professionals are thinking about strategies that make sense now – after budget cuts, after hiring slowly picks up, and after a critical mass of jobseekers and companies have increased their engagement in social networks.
The presentation provided a very solid grounding in why and how social recruiting plays a role in human resources and business strategy – it's not just having a Facebook page. Done right, a sound social recruiting strategy is a competitive advantage for your company – and for you as a recruiter or human resource professional.
"You can do it!"
Laurie's message of "you can do it" came through loud and clear.  And Laurie provided some very rich examples of companies with effective social recruiting practices and engaging career sites:
All great places to collect ideas – for those deep into social recruiting or just getting started.
Laurie's presentation has useful links and the recording has her thoughtful commentary on practical ways to approach the strategy.  In the Q and A, one audience member asked for advice on a fundamental problem faced by some recruiting department: their companies don't allow access to some social networks at work.  Laurie's advice?
"You need to break the wall down!" Make a thoughtful strategic business case about why access to social networks will benefit your company. And there's lots more good advice in the recording.
Many thanks to Laurie for an insightful and practical talk as well as to many people who attended and participated in the conversation.