Whether you are a hiring manager trying to fill a position or work in a company/department that is hiring you have invariably got that email from the recruiting team that says "Please forward this to your network".
We all have good intentions and want to help out and maybe earn a referral bonus so we click on the forward button in our email and then begin to sift through hundreds of contacts. I don't know about you, but I usually lose interest around "L" so if you last name is "Martin" and you may be right for the job, you are basically out of luck.
Luckily Jobvite recently launched the ability to match jobs with your Outlook contacts using our proprietary matching algorithm, so with a few clicks you can share the job opening with the relevant contacts in your address book, even with those named "Zimmerman".
Here's how it works:
1. You get a Jobvite from your recruiting staff and click to share.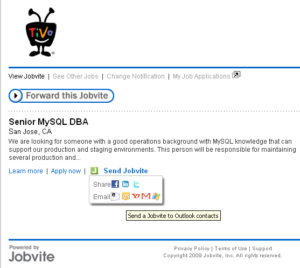 2. Click on the Send Jobvite via Outlook (note: Outlook only works in Internet Explorer).
3. Filter by  'Best Match' and your hundreds of contacts are filtered to those who match the job opening – and the results are ranked.
4. Select the recipients and send.
Success! In a matter of minutes you just shared the job opening with your contacts that are the most likely to be interested in the opening or know someone who is interested, now you can just kick back and wait for that referral bonus.
Oh and by the way, you can use the same matching technology with your Facebook, LinkedIn and Twitter contacts. If you want to try it out, go to some of Jobvite's current clients and send out a Jobvite for one of their open positions.
Twitter – LinkedIn – Zappos.com – TiVo – Infinera
This new feature is available in both Jobvite Hire (our applicant tracking and recruiting solution) and Jobvite Source (our candidate relationship management and sourcing app).
Start socializing your open jobs!