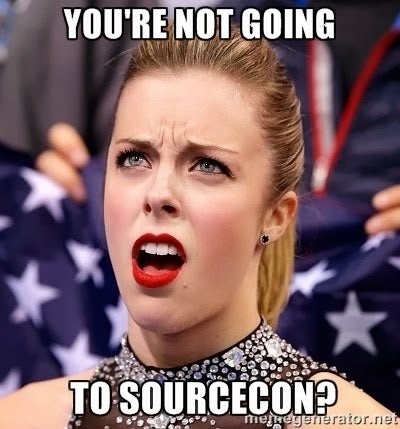 BBQ ribs, sweet tea, sourcing! What more could a girl ask for!? I'm a sucker for going to new cities and attending different recruiting conferences. So naturally, after attending SourceCon in Atlanta this past week I'm a happy camper!
Jobvite has attended SourceCon four times so far; all at different locations around the U.S.  Every time we attend it seems as if the conversations get more and more strategic. Recruiters and sourcers seem to be realizing that recruiting is becoming marketing and that sourcing innovatively is one of the most important parts of finding and retaining top talent. One track that stood out to me was, "New Ways to Effectively Engage Passive and Active Talent-Beyond Social Media Overload." In my mind, it is extremely important to always find new ways to get talent engaged; even if they don't know your company or aren't active in your system. Whether it's an email campaign or social campaign, you never what kind of 'purple squirrels' or golden candidates you can find in your own database!
We're so lucky we missed the winter storm that hit Atlanta last week! I like to think Jobvite brought the sunshine with our award winning recruiting platform. All in all this was a great show for Jobvite and we can't wait to attend the next SourceCon in Denver. Before I sign off, I'd like to shout out to my colleague, Tim Beaumont, who is an Atlanta local and took my booth-mates and I out to some great grub and tours of the city. One of my favorite spots was the BBQ joint, Fat Matt's, where I had my first Brunswick stew and sweet tea! YUM!
Until next time, SourceCon!