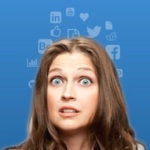 As social recruiting grows in both popularity and importance, hiring teams need to take a good, long look at how they plan to approach this tactic. Allowing your strategy to be driven (or thwarted) by fear can result in costly mistakes, whereas careful planning can increase your chances of success.
Consider this:
If you're too afraid to get started, you'll have no social recruiting plan. Period. Research shows that 59% of recruiters who have hired candidates using social media found them to be of the "highest quality." So if you aren't using social networks to target talent, are you getting the best applicants?
When you're too worried about inadvertently creating a negative opinion of your employment brand, you can't build a positive one either. No one can control social media sentiment completely, but you can learn strategies for engaging with candidates and presenting an authentic image that boosts loyalty.
Which is worse: Posting a job listing incorrectly or not posting any listings at all? Reality check: If you're not posting on Twitter because you're afraid you'll mess up, you're probably doing equal damage just by being absent from the social space. It's up to you to learn where and how to post properly, so you can avoid looking incompetent. Hiding from the situation doesn't help you.
If you've struggled with these apprehensions, take a look at the new eBook we just released. In "Social Recruiting Paranoia: 5 Social Recruiting Worries That Are Holding You Back," we recognize that there are some common fears related to social media that recruiters need to overcome as soon as possible—so they can stop creating greater risks, and start embracing the modern tools and platforms that can help them more aggressively target qualified candidates.