You keep hearing about record job openings as the country heads back to work. Yet here you are, sitting at your desk, looking at your ATS and wondering why it isn't overflowing with applicants.
You've exploded your budget for ads, slapped a new banner on your company home page, and begged staff to refer past colleagues. This all should be working. Your career site visitors are up almost 20%. Candidates were interested in your jobs, but why didn't they apply?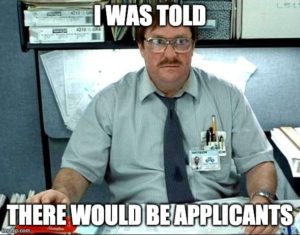 Sounds like you have a candidate conversion problem. It's time to put yourself in your candidate's shoes and see what your candidate experience is like firsthand.
Show your employer value proposition
Now that job seekers are on your career site, are you showing them a place where people would want to work? They've seen the job description, but before they apply, they want a glimpse into daily life as an employee. And with the increase in hiring this year, they can wait to choose a flexible employer that takes care of their needs and promotes diversity, equality, inclusion, and belonging.
Remove barriers to apply
If you've done this well, candidates will next look at how to apply. Candidates want application processes that are easy from start to finish and without barriers to entry. Some of the most frustrating career sites make candidates:
Search through too many job postings to find the one they were interested in
Create a login (with complex, unique 8-character password) and create out a profile
Go through an overwhelming amount of clicks to access the application
Manually enter their resume into text boxes (despite uploading a pdf copy)
If the application process isn't quick and straightforward, candidates will not complete their application. Industry averages show that only 30% of applicants who start the application process actually complete it. That's seven of every ten candidates that you have already invested in who are choosing to walk away and not complete the application. Successful organizations should break down the barriers of entry for job seekers. Eliminating registration requirements as the first step when a candidate applies is an easy way to convert candidates and give your employer brand a boost while you're at it. We just recently heard Amy Butchko, Director of TA at SAIC, on the Chad and Cheese podcast share how they quadrupled the number of candidates by removing the need for a profile and a few other changes.
Eliminate technical issues
Next, think about what a candidate would do if they encountered a technology issue or had a question on the application process. Companies spend so much time and budget on driving candidates to the career site to apply only to lose those job seekers to technical issues and a lack of help options, leading to lower conversion rates and increased candidate frustration. Think about adding a chatbot to answer frequently asked questions or elevate the issue to someone who can help the candidate.
Optimize for mobile
Are you mobile optimized? Jump on your phone (we know it's near you) and look at your application process via mobile. Mobile phone usage has been steadily increasing over the years and you should make sure your application process is smooth on any platform. Better yet, remove more barriers for application by providing text options to apply and communicate with candidates.
Shorten the feedback loop
Lastly, think about how it feels as a candidate to hit that submit button and wait for a response. Think about how often you need to wait for status on anything today. We expect to know, almost demand, to be kept informed on where we are in the process of fulfilling on a purchase or inquiry. Whether that is tracking where your Lyft driver is in real-time, what stage of delivery your Amazon purchase is in, or even when your Grubhub food delivery will be at your doorstep. This is the expectation candidates have as well with employers.
Provide a better experience
The bottom line is, if you want to hire top talent, it doesn't matter how pretty your career site is or how many available jobs you're offering if your candidates are frustrated and left in the dark. Are you providing an experience where they can easily apply for positions? Or are you forcing them to jump through unnecessary hoops? Are you keeping them informed of their application status? Or are you letting them wait by the phone until they give up and apply elsewhere?
Let Jobvite help
Whatever hiring challenges you're facing, having the right tools and technology in place will help you streamline workflows, increase operational efficiency, and improve the candidate experience. Jobvite empowers recruiters with solutions and services to find, engage, nurture, and hire top talent quickly. Visit jobvite.com and schedule a demo to learn how!