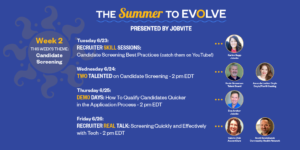 We've been talking Candidate Screening this second week of "The Summer to Evolve".  If you missed it, make sure to head to our YouTube channel to listen to the initial sessions and register for more sessions starting next week. 
Hot Takes from Week 2 of 

"

The Summer to Evolve

"

 🔥 
Job boards are the #1 source candidates use to find and apply for jobs followed closely 

by 

frien

ds/former colleagues. 

*

 
10% of candidates have lied about or inflated a resume during the interview process.

 *

 
*Source: Jobvite 2020 Job Seeker Nation Report 
Top Ways to Improve Candidate Screening THIS WEEK 
🔲 Review and update your rejection messages to offer candidates a clear response and encourage disqualified candidates to apply for future opportunities. 
🔲 Revisit your screening questions and look for opportunities to simplify the responses candidates can choose from. Yes/No answers and the use of checkboxes speed up the process.  
🔲 Update your candidate personas to ensure they accurately reflect where candidates search for and apply for jobs, e.g. social media platforms and job boards.  
Top Ways to Improve Candidate Screening THIS MONTH  
🔲 Develop a checklist your entire talent team can use to ensure everyone is on the same page and following the same process when it comes to the screening process. 
🔲 Revise your job descriptions to reflect accurate "knock–in" and "knock–out" questions. For example, some companies are deciding to remove degree requirements knowing that a lack of a degree wouldn't disqualify the right candidate. 
🔲 Audit your ATS software to see if there are opportunities to add tools or features that will help you make the most of your candidate data and automate candidate communication during the screening process.  
Thanks for joining us for Week 2!  
Next week is all about recruiting roles and skills, so gather your recruiter buddies, grab a summer beverage, and settle in for a week of learning and great conversation.