Report
Employ Quarterly Insights Report | Q4 2022
Recruiting Resilience: Embracing a Scalable Recruiting Function for 2023 & Beyond
For companies of all sizes, navigating the current hiring environment requires resilience, determination, and adaptability. The paradox of both a softening hiring environment and historically tight labor market makes it extremely challenging for companies to prepare for the coming year.
The Q4 Employ Quarterly Insights Report explores how employers can remain resilient as they plan for 2023 and beyond.
This new report features the latest proprietary and market data, offering insights and actionable takeaways to increase adaptability and scalability in the difficult talent landscape.
Get a free copy of the report to discover:
New data and insights on the reality of the labor market
Current hiring trends, challenges, and organizational priorities
Key strategies for responding to uncertainty in the hiring environment
How to embrace a scalable recruiting function for the coming year
About the Employ Quarterly Insights Report
The Employ Quarterly Insights Report provides unique insights and in-depth analysis on hiring trends compiled from employer and job seeker activity across Employ's 18,000 customers and findings from a survey of more than 1,200 HR decision makers conducted by Zogby Analytics in November 2022. The report offers a detailed look at the current state of recruiting and examines how companies should optimize recruiting efforts during one of the most difficult and demanding environments in history.
Here is a small sampling of data presented in the report:
77% of organizations have not reduced hiring plans or implemented a hiring freeze in 2022, despite talks of a recession and worries about layoffs.
60% of HR decision makers anticipate making more hires in the next 12 months.
Employers saw a 10.4% decrease in new job listings between Q2 and Q3 2022. Between Q1 and Q2, the decrease in new job listings was 4.7%.
New applications submitted in the first 30 days for open roles increased for organizations by 8.7% from Q2 to Q3 2022.
Get a copy of the Employ Quarterly Insights Report and learn how you can respond to the uncertainty in the labor market and plan for 2023 and beyond.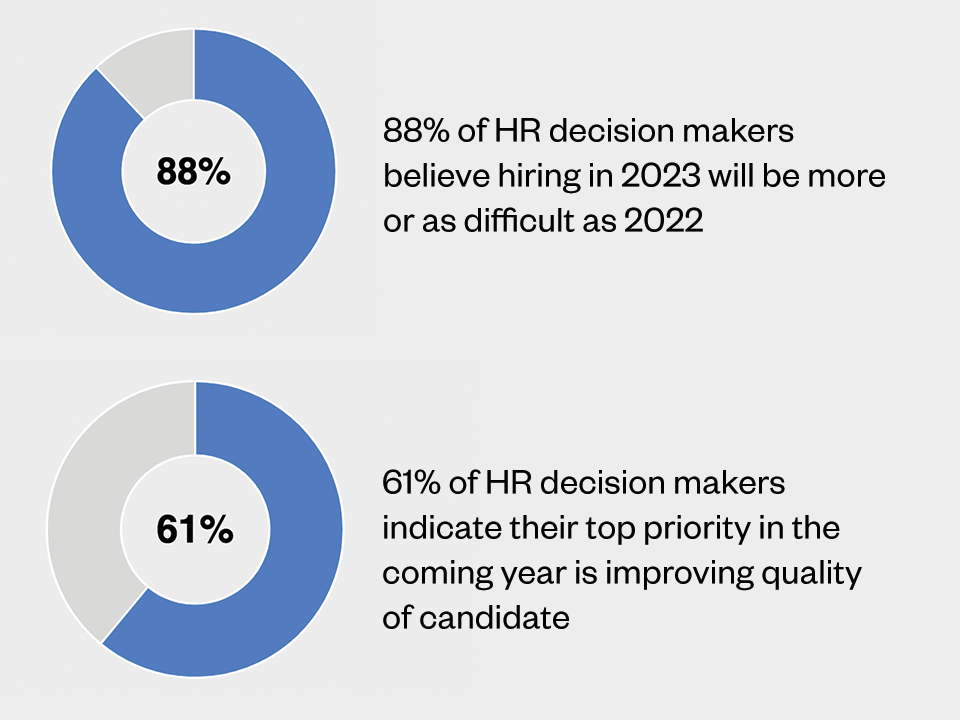 The Power Of Our Collective Reach
See the Evolve Suite in Action
Take the tour and see how our suite delivers results throughout every aspect of the candidate lifecycle.