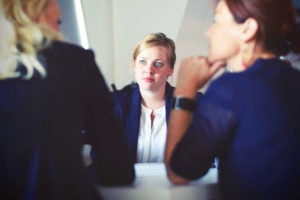 Recruiters need jobs too — and sometimes, we need new ones. And while we've gotten tons of practice helping other people find jobs, when it comes to asking for advice, we sometimes don't know where to turn.
Job interviews are ubiquitous in our daily lives, so it only makes sense that they'd be represented in film. And in true Hollywood fashion, where everyday life is made just a little bit more interesting than usual, these job interviews are often cringe-worthy scenes of comic relief for the viewer. Despite the exaggeration, though, many of these scenes still contain a valuable kernel of truth for job hunters. Below are a few of my favorite examples — take a look, and make a mental note on what to avoid the next time you're the one sitting in the hot seat.
In this scene, hapless and naïve Andy interviews for a position as the assistant to Miranda, the icy and intimidating Anna Wintour-inspired Editor-in-Chief of a high fashion magazine, Runway. In withering tones, Miranda dresses down her culprit for not reading the magazine, not knowing who she was interviewing with, and for being hopelessly unfashionable. It's a squirm-inducing scene and a classic example of what happens when you show up to an interview unprepared.
Lesson: Answer the Why
Although you've gotta give Andy credit for the spunk she showed at the end of the scene which ultimately sealed the deal, she loses major points for her clear lack of enthusiasm for Runway and the fashion world as a whole. When you're interviewing for a position, you need to say not only why you would be a good fit, but why you chose to apply to that company in the first place. You don't need to pretend to be the biggest fan of the company in the world, but explaining what you find appealing about the industry and culture at hand is a must.
This scene follows hapless, titular hero Robbie after he decides to abandon his career as a wedding singer for a job that pays more in order to win over his coworker and love interest, Julia. Despite zero relevant experience, Robbie applies to a job at his local bank. Robbie tackles the elephant in the room head-on by admitting "I have no experience, but I'm a big fan of money" within the first few seconds.
Lesson: Learn How to Sell Your Experience
I'll give Robbie some points for frankness, but that's certainly not going to ease the interviewer's hesitations about his ability to do the job. When you have no directly-related experience, though, you always have the opportunity to draw from previous jobs. In Robbie's case, mentioning that being a self-managed performer taught him how to handle finances and work with clients would have been a good move. You can also bring in other parts of your life — school, volunteer work, teams, or clubs — to demonstrate you have the skills, personality traits, and characteristics necessary for the position. But if a job is totally out of your league (think: applying for a software engineering position when you don't have any formal training), it might be worth holding off on the job application process until you can bulk up your resume.
This job interview scene strikes at the heart of Silicon Valley with a great parody of brainteaser interview questions used by many Valley companies (Google, we're talking about you) to test candidates on the spot about how they analyze and solve problems. In this clip, two old-school salesman find themselves interviewing for an internship at Google, despite their complete lack of technological savvy. The first question the interviewers ask: "You're shrunken down to the size of nickels and dropped in a blender. What do you do?"
Lesson: Expect the Unexpected
Don't let interview questions take you by surprise. Trust me — while Vince and Owen's characters end up securing the position, senseless sputtering like that will only lead to job offers in Hollywood fairytales.  To start an interview off on the right foot, research some of the most common interview questions beforehand. On Glassdoor, you can even read user-submitted interview descriptions to see which specific questions recruiters at your prospective company tend to ask. Once you have a good list built out, practice your answers with a friend that's willing to serve as a surrogate interviewer.
No article about the 9-to-5 grind would be complete without a reference to the 1999 cult hit Office Space. In this classic sendup of life in cubicle land, our anti-hero, Peter, finds himself unwittingly interviewing for his own job with "the two Bobs," consultants brought in to evaluate the workplace for "efficiencies" (i.e. figure out who gets cut in the coming round of layoffs). The problem is, he's fed up with his job — and he gets real.
Lesson: Don't Get Complacent
While Peter's brutal honesty and devil-may-care attitude are the result of a hypnotherapy session gone wrong, job seekers often adopt way too cavalier of an attitude (albeit usually much more toned down than this) during internal interviews, thinking that the Q&A is just a formality since the evidence is already there. But when it's down to you and a few other talented coworkers, the way you conduct yourself during an interview really can make all the difference. Interviewees should take this just as seriously as they would with an external company, and prepare accordingly.
As the examples above demonstrate, great job seeking advice can come from the most unexpected places — and hopefully, you've learned a thing or two from them. (Or at least gotten a couple of laughs from the Youtube videos.) Job seeking can be tough, but if you do your homework and review the Dos and Don'ts, you'll be that much closer to your dream job. And hey, if all else fails, you can always take comfort in the fact that you'll never screw up as bad as these guys.