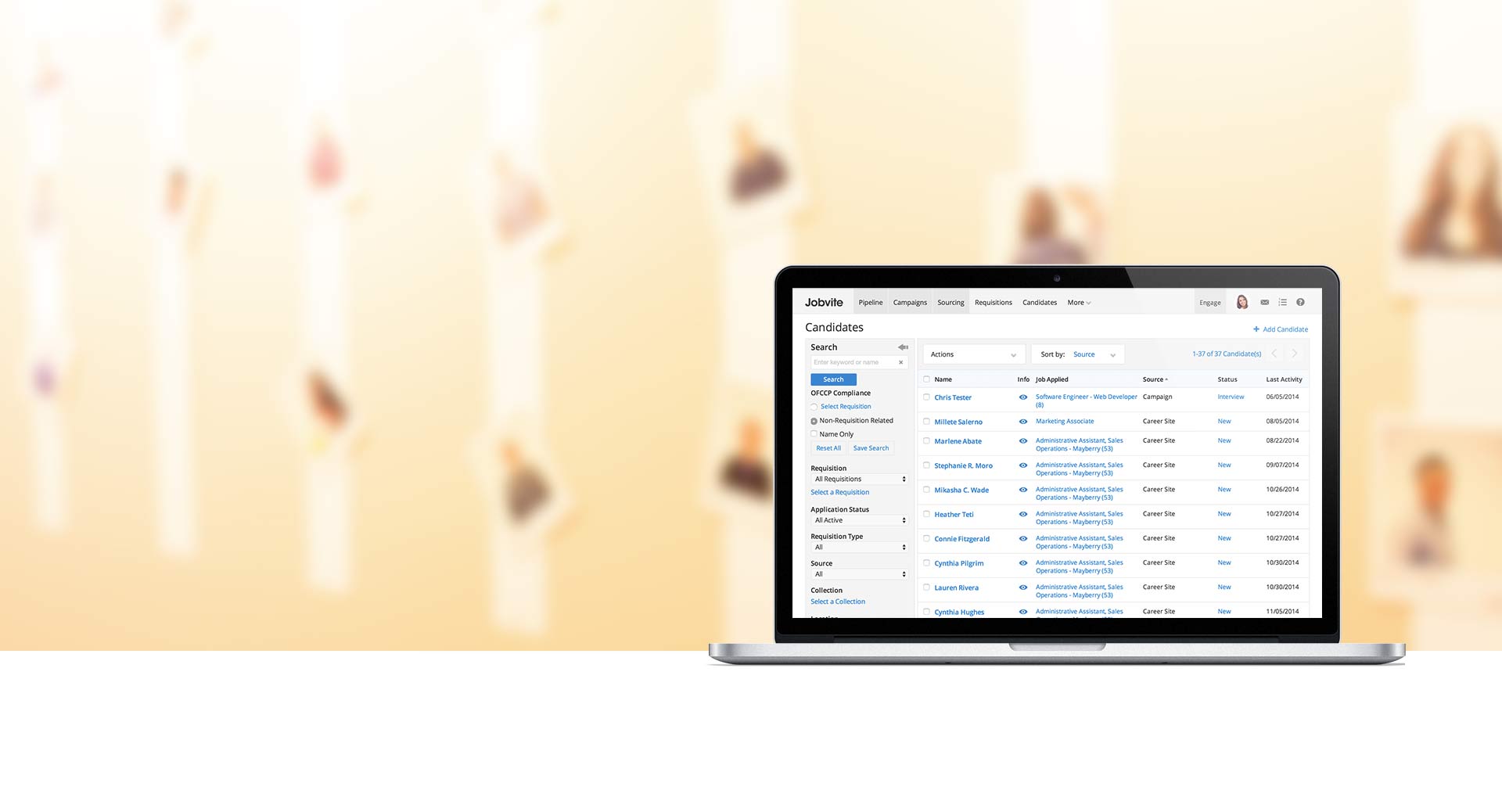 Why are HR departments always disappointed with their applicant tracking system (ATS)?  Great question.  A lot of this can be answered with the fact that there are a lot of great sales people out there and a few shiny objects to sell.
That's the problem with most application tracking systems!  Most ATS providers are either providing a warehouse with some workflow tools or they are just focusing on one feature, one shiny object.  What they are not focused on is helping organizations grow by providing a deep, rich set of hiring tools to quickly and efficiently identify talent among their active candidates and streamline the process for converting great candidates into great hires.
Jobvite Hire goes deep with our ATS.  We provide a number of features that help make hiring teams more efficient and give them the tools to scale as they grow.  We are not just focused on one topic like interviewing, scheduling, workflows, collaboration, compliance, reporting, offers, social extension, sourcing, etc…we focus on ALL of the recruiting process and keep your hiring teams focused on growth.
Here is a small list of features Jobvite provides:
Screening forms: Recruiters can create screening questions to attach to the application form or for use later in the workflow to "knock-out" unqualified candidates and to, more importantly, "knock-in" highly qualified candidates.  Based on candidate responses to these forms, you can trigger an automatic email to the hiring manager to review a candidate's record to accelerate the hiring process.
LinkedIn profile: Nearly every Jobvite customer I've visited has LinkedIn open in one tab and Jobvite in another.  Rather than making them go to both places to gather a complete picture of the candidate, Jobvite does the LinkedIn search for you by automatically pulling in a candidate's LinkedIn profile into the ATS so that recruiters and hiring managers can quickly identify great talent.
Dynamic scheduling: Schedulers no longer need to open five Outlook Calendar appointments to schedule a candidate to come in for an onsite interview.  With Jobvite's dynamic interview scheduling tool, schedulers can manage all five appointments on one screen and easily plan out the candidate's day on site.
Evaluation feedback: Recruiters and hiring managers can easily compare candidate feedback from each of the interviewers in a side-by-side view to make decisions quickly.  Additionally, they can see the candidate ratings across all interview steps from a single view.
Jobvite's sole focus is to build the best recruiting platform available.  As such, we will continue to deliver new and innovative features to improve the process.