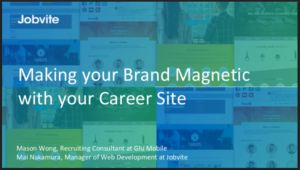 Your career site is a candidate's first introduction to your employment brand. Is your site creating the best possible first impression? If you answered no, then it may be time for a career site overhaul. But where to start?
Recently, Jobvite's Mai Nakamura co-hosted a webinar with Mason Wong from Glu Mobile to share real-world stories and provide their top tips for building a magnetic career site that draws in top talent.
Establish Buy-in
Not surprisingly, both Mai and Mason stressed the importance of getting the right people on board to support your career site project. And to get them involved early in the process. Cross-functional support is critical, so your career site project team should include representatives from HR and recruiting, marketing, and IT.
Many Jobvite customers often struggle to get executive buy in and budget support for their career site projects. This is where you can use metrics to your advantage. Mine your analytics to understand drop-off rates, applicant numbers, and more. Then use those metrics to demonstrate that your current career site isn't performing as it should.
Identify a Driver
Your career site project needs a driver and project leader. Typically your project lead will be someone on your Talent Acquisition team. Your leader provides an important role in driving the project forward, brokering conversations, and getting cross-functional buy in and support. At Glu Mobile, Mason took the opportunity to broaden support for the career site project by getting every member of the recruiting team involved. He asked everyone on the team to look at the career sites of other companies in their industry and identify elements that they loved or hated. Not only was it helpful for identifying the most important features, but it also got everyone on the team invested in the project.
Communicating Your Unique Brand
Your career site functions as a window into your unique culture and brand. It tells the story of your company. How do you want to be perceived by prospective candidates? Here are some of the key questions to ask as you outline the content and tone for your career site:
What do you want applicants to learn about you?
What perception do they have now of your company?
Who on your team should be involved in this process?
Who should contribute to the site, the feedback, the content?
Which career sites in our industry do we love (and hate)?
At Glu Mobile, a player in the hotly competitive mobile gaming industry, Mason knew it was important for the career site to communicate "the unique Glu flavor." That included showcasing the people, the workplace, and their games. The Glu Mobile team deliberately decided to feature lively shots of their team (no boring headshots here), cool offices and workspaces, and gaming graphics to correlate with each job req.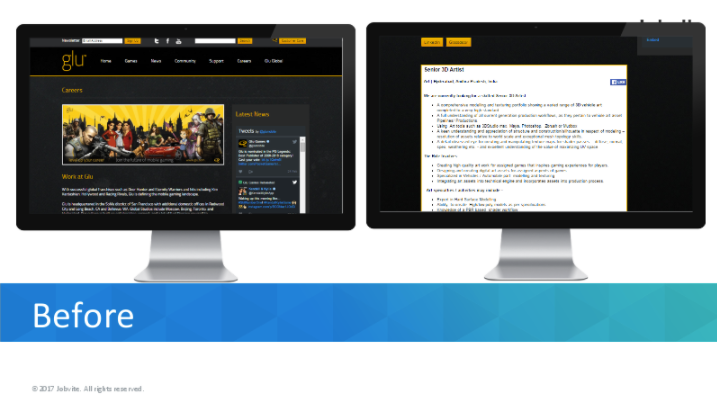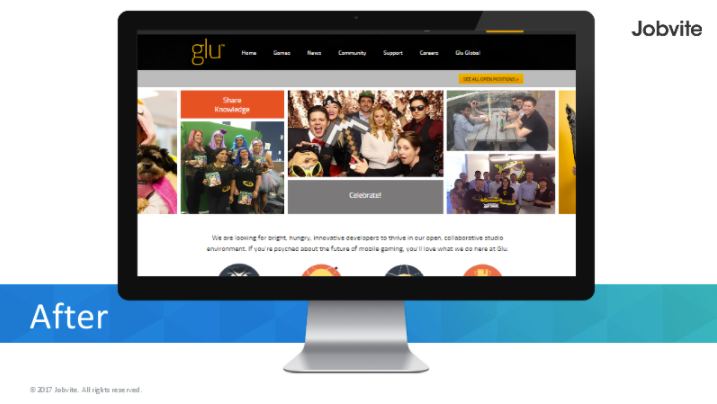 Top Tips for Career Site Success
A career site revamp is no small undertaking. As you embark on your project it's important to have a clear understanding of your current state and expectations for the project. Mai recommends these steps to map out a plan and process:
Get everything out on paper. That includes what you want to feature about your company, the facts your candidates need to know, the best elements of your brand and company.
Align your corporate and employment brand. Your career site has to reflect an employment brand that's consistent with your corporate brand. This is where your marketing colleagues can help.
Know your strengths. Many organizations stress that great people are a differentiator. Make sure your words and visuals are laser-focused on your company's unique strengths and differentiators.
Don't be afraid to iterate and improve in real-time. Get your employees involved, get their input and refine the site as you go.
What to Expect with Your Career Site Revamp
No two career site revamp projects are the same, but there are some keys to running a smooth project.
First, host an initial kick-off call and include all members of the project team. Make sure to include any and all stakeholders, but consider their schedule so that they're included as early in the process as possible
Set expectations with the team by providing a high level overview of the project including what's expected, the timeline, the technology, and more.
Share a list of action items so that everyone is aware of their role in the project.
Guide the team through the process of identifying the content and visuals that will help tell their story.
Once the team identifies the content, then it's time to create the content. This is often the long, hard part of the process, but it's a critical piece to ensure your career site is yours and personalized to your company, employees, and brand.
Ready to learn from the best about how to build a magnetic career site? Check out our on-demand webinar "Making your Brand Magnetic with your Career Site" and learn directly from Mai and Mason how to set up your career site project for success!