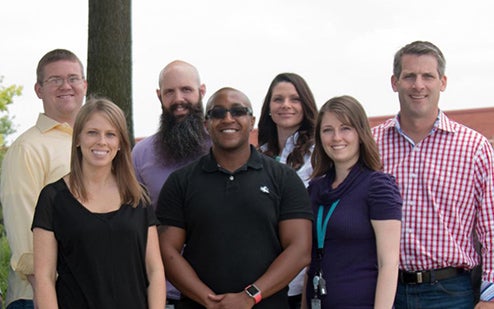 Starting out as a small company in 2002, Tenable is now the world's leader in continuous network monitoring. As more companies began investing in data protection, Tenable expanded at a rapid pace. Tenable team members worked diligently to ensure their products reduced risk, ensured compliance, and identified vulnerabilities for all their clients. This one-time small company won global distinction with clients from Fortune 500 companies to government agencies. Despite all of its growth, Tenable faced a problem. How could it keep its talent workforce growing with the demand for its products? Tenable needed recruiting software that would attract the most qualified candidates to the company. Tenable wanted to stand out in the competitive market for high-quality talent, and the recruiting team came up with a solution. It tailored its campaign to enhance the candidate experience. Tenable used Jobvite Engage as a solution to find the best candidates on the market. Sean Mitchell, director of talent acquisition at Tenable, stated, "Recruiting isn't static — today I might be looking for salespeople or engineers, but next week I might be looking for customer support or account managers. With Jobvite Engage, campaigns are totally customizable. We can constantly put out new messaging and new information, which translates to new hires." Jobvite's recruitment marketing software was about to change the way Tenable recruited new candidates.
Tenable Saw a Boost in Candidate Engagement
Customized Jobvite Engage campaigns made a big impact on Tenable's recruiting initiatives. At the end of 2014, its career site received only around 26,000 views. After using Jobvite's recruiting software, Tenable saw more than 82,000 views by the fall of 2015. Its new campaign brought regular visitors to its recruiting campaign site. With the increase in numbers, Tenable saw a bigger presence with potential candidates. New visitors made up 70 percent of views in 2015. The campaign created more visitor engagement than ever on the site. Mitchell and his team noticed an overall increase in employee referral hires. They found that more than 30 percent of new hires were the direct result of employee recommendations. Employees were engaging more and recruiting new hires to the company. Tenable's acceptance rates also hit a new high with 90 percent of offers being accepted by candidates. 2015 was a big year for the company as it added over 300 people to its workforce.
Recruitment Marketing Software That Drives Results
Jobvite Engage talent acquisition software allows companies to do more than just launch a standard recruiting campaign. It empowers businesses to stand out and select the best candidates in the field. Mitchell said, "Before Jobvite, we didn't have the luxury of name recognition that other brands had. Jobvite has helped us from a recruiting perspective and helped get our name out in the marketplace."