When's the last time a new piece of technology drastically improved your talent acquisition team? Can you recall the last system with such a great ROI that it led to a deeper talent pool, an improved employer brand, and a faster time to fill – with higher quality candidates to boot? We were joined by two of the recruiting industry's brightest stars who shared their experience using Jobvite Engage as their recruiting marketing CRM (Candidate Relationship Management) tool for a our "The Recruiting CRM Strikes Back: The Untapped Talent Pools Webinar". Rachel Duran is the Manager of Employer Brand Marketing at CA Technologies and Sarah Zachow is the Diversity Recruitment Program Manager at Schneider Electric. Together they have story after story, each with their unique take on challenges and successes working with a recruitment CRM.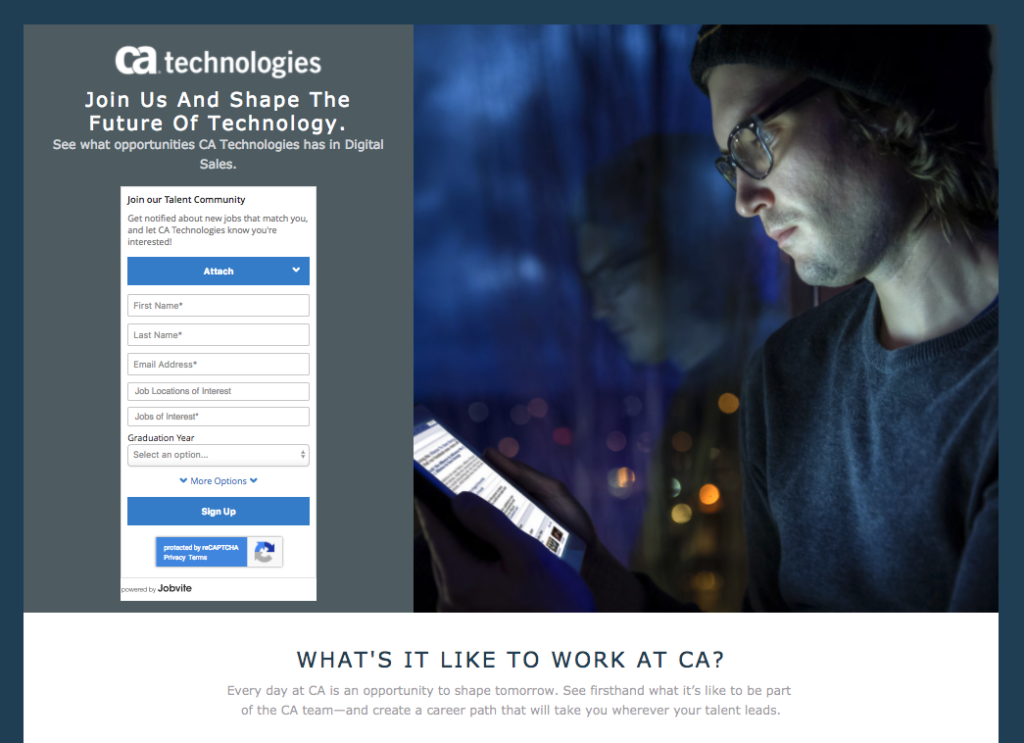 For Rachel Duran, the head of Employer Brand Marketing for one of the most recognized companies in the world, CA Technologies, she spoke candidly about this being her first successful CRM for recruiting after trying three different platforms in a span of four years. What worked this time around? For Rachel and her team at CA Technologies, it was a blend of cutting-edge technology paired with a talented strategic services team who ensured every training had her team's goals in mind. Rachel shared a wide range of successes in their first year of having Jobvite Engage as their recruitment CRM to power the way CA Technologies attracts, nurtures, and hires top talent.
CA Technologies Results from using Jobvite Engage:
389% increase in Twitter followers

3,777% increase in Twitter profile visits

41% increased of Facebook ad clicks by targeting with recruitment CRM data

Eliminated hassle of collecting paper resumes at career fairs and campus events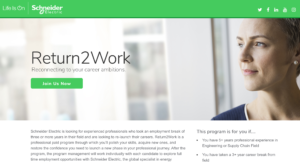 Sarah Zachow also shared her insight on recruitment marketing and their work with a recruiting CRM. Sarah works for one of the largest energy companies in the world, Schneider Electric. Schneider Electric has been recognized as a Top 30 Global attractor for talent, pretty impressive for their 50 person NAM talent acquisition team. Sarah shared how they have thrived using Jobvite Engage and shared their recent buzzworthy, "Return to Work" digital recruitment marketing campaign. Sarah shared how the creative ideas of her team combined with the Jobvite Engage platform allows them to show future hires why #LifeIsOn at Schneider Electric.
Schneider Electric Results from using Jobvite Engage:
62% increase in directly sourced hires

300% increase in social media sourced hires

50% decrease in agency hires

Time-to-hire decreased by 38 days
With enough successful programs that could span many webinars instead of just the one, Sarah brought a calm explanation of their planning and methodology that resonated with the audience. Everyone also loved seeing a quick snapshot of Schneider Electric's success utilizing both the recruitment CRM software and strategic services powered by Jobvite since 2014.
When it comes to university and event recruiting both Sarah and Rachel shared several stories on how their team excels at using Jobvite Engage, which has allowed them to not only go paperless but interact and engage instantly with their targeted talent pool from their mobile devices.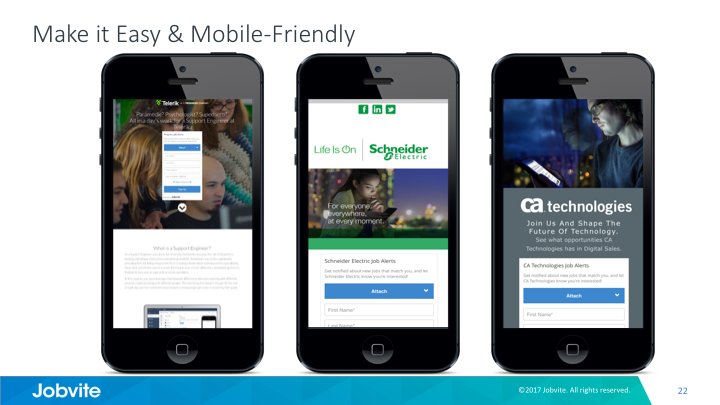 For Rachel, she shared a great anecdote about being at a university recruiting event where the CA Technologies table was positioned right between the Apple and Google tables. Despite the competition, CA Technologies was able to leverage their CRM for recruiting to have an efficient and completely paperless process. This quickly led to buzz and traffic to their booth.
Schneider Electric is very passionate about hiring veterans and Sarah shared a tremendous tale around a recent career fair – Military MOJO. Before the event, Schneider Electric received a list of the officers attending. In a matter of seconds, they uploaded hundreds of contacts into their Jobvite Engage platform and hit send on a branded email campaign. The day of the event, Schneider Electric went from a relatively unthought about company to the most sought-after organization at the event. Military officers were not only standing in lines to speak to their recruiters, they had also come prepared with the jobs that best matched their skills to share with the recruiting team.
Some organizations think a CRM for recruitment is too powerful for most talent acquisition teams to harness. Others cite the lack of a truly unique software platform with recruiters thought-process in mind. The reality is, the reports of the recruiting candidate relationship management (CRM) tools demise are greatly exaggerated. With a recent poll of thousands of currently employed individuals found that 82% of them would listen to another opportunity proving there's never been a better time to equip your recruiting team with a CRM recruitment marketing tool.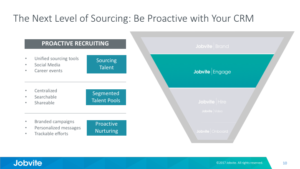 Having previously been on a global sourcing team, I know firsthand the power of a solid CRM recruitment tool. We saved millions of dollars in a few short years from hiring strategically. It's so fun working with leaders like Rachel and Sarah to roll out and strategically use their recruitment CRM. This webinar proved to be an amazing platform for them to share so many powerful stories. The excitement from these two recruiting leaders both in different roles for their teams was an awesome reminder that there's never been a better time to fall in love with and fully utilize a world class recruitment CRM to find top talent. Your company's future could full depend on it.
Check out the webinar here.