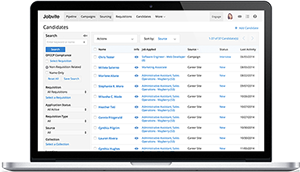 Recruiting is always a challenge—but when you're trying to fill jobs in a rapidly growing organization, the challenge can feel overwhelming. Not only do you need to staff key positions quickly without compromising on applicant quality or overreaching your budget, but you need the right technology to make it possible.
Jobvite has helped many customers through periods of massive growth. No matter what your industry, our comprehensive recruiting platform is built to make recruiters' jobs easier, their reach more extensive, and their processes more efficient, so companies can seamlessly scale up to meet business needs.
Fast & Easy Applicant Tracking
Jobvite is designed to be extremely user friendly, so everyone—whether recruiters, hiring managers, or job seekers—can get to work faster.
Thanks to Jobvite's intuitive, practical interface, Alleghany Health Network easily implemented its web-based Jobvite solution to an initial set of 12,000 employees with very little pushback. "With anything new, there's always reluctance first," says Irv Naar, Corporate VP of Talent Acquisition. "But with the ease of use and the productivity that Jobvite brought about, we were able to successfully transition our entire recruiting program from the platform up. It was a complete makeover, and the managers on the other end of the system absolutely love it. Now, they're an integral part of the hiring process and they have more visibility, which has been a huge factor in our success."
According to ShoreTel's Corporate Recruiter Deborah Baimas and her team, the amount of productivity on both sides of the hiring process has increased exponentially thanks to Jobvite's ease of use. "We love how easy Jobvite is, not only for our employees and hiring managers, but for jobseekers as well," she explains. "When they come to our site to apply, it's so easy to upload a resume, find a job and apply for it. So many times, as a jobseeker myself, I've gone to other career sites and, halfway through the process, I would get frustrated and end up leaving. It never felt worth it to continue to the end, but with Jobvite, we don't lose people in the application process."
Alleghany Health Network rolled out its Jobvite solution to 12,000 employees with ease.
Targeted Social Recruiting
Jobvite helps you extend your reach—even for specialized skills—so you can quickly source and hire the qualified talent you need during a growth spurt.
High-growth customer Coupons.com uses Jobvite to boost employee referrals and attract more candidates. "I like the Jobvite philosophy of allowing every employee to share jobs through whatever social network they choose. It allows our employees to properly utilize their business and social connections to reach the kind of candidates we're looking for, and has been a very valuable addition to our business and growth," says Director of Staffing Ken Perluss. Recruiters at Coupons.com also rely on Jobvite to help spread the Coupons.com brand, market open positions, and, in doing so, entice candidates to apply. According to Perluss, "Even when people see our jobs posted, for the most part, they don't know who we are. We use Jobvite to help reach out to people and encourage candidates to apply."
ShoreTel selected Jobvite particularly for its social media integration, and fully appreciate its reach-expanding technology. "With Jobvite, it's simple to tap into the networks of our employees and get to those quality candidates directly," says Baimas. Even more, Jobvite has helped ShoreTel pinpoint experienced executives to fill high-level spots through social media recruiting. The ShoreTel hiring department can post job openings and grab the attention of active and passive candidates across all networks, and then direct interested prospects back to ShoreTel's site to apply online.
With Jobvite's integrated referral system, Alleghany Health Network can now leverage individual networks to maximize the company's reach. With automatic social media posts, referral tracking and email generation, AHN employees are helping drive attention and application to the organization's recruiting efforts. That's a recruiting army of 12,000+. "We can reach out through social and email channels and can run Jobvite Engage campaigns from our own gathered database, which all contribute to the ability to connect with candidates where we couldn't before," says Naar. Since bringing Jobvite aboard, the company has seen a 35% increase in referral hires.
ShoreTel has seen a 35% increase in referral hires since bringing Jobvite aboard.
Efficient & Collaborative Hiring Workflows
During times of rapid growth, Jobvite helps companies streamline hiring workflows and cut costs—making collaboration faster and more effective.
Between an outdated system and a period of rapid growth, ShoreTel's biggest challenge before Jobvite was sharing internal information efficiently. "Our system was very complicated," explains Baimas. "We had one email address, and every resume dumped right into that account. At the rate we were growing, we couldn't get the information where we needed it at the right times." Now, ShoreTel's strategy has left the email-based chaos behind, embracing the smooth seamless workflow of Jobvite Hire to reach its ambitious goals. "Jobvite has solved several problems for us, the biggest being the workflow process," says Baimas. "Candidates are easier to track, and it's all very transitive: when a task is signed off on by one person, it automatically goes to the next, so the ball never gets dropped."
Coupons.com credits Jobvite's requisition and offer management system as a major factor in the company's growth. According to Perluss, "The ease of approvals and communication within the system has really helped us hire so many people so quickly." Between helping the hiring team source hires, target candidates, and pull contacts from employee networks, Jobvite helped the company double its size and rapidly reach 500 employees. "The thing that really made it work was the Jobvite system and how we utilized Jobvite to get candidates through our process," says Perluss.
To combat its increasing expenses on job board posts and talent agencies, ShoreTel began utilizing Jobvite Hire's increased reach capabilities to get the word out. "Jobvite has streamlined ShoreTel's processes immensely, and really cut costs for us," says Baimas. "We don't pay for job boards or outside agency fees anymore— instead, we rely on employee referrals and our existing networks to hire a huge majority of our candidates. It's just so quick and efficient now."
By streamlining the hiring process, Jobvite helped Coupons.com double its size to 500 employees.