I love photos of people.
Before the Internet, I was a print designer for advertising campaigns, and I learned a lot about lead generation and imagery. When we wanted a positive direct mail piece, we almost always used photos of people. Why?
It works.
Studies show that conversion rates increase when people can emotionally connect, frequently performing best with photos of people. Lead generation specialists use A/B testing consistently to see how photos perform.
When we added photos on an A/B test, we saw a 40 percent improvement. We then took it a step further, testing a sad but more genuine face versus a happy face. The first version tested 20 percent better. I've even seen tests where images were looking into a call to action tested 10 to 15 percent better than other images.
How does this pertain to hiring? When you consider what it takes to recruit a great candidate, going the extra mile for your brand is worth it. (For lots of examples of how companies successfully present their recruitment brands see this ebook from Jobvite: How to Create a Killer Career Site.)
Use Photos to Represent Culture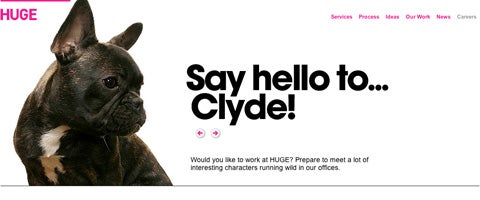 Huge is selling a quirky, informal culture. Clyde, as a mascot, is inviting and fun; dogs are welcome at Huge.
It's one thing to talk about what your company represents — innovation, free lunches and an active lifestyle — but it's another thing to show it through photos that tell a story. The common saying is, "a picture is worth a thousand words." It might be worth thousands of dollars in saved recruiting fees.
Don't assume that visitors to your career site know all about your company or who works there.
Photos, illustrations and videos can shape the story about your company's culture, work atmosphere and the opportunity offered.
Use Original Photography Taken by a Professional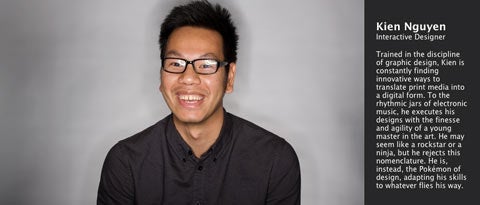 Inkling has candid photos of employees taken by a photographer using what's called a ringflash. It creates a look that's professional, yet distinctive and creative.
I never, ever, ever want to be want to be on a career site, unless I wake up one morning looking like Keanu Reeves. I'm probably the exception. There are many of your employees that would be photogenic enough to put on your site. Ask around the office, you'll be surprised how many volunteer.
The best photography is natural photography that captures of the essence of the subject. Don't use stock photography from iStockPhoto or other services: prospective candidates would view your site as untrustworthy; and unless you're a modeling agency, there's a good chance your employees don't look that good.
Use a professional photographer to take the photos. They'll understand lighting and composition, and you'll see better results in the final product. It'll be worth every penny.
Use Photos of Real People at the Company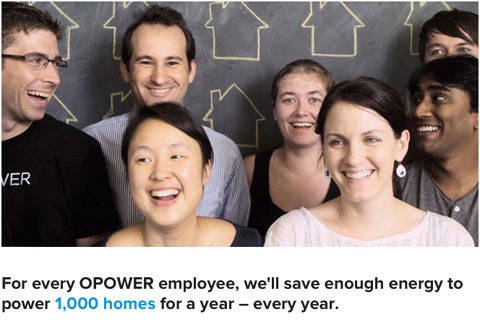 Opower's employees look like they're having fun and also reflect their customers interest and concern about the environment.
When I visit a company website, one of the first things I want to see is the people. I want to make sure they at least look like they're the kind of group in which I would fit. Introducing employees is a compelling way to capture visitors' attention.
Before they apply, candidates certainly consider the people with whom they will be spending 40 to 50+ hours a week − perhaps more than you would spend with anyone else. A new employee wants to feel comfortable that they'll be working with colleagues they like and trust.
If employees are truly enthusiastic about the company and the culture, this will be evident in the photos you use on the site.
Choose Imagery with a Purpose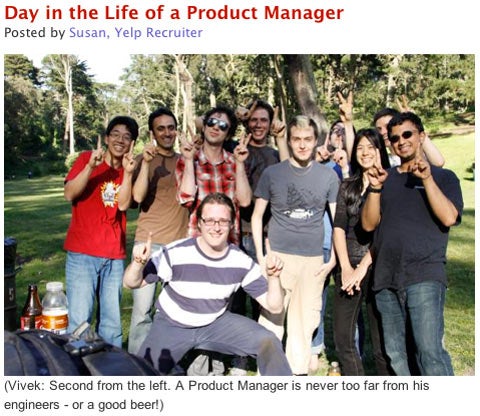 Yelp's "Day in the life" is an informal way of describing what it's like to work there. People having fun with their co-workers sells a startup environment as much the job itself.
You have a stack of digital photos, but no coherent vision. What do you do with it?
Bring in a designer (or an agency) and develop a strategy of what photos you should take before designing the career site. A bunch of digital photos taken with a Sony Quickshot isn't going to work. Prospective candidates might not know why a site is hastily put together, but they will notice there isn't a complete vision.
This is about telling the story of your company. Make it count.
Many career sites use stories or short quotes with a theme that accurately describes what it's like to work at that company. Imagery should follow the same theme.
If it's a crazy, fun place to work, show photos of employees around ping pong and foosball tables. If they're trying to save the environment, plant trees.
Use More Images and Less Copy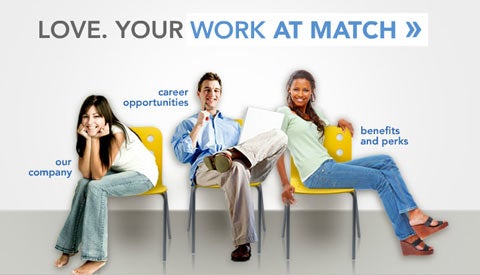 Match.com keeps copy to a minimum. Clever design also directs the user to the Career Opportunities.
You run a Jobvite on several social media sites. You get hundreds of clicks to your career site. And the final result? Ten applications.
If you had too much copy and not enough imagery on your career site, there was a good chance that you lost candidates. Prospecting for candidates isn't rocket science; it's lead generation, and leads are easily distracted.
Your candidates should be convinced to apply because this is the right job for them, but they won't read a 500 word essay to make that decision. Tests have shown that people will not remember what was in the copy, but they will remember how they felt after visiting the site.
Don't surround the photos of your employees with too much copy. Use just enough to guide the user, but let the images tell the story.
(For more examples of photography on company career sites, get this ebook from Jobvite: How to Create a Killer Career Site – 21 Successful Examples.)
Patrick Neeman is the Director of User Experience with Jobvite. His previous experience includes working with startups to launch their product, User Experience and Social Media consulting with Microsoft, and managing a team of 25 User Experience professionals for a technology consultancy. He also runs a blog, Usability Counts, that covers topics such as User Experience, Social Media, and Web Marketing.