Artificial Intelligence will soon impact every way of life that involves technology, and that includes all things recruiting. Robots are not coming to take over your job, or the jobs that you're recruiting for, but they will make your life much more efficient and strategic. AI won't hinder your career development it will help elevate your role as a recruiter to another level, allowing you to continue to rise as the most valuable and strategic team player at your company.
We're revealing how AI can have the greatest impact to recruiters in their day to day and overall role in our latest guide: Embracing AI in Recruiting: The Definitive Guide for Recruiters. In this guide, we cover many helpful topics, including how AI will affect your recruiting funnel & candidate experience, areas you should continue to take a human approach with, and many more reasons to give AI a try.
There are misconceptions about how AI will take the human out of recruiting when in reality, it helps put the human back in. With the help of AI, less strategic tasks such as rejections, scheduling interviews, and conducting phone screens will all be able to be automated. Leaving recruiters with more time to build relationships with candidates and hiring managers, which in turn will lead to better quality hires, in less time. Being able to recruit top talent, with a shortened time-to-hire, recruiters will see a more efficient and streamlined recruiting funnel.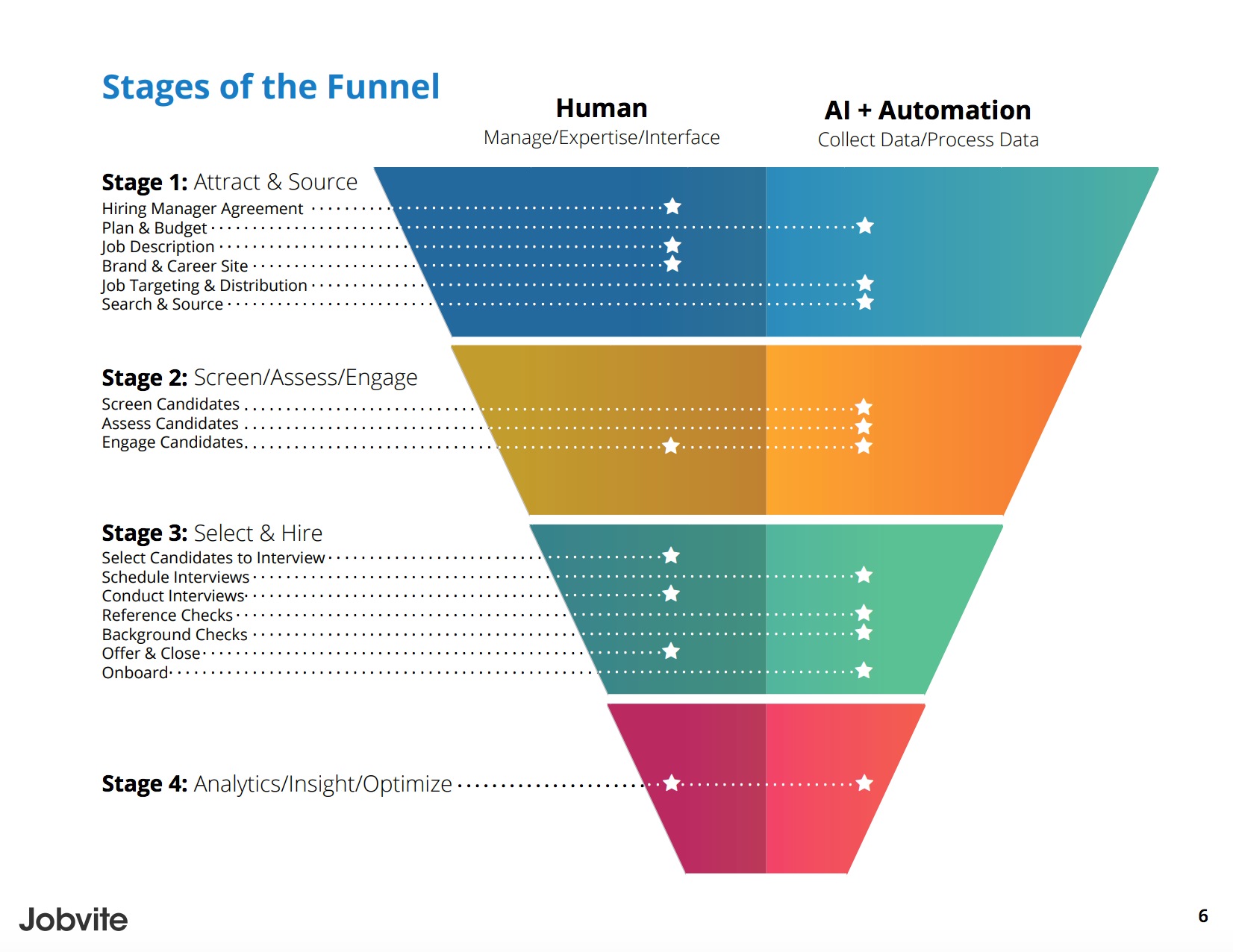 By taking a more strategic approach to recruiting and allowing AI to handle the more mundane tasks, will give recruiters the opportunity to be able to better analyze and optimize metrics that truly impact their company. AI can help with predicting many different recruiting funnel metrics, including time-to-hire, cost-per-hire, and time-to-fill, to ensure your company is on the right track to hitting benchmark goals. Using more precise and detailed analytics, recruiters will be able to improve planning and budget for months or years out. In addition to quantifiable goals, AI can help predict the success of a candidate, and ultimately if there will be turnover within three months.
How else will AI have an effect on recruiting? From helping recruiters write better job descriptions, all the way to eliminating implicit bias, there are many aspects to currently love about AI, and many new features to look forward to – check out the guide to find out where AI will take us.