Did you know that 40%+ of candidates say they will never apply to a company again after a bad experience in the hiring process? That's why you have to make it great—particularly on mobile.
The explosion of smartphones means that we now have a massive audience of mobile-savvy job seekers. On top of that, Generation Z is now entering the workforce and for the first time, we have a generation of workers who don't know life without a smartphone. And in many cases, their mobile phone is the center of their world. What does that mean for recruiters? Today's job seekers have totally different expectations about how and when they communicate with prospective employers.
In the 2017 digital global mobile report, Hootsuite discovered that 66% of total world population are mobile users.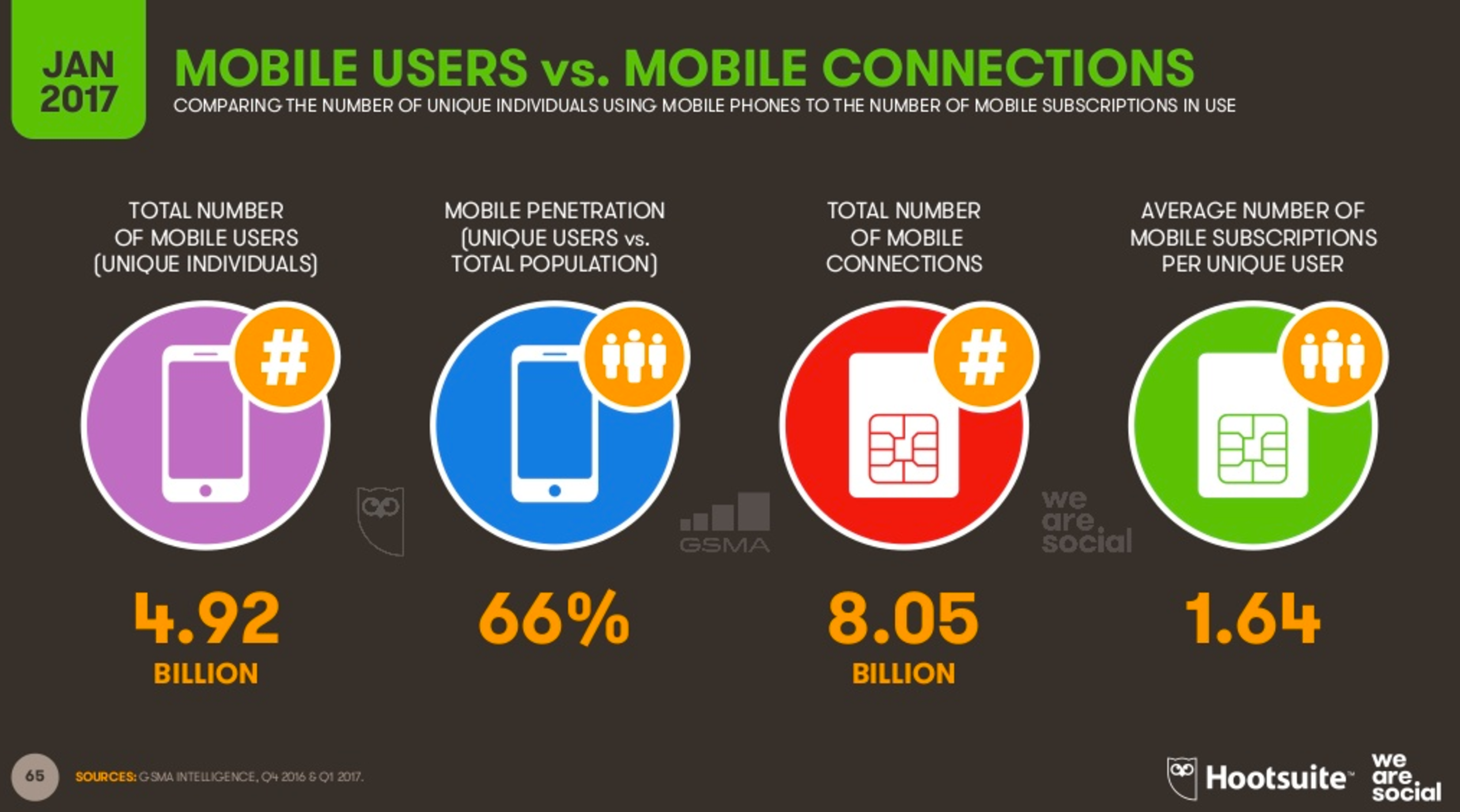 Not only that, 50% of global web traffic comes from mobile and in the U.S., this number jumps to 75%.
In our conversations with recruiters, we find little disagreement about the importance of mobile recruiting. But putting that into action isn't easy. In fact, Jobvite's 2016 Recruiter Nation Survey found that 55% of companies don't even have a mobile optimized career website.
Mobile Recruiting is Much More Than a Mobile-Optimized Career Site
If you're not implementing mobile recruiting methods, then you are very likely missing out on some great potential candidates, who will most likely walk away and go straight to your competition.
We're here to help. Here are some easy-to-implement recommendations to help jumpstart your mobile recruiting strategy. What's that? It's a recruitment strategy that uses mobile technology to attract, engage, and convert candidates into full time hires. Some common mobile recruiting tactics include texting, apps, and social recruiting.
Your mobile recruiting strategy is much more than just ensuring you have a mobile-optimized career website. The following three pillars of mobile recruiting give you a framework for outlining your mobile recruiting strategy.
Attract Candidates on Mobile: Fish Where the Fish Are
These methods are designed to attract visitors to your career website in order to increase views of your site and your open requisitions. Some examples of techniques to draw in visitors include: paid ads, content, PR, social media, events, and blog posts.
In order to make sure you're attracting the right candidates via mobile—and provide them with great experience—you'll need to mobile optimized the following:
Your company website

Your career website. (Learn more about mobile career sites

here.

)

Your landing pages
At a high level, mobile optimization allows you to tune your site design, site structure, page speed, improve conversion rates, and more, to make sure you're delivering an excellent candidate experience on all of the major mobile devices.
It's about more than just viewing your career website from your smartphone or tablet, it's about making the hiring process accessible and easy from any mobile device.
Engage Candidates on Mobile: Make the Experience Exceptional
Engaging candidates in meaningful ways is critical. It's about delivering the right content, to the right audience, in the right way, to inspire an interaction or a positive brand impression. Here are some ideas to get you going.
Text Messages:

Once you have their phone number, then you can communicate with potential candidates via text. But remember, they must have opted-in to this kind of communication. If they don't like being texted, then they will block you forever

Mobile Optimized Campaigns:

Email campaigns that are mobile optimized let you share relevant content such as blog posts, articles, company news, etc., with candidates. It's a great way to keep your brand top-of-mind, particularly with passive candidates who will remember you when they are ready to make a move. The greatest part—you can view the analytics to see how your campaign performed and what level of engagement you had with each candidate

Mobile App:

Use a

mobile recruiting app

to facilitate communication between hiring managers, recruiters, and candidates. It speeds up your time-to-hire significantly.
Convert Candidates on Mobile: Seal the Deal
These are methods designed to get people to save a job, add themselves to your talent pool, or apply to your open requisitions via mobile. According to the Society for Human Resource Management, the problem of job candidates abandoning online applications continues to plague the recruiting industry. By some estimates, 60% of job seekers quit in the middle of filling out online job applications because they are lengthy or complex. And the problem is only exacerbated on phones or tablets, particularly if forms aren't designed to render well on small screens. These abandonment rates start to make sense when you factor in that 55% of companies don't have mobile optimized career sites.
If your goal is to convert prospective candidates via mobile, then you need mobile apply functionality that enables candidates to easily apply to open positions directly from their mobile device.
There are a number of other methods that will help you increase conversion via mobile:
One-click apply

allows job seekers to upload their resume in one-click through Jobvite, Dropbox, LinkedIn, or even submit a photo of their resume

No registration

does not force applicants to register before submitting their application or (even worse) force them to create a profile by re-entering the same information that is already on their resume

Make it easy for job seekers to

join your talent pool

with a mobile optimized application that allows them to enter some basic information—including their interests and skills—and receive updates on your company and open positions

Know your

landing page conversion rate.

If you want to convert candidates via mobile, then make sure you know what your current mobile landing page conversion is, what the industry benchmark is, and then take actions to beat the benchmark.

Search Engine Land

states that top 25% of landing pages are converting at 5.31% or higher. What is your conversion rate?
A smart mobile recruitment strategy must include all three components to be successful; it's all about attracting, engaging, and converting, the very best candidates a great mobile experience can give you a huge competitive edge. So what are you waiting for?
Ready to Learn More?
Download our eBook, "Smartphone, Dumb Recruiting: Why Mobile is a Must," to learn five common errors that can derail your mobile strategy and how to avoid them.