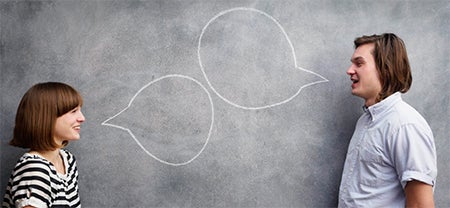 We've seen it happen time and again – there's an innovation in the world of sales and marketing; and not long after, we see a similar approach make its way into recruiting. In 2011, there was Social recruiting, inspired by social selling and the impact of social media on how we market and sell. Then, In 2014, Recruitment Marketing made its debut, with a focus on talent pools, as inspired by marketing automation and the impact of CRMs on marketing and sales. And most recently, in 2015, the hiring industry once again took a page from sales and marketing, adopting the "funnel" – as in the Recruiting Funnel – to modernize how we engage with candidates.   It's clear that marketing is a leading indicator for what happens in recruiting, which begs the question: What's next? Based on what we're seeing in the sales and marketing world, and the top trends impacting the recruiting industry, I predict the next big thing for the recruiting industry is "Conversational Recruiting." Conversational Recruiting puts an emphasis on having real-time, one-on-one conversations – that happen in real-time and on an ongoing basis – in order to attract, qualify, and connect with top talent. It's About the Conversation The rise of texting, video, social media, and chat platforms has opened up new lines of communication with candidates. Candidates expect to engage where they "live" – on their mobile devices. And they expect speed – immediate gratification is important when it comes to engaging with today's Millennial and Gen Z candidates. These factors, among others, are changing the rules of how we recruit and giving rise to Conversational Recruiting. While traditional methods may still get the job done, they won't power competitive advantage. If you really want to win the talent war, you need stay relevant and be in conversation with candidates in a personal way, wherever they are: on their screens and as part of their social networks. Conversational Recruiting is about continuously engaging candidates at the right time, in the right way, from the first time they look at your website, to their first day on the job… and beyond. Unlike traditional recruiting, Conversational Recruiting uses texting, video, social media, and chat platforms to engage with candidates. It's bigger than a single channel. It's about initiating and maintaining a multi-channel dialogue across different mediums.
Video: video interviews via FaceTime, etc., videos of recruiters sharing information about open requisitions

Texting: via phone, or increasingly through messaging apps like WhatsApp, Facebook Messenger, etc.

On-Demand Conversations: in addition to face-to-face at career fairs, live chat on your Career Website or social channels to help you be proactive in starting a conversation

Social Media: LinkedIn, Facebook, Quora, Messenger, Instagram, Snapchat – wherever your candidates are
Making the Shift to Conversational Recruiting The average email open rate is 20% and only 1% of cold calls result in a meeting. There is a reason why people don't answer cold calls, don't reply to emails, and don't give out their information: too many hiring organizations have forgotten the personal touch of effective recruiting. It's time to make recruiting human again by finding where the candidates are and being there – and ready – to interact with them. Here's how:
Make it real time.

Speed is the name of the game in today's highly competitive job market where talent is scarce.

Attention spans are decreasing

and if candidates inquire about a position, they want a response immediately.

Keep it casual

. The best conversations are not scripted. Especially as we move to new channels favored by younger candidates, you need to adapt your communication to match the medium. You can't keep the same formality when using Messenger, text, and social media.

Create two-way engagement.

Real conversation is two-sided. Recruiting efforts need to match that model with opportunities for real interaction and an open feedback loop.

Get personal.

Make the candidate feel special with conversations that are personalized and authentic. And especially with Millennials, who want to feel and be a part of something special and even exclusive.  

Stay relevant.

And as always, keep up to date with all the technologies, social networks, and the different means to connect with candidates.
With the rise of new technologies, automation and AI, we cannot forget that recruiting is about people. It's personal. Generation Z and Millennials are here to remind us that to be successful in recruiting, you need to meet and connect with people where they are. And companies that understand the importance of the human side of recruiting and that are ready to adapt are the ones that will win the talent war.