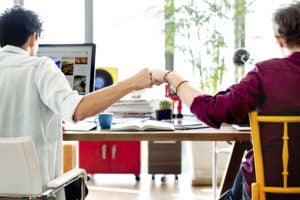 As a hiring manager, your goal is to bring new employees into the organizational flock. But it's not enough just to fill open positions—you must fill open positions with the best and brightest that the job pool has to offer.
To do this successfully, you need a tight talent acquisition strategy.
Talent acquisition is more than selecting a candidate from an interview pool or a stack of unsolicited resumes. It's the process of seeking out the most qualified individuals, assessing their skills, determining where they would best fit in your organization, then actively recruiting them to bring their unique talents to your company.
Steps for Implementing a Talent Acquisition Strategy
A talent acquisition strategy is a big step up from recruiting active candidates as positions open up within your organization. It is always on the lookout for the most qualified candidate – whether or not you currently have a position in your company for him or her to fill. It's a strategy that's always on and always working, so make sure you build it well from the ground up.
1. Determine Your Organizational Needs
Attracting talent to your organization requires an accurate picture of what you're looking for. That means success is dependent on your ability to have a finger firmly on your company's pulse.
Communicate with department supervisors and upper management regarding your organization's needs. This communication should take place on a regular, ongoing basis as vacancies, projects, and company goals will naturally change over time.
Your corporate culture also plays a huge part in determining your needs. Is your workplace formal or casual? Do you value innovation or tradition? Do you need people with startup mentality or corporate mentality? Know whom you are looking for, in addition to what you are looking for.
2. Understand the Importance of Forecasting
Attracting the right talent takes time, so make sure you always have one eye on the future. Keep a short list of candidates available to fill unexpected vacancies, and plan ahead for employee attrition, retirement, and leaves of absence.
In specialized industries especially – advertising and marketing, health and sciences, and technology – things can change quickly. A position that was once in high demand can quickly become redundant when current technology replaces it. Alternately, a position that didn't even exist two months ago can become absolutely essential at the drop of a hat.
This is why a great acquisition professional always has to keep an eye on industry trends and forecasts. It's impossible to predict the future, but having an idea of what to expect can help you keep your employment ranks full.
Where to Search for Candidates
Once you've identified the kind of candidates you need, it's time to go out and find them. Fortunately, there are plenty of places to look.
Trade Schools, Colleges, and Universities
Although recent graduates don't have the experience of their more seasoned colleagues, they make up a large, attractive, and malleable hiring pool from which to handpick your next superstars. Because their education is so recent, they should be up-to-date on the latest trends and technology in their industries.
Set up a booth at a job fair, solicit recommendations from professors, or list your position with the school's career center. The next generation holds great promise where talent is concerned.
Get their contact information, whether you've got a position for them or not, but be cautious not to lead them on or make false promises. To do so will lead to a distrust of your corporate brand, and a bridge-burning that you can't afford.  
Social Media Networking
Although LinkedIn is still king for professional networking, Facebook and Twitter have also joined the fray. You can post ads and updates for open positions, but talent acquisition is more than that.
First, use your brand's social media profiles to show off your employer brand

. Work with your social media marketing team to add content to their calendars that demonstrates why your company is a great employer: quotes from employees, behind-the-scenes pictures of your great workplace or employee events, or shamelessly brag about your employee retention rate.

Then, use your personal profile to communicate with passive candidates individually

(or set up a "personal work" profile if you don't want to use your private account). Join groups they're in and participate in conversations, retweet their posts, share their work – build relationships, and make it personal.
Seventy-five percent of potential hires from social media aren't actively searching for a new job – but that doesn't mean they can't be swayed. If you happen on a perfect match for your company, reach out.
A private message or an elegantly stated connection request can get your foot in the door with a potential candidate, who will then be on your radar (and your social media platforms) should the perfect opportunity open up.
Look Internally
The perfect person for a new position may already be on your company's payroll. You originally hired them for their talent – why not promote them for it, too?
Established employees who have proven themselves, kept up with the industry trends, and embraced continuing education opportunities may do well in another position. Understanding the talent you already have on staff can help you effectively "reshuffle" your workforce, filling some positions and opening up others to bring in new employees with different skill sets.
As a talent acquisition manager, you should always be looking for opportunities to promote from your existing workforce, whether a position is available or not. When you see an employee making an effort, going above and beyond, or making a name for themselves, put them on a short list for promotion, and refer to that list as necessary.
Keep Your Ear to the Ground
A stand-out candidate is always going to be in high demand. Luring him or her away from a current position will only happen with determination, a great company culture, and some serious perks. You might have to be willing to go above and beyond what you would normally offer new hires in order to snare top industry talent.
How to Attract (and Keep) the Best Talent
You've sought them out. You've done the legwork. You're sure that they're the right fit for your organization – but is your organization the right fit for them?
To attract the top talent in your industry, you've got to be the top company in the industry too.
Better Your Corporate Brand
The thing about the "best of the best" is that they can afford to pick and choose who they work for. It's a right they've earned by virtue of their skills and training. That means if your company doesn't interest them, has a poor reputation, or can't meet their salary demands, you're going to lose out.
It is crucial that you (with the support and assistance of upper management) make your organization a desirable place to work. Enhance your corporate brand. Make sure your company reviews are up to snuff, and that they reflect the value you place on your employees. Understand the importance of your social media pages and website – because odds are, those will be your potential talent's first impressions of your company.
If your company doesn't have a stellar reputation, it can cost you at least 10% more per new hire – so make sure you fit firmly into the "attractive" category!
Tout the Benefits
Does your company allow unlimited vacation time? Continuing education credits? Ping pong tournaments during lunch? A slide to get from the second floor to the first? Tout the extras to give your company the competitive hiring edge.
Employee referrals are an amazing way to get your current people talking about the job they love, in order to bring their equally-talented friends into the fray. Whether it's a monetary bonus, a "perk", or just a pat on the back and a closer parking spot, your employees are (or should be!) your biggest supporters, and therefore in a fantastic position to entice others to join your organization. After all, who can speak better to office culture, benefits, and job satisfaction than current employees?
If you do offer ping pong tournaments or twisty slides, make sure you mention that on the hiring section of your website, as well.
"Attracting" Is Different Than "Keeping"
Employee turnover is a huge deal for any type of company, but when you're dealing with specialized jobs, it's even more vital to keep your employees happy.
The time and money you put into attracting top industry talent can disappear in the blink of an eye when the honeymoon phase ends and your workers grow discontented. Retaining your workforce by whatever means necessary should always be a top priority!
Stand by your promises. Embrace a positive workplace culture. Make yourself the "best" place to work, rather than "just" a place to work. Make sure your management is up to the task of overseeing the talent you've acquired.
Remember, people don't leave companies; they leave managers.   
Talent Acquisition for Niche Industries
Although the above talent acquisition process works well with any industry, some niche markets require more specialization.
If you are a hiring manager for advertising, marketing, health and sciences, or high-tech industries, you'll naturally want to focus more on hiring directly from trade schools, colleges, or universities; or on attracting the top people in your field to your company.
In these niche industries, it's important to take a good look at recruitment benchmarks.
How many candidates are available?

How long does it currently take to get a top talent from "potential" to "hired"?

Does the demand meet the supply, or will you need to look out of your immediate area to find the person you're looking for?
Analyze the industry trends, make sure you know exactly what your "ideal candidate" looks like, and offer a salary and benefits package that is slightly above the going rate in your arena.
Happy Hiring!
Acquiring top talent isn't something you can accomplish in a day. Instead, it's a long, slow build that will eventually lead to a great reward for your organization. Start today by making sure you have organizational needs documented, and that you're positioned to monitor trends in your company and your industry.
Understanding the steps and strategies for attracting the best and the brightest to your company is a necessary skill set for any hiring manager. The more you know, the further you'll go!