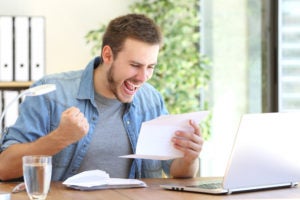 It's been a long and arduous process, but after hundreds of resumes and a dozen interviews—you've finally found the perfect new hire. But not so fast, you're not across the finish line yet! The next step in the recruiting process is just as important as what you've done so far: nailing the offer letter.
The offer letter is crucial to kicking-off a new hire's experience on the right foot, and for obvious reasons. It documents the essential expectations of the future employee, such as the responsibilities of the position, who they report to and what their compensation and benefits package looks like. Properly spelling out these standard job details ensure there are no grey areas when it comes to establishing employee expectations, but it's also a really important tool for the potential hire to further evaluate the position before accepting. Here are some tips to help you craft a compelling and transparent offer letter that welcomes prospective employees and protects your company legally.
Include Essential Information (and Make it Crystal Clear)
Sure, having a sleek and unique letter can make your offer more enticing—but first you've got to take care of the important stuff. Make sure everything is in simple language, so there are no questions when it comes to content.
You might already have templates in place to cover the big stuff, but if you need to start from scratch or make some updates, here's what you should do: First, identify the necessary information that must be included to protect your company, such as nondisclosure policies, background check requirements, drug testing rules, or at-will employment agreements.
After you've nailed that, be sure to include all the crucial work details for your potential employee. Information on compensation (salary, bonus, and benefits) as well as job responsibilities and who they report to should be clearly documented. Help your new hire out by making these sections easy to find and read, so they understand exactly what to expect.
Finally, and perhaps most importantly, run the documents by your legal team or outside council. This step is critical to ensuring that the information presented in your offer letter is legally binding, which may protect your company and the new hire down the road.
Tell Them What Your Company is All About
It's standard today for employers to also include company policies on workplace issues like employee conduct, harassment, and equal opportunity in the offer letter. But while you're taking the time to cover these important employee expectations, think about using the opportunity to go over the values that make your company welcoming and culture one-of-a-kind.
Share with your new hire the policies that speak to your company's core values, such as the importance of office diversity, equal pay, employee health and wellness, and work-life balance. Doing so is an authentic way to communicate what your company is all about, and helps reinforce your brand's uniqueness to the candidate.
Make it Personal
We recommend saving a template (Jobvite can help you with that) that covers all the essential legal stuff we discussed above, but using a template doesn't mean you can't (or shouldn't) take a personal approach to crafting your offer letters.
By the time a candidate is receiving an offer, he or she has likely chatted with some folks at your company about his or her skills and qualifications. It is the perfect opportunity to build-on some of these relationships, especially since they often point out who the new hire will report to (and they've likely already established a rapport with that person). Utilize the offer letter to point to their specific qualifications and how the company plans to leverage those to make the new hire feel empowered when they enter their new role.
Set a Deadline
Each company has their own way of handling when in the hiring process they decide to formally extend an offer. It's most commonly done after the recruiter has gauged the candidate's interest and secured a verbal agreement, but sometimes highly sought-after talent maybe juggling competing offers—and you need to get yours in writing to them ASAP.
However an offer is extended, it's important to keep in mind that you must set a deadline for when the offer will expire. Offer deadlines are useful for keeping the hiring process moving, but they also close the loop on the lifespan of an employment agreement. Make it obvious so the candidate fully understands the expectations. You can always be flexible and change it later, but it's important to get a formal deadline in writing to avoid potential misunderstandings or confrontations.
The offer letter is the first step in building a working relationship with a brand new employee that may last years to come. If you follow these tips, then you gain their trust and leave them with peace of mind, while also making sure you company is in the clear if things don't work out.
Big thanks to Meera Narayanan, in our HR department, who helped tremendously with this post.