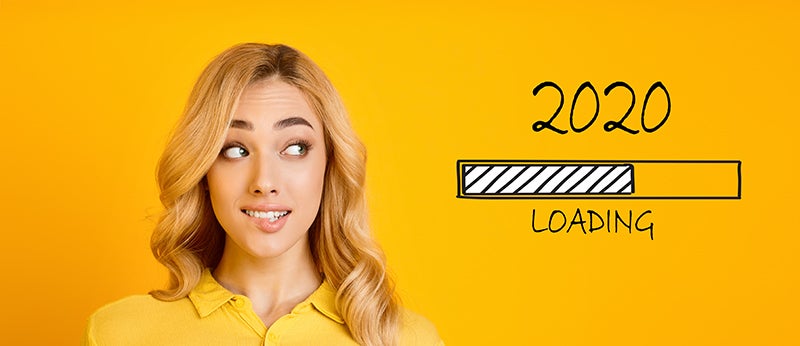 Part of the fun of ending one year is dreaming and planning for the next! At least, the team here at Jobvite thinks so. Which is why we released our Jobvite 2020 Planning Guide. It's always nice to start the new year prepared and ahead of the competition, eh? Here are a few highlights from the guide that will help you anticipate the opportunities that await in the coming year for your candidates and your talent teams.
1. Develop a Workforce that Welcomes Every Generation
Like every other talent and tech organization, we have researched and written fairly extensively about the emerging generation entering the workforce, mainly Millennials and Gen Z. And while we remain thankful to these generations for their tenacity in driving company culture and love of tech, we wouldn't want to forget about the benefits and perspectives other generations bring to the workplace, like Baby Boomers and members of the Silent Generation. 2020 will be the year when the generational stars align, and we will have five generations working together in the workplace. Sure, Millennials and the incoming Gen Z will make up 70% of the global workforce, but 30% of the employee population will be Baby Boomers or come from The Silent Generation, and it's just as important to understand what motivates them, what they value, and recognize them for their unique abilities and talents. By ensuring that candidates and employees of all generations are seen and heard as they go through your company's screening, interviewing, hiring, and retention processes, you will guarantee an inclusive environment where everyone can thrive.
2. Agile Technology is the Key to Staying Ahead
These days, talent leaders are on the hunt for the right technology that makes executives happy, is easy-to-use for recruiting teams, attracts new customers, builds brand loyalty, and boasts of a healthy ROI. If that seems like a lot to ask of a tech solution — it's because it is. But just because it's a tall order, doesn't mean it's impossible (that's kind of why we exist)! But what it does mean is that all these benefits and results will vary from company to company, so it makes sense that the technology each company uses will look different, too. With all the different types of companies, products, and candidates in the world today, there isn't a one-size-fits-all when it comes to choosing and implementing new tech solutions. Instead, we believe 2020 will be the year that companies will dedicate the time and resources needed to assess and prioritize any tech changes, and they will find the right technology and partners that excel in agility.
3. Bring Humans to the Forefront of Your Business
For some talent professionals, talking about tech quickly leads to a discussion about the role of humans in our increasingly automated and tech-savvy world. And it should! None of the research we've seen or people we've spoken with believe that tech can or should replace humans in the important business of, well, human resources. But this strong belief doesn't mean that it's easy for leaders to understand how using tech and humans in the same process works best for their organizations. We've seen companies begin to dig deep and assess how their current systems and teams are functioning to identify areas where automation can help streamline and speed up the process, and humans can spend more time building meaningful connections and qualifying the best candidates. Self-guided, online assessments like the EVOLVE Maturity & Efficiency Framework have helped Fortune 500 companies align their business objectives with their recruitment marketing strategies to see what changes in processes or technology are needed to leverage their teams and hit their goals.
4. Investigate Your Processes Before Making Any Big Changes
Speaking of processes, the Rally FWD virtual conference took place last week, and the ending keynote speaker was none other than Kevin W. Grossman, President of Talent Board. He ended the conference by drawing attention to the top 2020 recruiting strategies leaders are planning to leverage to improve the candidate experience — and the number one reported initiative was improving processes and efficiencies. This survey result aligns with the trend we've seen of recruiting teams hiring a dedicated role to manage and execute recruitment operations. These new roles are bringing organization, visibility, and accountability to what has been a disparate recruiting process, and they often are integral to revealing how investments in the recruiting process and tech are producing a good ROI. Check out the Jobvite 2020 Planning Guide to see a full list of trends and strategies your team can start planning for to ensure you have your most successful year yet! And if you have any questions about any of our 2020 prep kits or guides, please reach out today. We're not quite fortune tellers, but our research and support teams have been known to work a little magic. REACH OUT TODAY