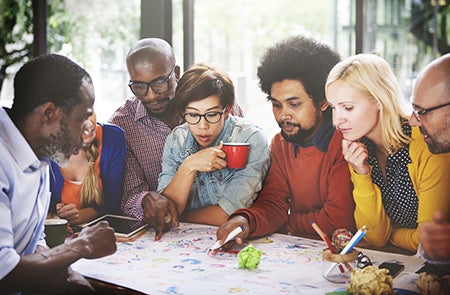 Today's changing workforce would barely be recognizable to HR staff members of 50 years ago. Diversity sourcing has become more common because studies show that a diversified workforce leads to higher revenue, more trusted brands, increased customer loyalty, stronger employee loyalty and better job performance. Glassdoor reports that 67 percent of job seekers look for workplace diversity as one of their top decision-making criteria. How can your HR department build a diversified workplace and get the stats that appeal to millennials? The answer lies in applicant tracking technology.
Women, minorities and workers over 55 have increased steadily in the workplace since 2001 according to CareerBuilder. There are more than 5 million more women in the workplace but only 2.2 million more men. That's partly due to men working in atypical careers such as caregiving, homemaking and jobs previously dominated by women. Diversity has become an important bellwether for job analysis and recruiting efforts. You can monitor these stats, create appealing content and meet hiring targets by monitoring diversity statistics for each employee and type of job.
Monitor Diversity Stats with Applicant Tracking
If your company has more than 100 employees, you probably know about Employer Information Report EEO-1. The report is a mandatory requirement for these companies and any contractors or subcontractors with more than 50 employees and more than $50,000 in government contracts according to Berkshire Associates. Your recruiting software and tracking system can help monitor diversity compliance for your Employer Information Report EEO-1.
The Diversity of a Well-Rounded Employee
More and more employers look at benchmarks beyond just employment references and job history. Healthy recruiting practices require a pipeline of candidates with diverse qualifications, cross-training and job flexibility. Both colleges and employers are now seeking well-rounded candidates according to Careervision.org. You can use your tracking system and recruiting software to filter candidates for the essential hard skills such as certifications and proficiencies.
Your ATS allows you more holistic ways of assessing soft skills and diversity benchmarks. Related to behavior and personality, these traits are important when analyzing whether a given candidate will fit within the company's culture and working teams. Questions to consider based on diversity stats include:
Does the candidate have the right tools to thrive in the company's culture?
Will the candidate be a good prospect for advancement?
Does this person have strong collaboration skills?
Has the candidate shown signs of the ability to multitask?
How strong are the applicant's communication skills?
Does the candidate work well with other types of personalities?
Create Your Own Benchmarks
Your tracking software can be customized to create your own diversity needs based on the job performance of previous hires. You can track well-rounded candidates through social media, blog posts, digital communications and volunteer work for charities and community organizations. Cio.com reports that many companies have diversity issues, but your ATS can monitor and recruit the right candidates to create the company profile that you want to propagate.