I joined Jobvite in 2008 because I connected with our founders' original vision. Experienced engineers and entrepreneurs, they intuitively knew when they started the company that finding the best talent would have to change with the emergence of the social web. They saw that in our interconnected world that hiring did not have to be done only by recruiters and that finding talent could go way beyond job boards.
In their vision, hiring could – and should – be everyone's job in a healthy organization. And perhaps because my mother always said "many hands make little work", this "crowd" recruiting philosophy made simple sense to me – and so I joined.
Because of this vision, last year, we integrated our SaaS recruiting platform with leading social networks, including LinkedIn, Facebook and Twitter, to help our customers use their power and reach to make more quality hires. Jobvite is the most innovative recruiting platform that companies can use to manage the entire recruitment process.
With these integrations last year, we enabled any employee at any of our customers to match and target their jobs to the social networks of their employees to drive referrals. Anyone in recruiting and HR knows that the best hires come from referrals. Referral hires perform the best, churn the least and report the highest job satisfaction of any other source of hires. Our customers quickly found that our social recruiting tools and integrations are a great way to grow referral hires.
Today, we launch Jobvite Share so that anyone, in any company, can match and share any job in the social web easily and quickly…for free.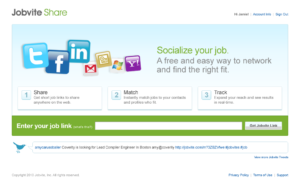 Why?
Since our social integrations launched last year, the reach and power of all three major social networks has exploded. We've all observed the sea change brought on by social networks in how people interact and find information online, in their personal and work lives. And clearly this trend will only continue to grow. (In fact, my oldest child, a college sophomore, just started her first summer job in an office environment and is now using the Facebook network that she's been building over six years since her freshman year in high school as a way to get useful ideas and suggestions for her new role.)
This transformation comes at a time when companies cannot tolerate wasted expense in any business operation, including recruiting. Now that companies are hiring new employees again as the recovery strengthens, it makes sense for Jobvite to share our social recruiting platform with the broader community.
So, please check out Jobvite Share. Go to your company web site and pick any open job, or pick one you have advertised on craigslist, Careerbuilder or any job board, and match to your networks. You will be amazed at the reach of your connections…and then check out the results anytime you want using the analytics.
Customers who subscribe to our SaaS platform have this social recruiting technology integrated into scalable applications for use by all employees in a company, for all jobs, with company-wide matching and analytics. Our social recruiting innovations are built into a complete, modular recruiting platform that optimizes the speed, cost-effectiveness and ease of recruiting for any company.
And please give us your feedback. Our wonderful engineering and product and teams and I would appreciate any thoughts you have on making Jobvite Share better, cooler or more useful. This product effort doesn't stop here; we're continuously updating our platform with new innovations and will have more to share in the coming weeks and months.
For more details on exactly how Jobvite Share works, I quote our press release today:
The new Jobvite Share makes it quick and easy enough for anyone, from recruiters to hiring managers to CEOs, to harness the exponential power of the social web to find the right talent at no cost. Jobvite Share puts powerful, real-time metrics in the hands of employers of all sizes to see what works – and what doesn't work – in their job marketing and distribution – all free of charge.
With Jobvite Share, anyone with a position to fill can:
Share – By entering a URL or job description, users get short, trackable Jobvite links to share anywhere on the social Web. Users can send Jobvites to individual contacts or post to social networks, blogs and job boards. The Jobvites are optimized for each social network, and the user can post to multiple networks at once, creating a far more efficient recruiting process.
Target – Users can instantly select and target appropriate contacts to share a Jobvite in their social networks or email address books; Jobvite matching technology selects the most relevant profiles from the user's network for the job. Those recipients can pass on the Jobvites to matches in their networks as well – quickly expanding Jobvites' targeted reach across the web to find more qualified candidates.
Track – Users can track and label multiple shortened links to see results for each source in real-time. Jobvite Share provides the metrics needed to see what works – and what does not – in job marketing and distribution, including views, clicks, forwards and clicks to apply; all metrics are tracked by individual channel (Twitter, Facebook, LinkedIn, email) and can follow referrals as they spread across the web.