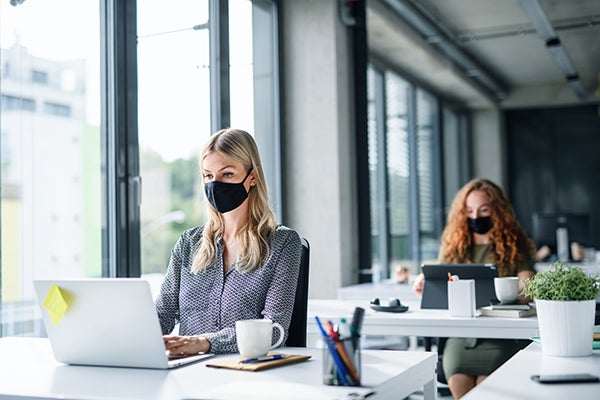 As organizations emerge from crisis and focus on business resiliency, the face of hiring is changing. While some employers may still have a hiring-freeze in place, many organizations have started to re-open. Whether you're focused on building and strengthening a remote team, re-hiring furloughed/laid off workers, or ramping up your hiring efforts, here's what you should consider as you plan for what's next.
Did Your Screening Provider Pass the Stress Test?
As a result of the COVID-19 pandemic and court closures, some background screening providers were unable to fulfill basic criminal background checks. Others experienced delays in turnaround times, causing issues for industries with urgent hiring needs such as healthcare, retail, the gig economy, and staffing firms. Regardless of whether an organization needs to ramp up their hiring or scale back, they shouldn't have to trade safety for speed when it comes to background checks.
Understanding your background screening provider's investment in technology and their ability to continue fulfilling background checks during unprecedented times such as a pandemic, can position you for future hiring success and provide stability to your hiring program. As a result of proprietary end-to-end automation that provides access to court information and strong global partner networks, background screening providers such as Sterling continues to fulfill background screenings in over 99% of United States court jurisdictions, with over 95% fulfillment during the peak of court closures. If you're considering a new screening provider, look beyond their business continuity plan and at their track record.
Are You Maximizing Technology to Drive Efficiencies?
If the background screening portion of your hiring process is not integrated with your preferred Applicant Tracking System (ATS), now may be the time to consider doing so. A pre-built integrated solution such as the one offered through Sterling and Jobvite's partnership, can maximize recruiter efficiencies and streamline your hiring process. Integrating minimizes duplicate data entry and potential errors, provides greater transparency to recruiters about candidate status, ensures data compliance, and ultimately improves the recruiter and candidate experience.
Choosing an ATS is a project within itself, not to mention the larger task of nailing down the strategy to maximize your entire technology stack. The best talent acquisition technology will enable recruiters to do what they do best—build connections with candidates. Among Jobvite Talent Acquisition Suite offerings includes the Jobvite ATS, which allows recruiters to save time as necessary third-party information (such as background and health-related screens) can all be easily synced in one place via integration. AI and automation further the efficiency of recruiters facilitating the right next step at the right time.
Whether you're considering a new ATS or new background screening partner, understanding the full features capabilities of each platform and how the platforms integrate are key to building an efficient tech stack. The longevity of the partnership and working with a screening provider who is well versed and experienced in deploying your integration can ensure a smooth transition, ensure you're up and running quickly, and that your team is fully trained.
What Role Does Identity Verification Play in Your Screening Process?

While a robust background check is critical to preserving your brand and a safe work environment, it's time for organizations to shift their thinking about the role of identity verification. As more organizations adapt their hiring practices to support remote hiring, verifying identity at the onset of candidate engagement can save time, reduce the potential for fraud, and ensure you know who you're really hiring. Although most background screening providers do not offer identity verification as part of their screening packages, providers such as Sterling offer convenient and remote automated identity verification technology — allowing employers to modernize and simplify their hiring processes.
Here's how it works:
Your candidates use their phone to capture pictures of their identity documents, so they can be authenticated, and their photos in a selfie for comparison.
Once the candidates submit an identity document, the system matches the ID image to corresponding document templates to determine what kind of document it is.
Using AI analytics, the system examines the image and extracted data to identify anything suspicious and determine if the document is real.
Once all required ID documents are authenticated, the system will compare a selfie with the photos on the documents to ensure that they match.
In seconds, the system verifies your candidates' identity or flags it for human review.
If I'm Bringing Employees Back to the Workplace, What Should I Consider?
While identity and background screening allow you to get a clear picture of a potential hire, rescreening employees as you bring them back to the workplace can help minimize risk. Incorporating a post-hire monitoring program allows you to maintain a pulse on employee criminal behavior by providing near real-time Employee Risk Alerts for activities such as DUI, assaults, fraud, theft, and more. In light of COVID-19, now may be a good the time to re-evaluate your existing background screening practices and to update your screening policies while complying with regulatory requirements.
In addition to workforce monitoring, COVID-19 Health Screening can help support a safe workplace and protect your employees, customers, and your community. Whether you prefer at-home active virus saliva testing options, onsite, or testing in lab clinics, partnering with a background screening provider such as Sterling will allow you to develop a custom testing program based on your unique business needs.
Regardless of your scenario, having a clearly defined strategy and action plan can help you move forward efficiently while maintaining a culture of safety and trust. Although COVID-19 has presented many challenges, it has also created tremendous learning opportunities that can be applied for a smooth post-COVID transition.
If you have questions or need guidance on next steps for evaluating your background screening program, Sterling is here to help.
This publication is for informational purposes only and nothing contained in it should be construed as legal advice. We expressly disclaim any warranty or responsibility for damages arising out this information. We encourage you to consult with legal counsel regarding your specific needs. We do not undertake any duty to update previously posted materials.