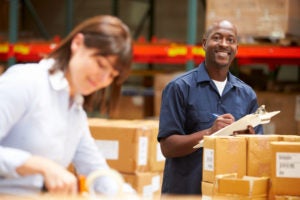 While Jobvite's latest Recruiter Nation Survey shows that almost 40% of companies plan to hire extensively in 2017, some industries—like manufacturing—might have it harder than others when it comes to finding quality talent.
Here are 5 reasons why that could be the case:
1) We have a new U.S. President.
It's no secret that President Trump wants to bring manufacturing back to the United States as part of his efforts to reinvigorate American jobs. Sounds promising—but for manufacturing companies and tech companies who currently have factories outside of the U.S., this kind of shift calls entire recruiting strategies into question.
More homeland manufacturing means ending jobs overseas, which in turn triggers a massive need for American candidates for at least the next 4 years (and possibly longer). And—to make matters worse (or better?)—the more companies bringing manufacturing jobs back to the United States, the more competitive the war for skilled talent will become. Companies looking to come out on top need to get the right recruiting tools in play fast. In particular, look for tools that streamline sourcing and help you fill the pipeline.
2) You've got an image problem.
Millennials are the most up-and-coming group of candidates out there, and the reality is that their number one industry by far is tech. They see tech companies as young and innovative and impactful—whereas manufacturing, on the whole, seems older and more functional. Not bad, just not as engaging.
Of course, we know that manufacturers most certainly use cutting-edge technology. The challenge now is branding your company as that kind of employer—a place where highly skilled employees thrive, and where real change and innovation happens. Craft a consistent message targeted at millennials, and get the word out via all your channels, including your career site and social media.
3)
The right talent is scarce.
Contrary to what millennials might think, manufacturing companies are actually evolving substantially. They're implementing more advanced technology, and as a result, they're dramatically increasing project complexity. On the one hand, that means many old-school factory jobs have become automated. But on the other hand, many of the manufacturing jobs that do need to be filled now require a lot more knowledge and experience than in the past. That translates to a difficult truth—because there simply aren't many highly educated, technologically-savvy candidates with backgrounds in manufacturing. Career professionals from the baby boomer days are getting set to retire, and millennials—while an excellent source of technical expertise—lack on-the-job wisdom.
You're going to need to work hard to attract—and train—tomorrow's workforce. Make the most of recruitment marketing tools that help you create segmented campaigns by role and persona, so you can find people who truly have what it takes to fill key positions today and in the future.
4) You can't ignore mobile.
As we shift to a younger and more tech-attached workforce, make sure you focus not only on who you recruit, but on how and where you recruit as well. That means promoting your brand and building candidate relationships via mobile. Millennials in particular are on their smartphones all the time, with research showing they job shop on mobile devices from just about everywhere—including bathrooms and bedrooms. Manufacturing companies need to step out of the old-school recruiting mentality and go after candidates on their turf. That means formulating a solid mobile recruiting strategy based on technology that easily adapts to mobile platforms. Think about whether your career site and job application are accessible from an iPhone on a commuter train, for example.
5) Candidates expect more from you.
The candidates you're looking for are exceptionally bright, so they know you're courting them. They know you're working to change your image and step into the next generation. They know they have the upper hand. And that's why they expect you to do it right. Now more than ever, manufacturing companies have to ramp up their candidate relationship management practices so they can more effectively capture, nurture, and engage with top talent—before the competition.
You'll need the right technology to help you track candidate profiles and interactions, automate critical communications, intelligently schedule interviews, and even onboard more efficiently. The candidate experience needs to be fluid, fast, and friendly. Are you prepared?
Jobvite is ready to assist you with all of these challenges, so if you have any questions, don't hesitate to send them our way. I know that this year is bringing a lot of change to a lot of industries, and manufacturing is at a critical juncture when it comes to hiring. I'd love to see how we can help you succeed.