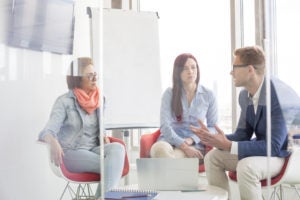 This is part three of our HR Full Cycle Series. Read part two here, "7 Secrets for Effective Interviewing".
In today's competitive economy, your skilled employees are at the heart of your organization's success. Competition for those employees is fierce, particularly in a robust job market. And inevitably, some of those employees will leave your company for other opportunities. In fact, in February 2016, 3 million people voluntarily quit their jobs. Are you wondering why your prize employee just quit? One of the best tools for figuring that out is often done totally ineffectively–the exit interview.
A surprising number of companies don't do exit interviews at all. And those that do find that the process is largely useless. Even if valuable information is uncovered in the exit interview, few companies have a well-defined process for sharing the information and taking action. That's a missed opportunity because exit interviews can offer a treasure trove of valuable insights. If done well, exit interviews can reveal what's working and what isn't inside your organization, giving you an opportunity to make changes that positively impact your company culture and the environment for your current employees. And they also have the potential to generate positive change if you have a process for sharing that information and then taking action on it.
Here are three simple ways you can take your exit interview from ineffective to excellent.
1. Choose Your Interviewer Wisely
A survey on exit interviews by Harvard Business Review found that the HR department handles the exit interview process for nearly three-quarters of companies that conduct the interviews. Not surprising, right? One of the benefits is that departing employees may feel more comfortable giving honest feedback to HR rather than their direct supervisor.
While it makes sense for HR to administer the exit interview process, it's essential to have some participation from management, as well as a process for sharing the findings at the executive level. That same HBR study found that interviews conducted by second- or third-line managers (i.e. the departing employee's supervisor's manager) are most likely to lead to action. There are a couple reasons for this. These managers are one step removed from the employee so they often receive more honest feedback. In addition, those managers are often in the position to do something with the feedback.
2. Ask the Right Questions
Too often companies seem to regard exit interviews as a check box item. As a result, the questions asked are less than thoughtful and the answers less than useful.
The key is to prepare a set of questions designed to uncover actionable information. By developing a standard set of questions used in all exit interviews, you can look at the responses in aggregate and identify trends and consistencies. Here are some examples of questions that can elicit more detailed and informative responses from departing employees:
Why have you decided to leave the company?

What caused you to start looking for a new job in the first place?

Have you shared your concerns with anyone in the company prior to deciding to leave? What was the response?

How was your relationship with your manager? What could they do to improve their management style?

What did you like most about your job?

What did you dislike about your job? What would you change about your job?

Did you have clear goals and know what was expected of you in your job?

Did the management of the company care about and help you accomplish your personal and professional development and career goals?

What would you recommend to help us create a better workplace?
3. Act on Your Information
For many organizations, this is the missing piece of the puzzle. HR manages the exit interview process and aggregates all the information and learnings from the exit discussions. And then it goes nowhere.
Without a process for disseminating the information—and making decisions and effecting change based on the findings—the information is virtually useless. Instead of treating the exit interview as a discrete (and distasteful) process, look at it as an opportunity for organizational learning. Have a plan for consolidating, sharing, and acting on exit interview data. (Of course any distribution plan needs to consider the sensitivity of the data and protect the anonymity of the interviewees.) And involve company leadership in order to make real changes based on what you learn from those exit interviews.
Exit interviews can be a powerful tool with long-term benefits that lead to positive change in your company. To reap the benefits look at the exit interview process as an opportunity to gain valuable insight into what your company can do better to retain its best employees.