Today, we are excited to share a blog post from our customer, Sam Brannon at Trulia, on a very important topic for everyone in the workforce—closing the gender pay gap. It's a topic that we're also passionate about and that's why we invited Abby Wambach, two-time American Olympic gold medalist soccer player and equal pay advocate, to keynote our upcoming conference, Recruiter Nation Live, being held June 5-7, 2017 in San Francisco. Big thanks to Trulia for helping to champion this important topic.
In honor of international women's day last week, a day that celebrates the advancements and achievements of women around the world, Trulia released a study measuring women's strides for equality. The results show some progress in economic gender equality, but still plenty of room for improvement.
Where Women are Making Progress
Nationally, the pay gap between men and women decreased by 7.1 percent since 2008, and on a local level, the pay gap decreased in 55 of the largest 100 metros. From an educational perspective nationally, 30.0% of women have 4+ years of college, which is nearly equal to 30.14% of men. On a local level, women are as likely to have a college degree in 33 of the top 100 metros.
Mind the Gap: There's Still Work to be Done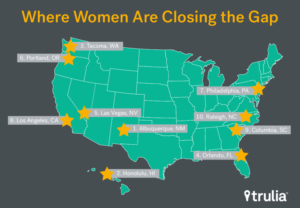 Despite some progress, women are still trailing men in homeownership and average income. In the largest 100 metros, 46.1 % of single women are homeowners compared to 50.3 % of single men. Women are still making 72 cents to every dollar a man makes, and in 41 of the 100 largest metros, the pay gap widened (including tech hubs like San Francisco, San Jose and Seattle.)
While there are still many rough edges of inequality to iron out nationally, certain U.S. metros are light years ahead of others. Trulia found the top 10 metros where the women have shrunk the gap the smallest comparing women to men when it came to owning a home, attending at least four years of college and income.  
Where are Women Winning?
Results from the metro level are indicating a bright future ahead for women as many markets have made positive changes on the sides of gender equality. Three key areas have determined this climb towards success include the change in gap pay, college enrollment and the percentage point in homeownership.
Albuquerque, NM in particular has seen remarkable progressions. The pay gap between men and women decreased significantly by a whopping 25 percent from 2008 to 2015. Additionally, women in Albuquerque are 1.15 percent more likely to have a degree and are 1.18 percent more likely to be homeowners than men. Metros like Honolulu, HI, Tacoma, WA, and Orlando, FL are right behind Albuquerque as metros making leaps toward well-rounded equality.
The Tech Industry is Still Behind
Women's equality is making major advances, but certain cities are still a little further behind. Trulia's study shows 41 cities with an increase in the pay gap which coincidentally include tech hubs like San Francisco, San Jose, and Seattle. Raleigh, NC, is the only tech hub city in the nation that made the top 10 for pay gap decrease and success for women, whereas Silicon Valley pay gaps significantly increased for women.
The tech industry has historically been more difficult for women to break through, and only getting more difficult for women as the industry grows at such an exponential rate. Furthermore, many believe technology implementation and automation will have an adverse effect on the gender gap in the tech industry and will be a major contributor to job loss for women aspiring to be in this sector.
There may be light at the end of the tunnel for women in tech, with companies like Jobvite looking for ways to improve equality. While compensation is something to work on, Jobvite is finding other areas in the workplace to improve upon. In honor International Women's Day, Jobvite surveyed female employees about which workplace qualities are most important – overwhelmingly, and not surprisingly, women declared company culture and pay as most important.
The recruiting company even suggests a few tips for continuing to support women in the workplace:
Provide leadership opportunities, training, and mentoring to develop women leaders.

Deliver flexible work schedules as well as stronger maternity and paternity leave policies.

Continue to support healthy work/life balance, which can sometimes be hard in our fast-paced and dynamic business.