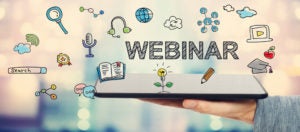 Not long ago, job seekers held all the cards in the recruiting and employment market. However, the current economic climate has changed everything — for job seekers and employers alike. What's more, this instability is likely to continue for the foreseeable future.  
Talent professionals are facing immense pressure to do more with less. As a result, they're re-evaluating almost every aspect of the hiring process. In order to effectively attract and recruit the best talent amid these challenges, they need insights into the mind of today's job seeker. 
Earlier this week, Jobvite's Jeff Rohrs and Kerry Gilliam joined Kevin Grossman of Talent Board to host a webinar on this topic. These just a few of the key takeaways from this session. 
The Pendulum has Swung
There's no doubt that jobs are less plentiful than they were in the recent past. What might be surprising is that this shift was underway well before the COVID-19 crisis. Jobvite recently surveyed two groups of job seekers — one in February 2020 and the second in April 2020 — for insights into their priorities, needs, and challenges. Among job seekers surveyed in February, 48% said finding a job is harder than it was last year, and 23% said it is "much harder." By April, these numbers increased to 73% and 44%, respectively. 
Recent employer surveys conducted by Talent Board reinforce these perceptions. Overall, hiring decreased 13% in just a few short weeks, between mid-April and mid-May. To further complicate matters, layoffs and furloughs increased by 55% over this same period. 
For talent professionals, it's critical to avoid making this already difficult situation even harder. Evaluate your application process with an eye toward simplification — reducing the number of steps and the time needed to apply whenever possible. And if your candidates are likely to apply for jobs via mobile devices, make sure your application experience is optimized for mobile.  
 PRO TIP: Check out our blog post for tips on evaluating your internal processes and much more.  
The Stress is Real
Across the board, stress levels are at an all-time high. At work, people may be concerned about job security or struggling to manage additional tasks after losing co-workers. At home, they're juggling remote work and personal responsibilities, along with the sudden addition of their children's education. 
The numbers bear this out: one-third (33%) of workers report somewhat increased stress levels at work, while 22% say their stress level has increased drastically. Among workers with children at home, 62% say their stress is at least somewhat elevated over the last 60 days.  
Amid these extraordinary circumstances, employers must lead with compassion, patience, and understanding — both for their job candidates and talent teams. Alleviate stress wherever possible and look for ways to help.  
 FACTS WE CAN'T IGNORE: A shocking 19% of workers or their families have gone without food for 24 hours due to lack of money. If you can, consider a donation to Feeding America to help in the fight against hunger. 
The Candidate Experience has Consequences
Even in a difficult job market, top candidates expect a lot from potential employers. Seemingly small things like an overly-complicated application process or poor communication can negatively impact your employer brand and your ability to attract the best candidates.  
In fact, 58% of job seekers say that great communication is the most important factor in a good candidate experience. Other key contributors include an easy application process (49%) and ease of schedule interviews (44%). On the flip side, 42% point to a lack of responsiveness as the cause of a negative candidate experience, 25% cite an unpleasant interview, and 24% blame a complicated application process. 
It's important to remember that a great candidate experience doesn't happen by accident. It takes planning, attention to detail, and a commitment to ongoing improvement. Employers should find ways to objectively measure the candidate experience and audit candidate communications at each stage of the process. In addition, implementing a "silver medalist" program for finalists who aren't ultimately selected can help to streamline hiring for future roles. 
 PRO TIP: Listen to our webinar for tips on recruiting the best candidates in today's remote world. 
You're Missing Opportunities for Referrals
Workers are more likely than ever to share job openings. We all know someone who's lost a job, and we're eager to help! One-third (33%) of today's workers are likely to share job openings at their company, compared to 26% just two months ago. And 38% of job seekers say they're inclined to click on a job opportunity posted by someone in their network. 
Despite this enthusiasm, two-thirds of surveyed workers (65%) have never participated in a company's referral program — largely because their company doesn't offer one (60%). This is clearly a missed opportunity, as referrals are an easy and cost-effective way to bring in the best talent.  
If you don't currently have a referral program, now could be the best time to implement one. Make sure the program is easy to understand and creates attractive incentives for your employees. If you're experiencing a hiring slowdown, there may be an opportunity to redeploy recruiters to develop and deploy a referral program for the future.   
The full webinar recording includes even more even insights from Jobvite and Talent Board on the challenges and opportunities for employers in this rapidly changing environment. For more information about the needs and preferences of today's job seekers, download our 11th annual Job Seeker Nation Survey.