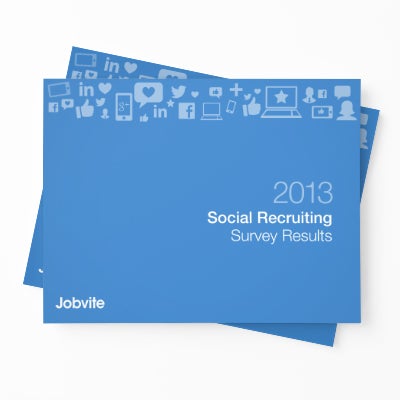 It's that time of year again… our sixth annual Social Recruiting Survey results are in!
If you're not familiar with our survey, here's a quick summary:
Using email and a variety of social networks, we invite recruiters and HR personnel to share their experiences with us regarding their use of social media in the hiring process.
This invitation is deliberately broad, extending beyond our customer base to provide as wide a perspective as possible.
On the survey, we ask specific questions about which networks participants prefer, how they use each network, projected value of and investment in social media, and so on.

Year after year, we've demonstrated that social recruiting is becoming a must for companies looking to hire top talent. This year, with responses from over 1,600 participants, our results clearly show that it's no longer a question of whether an organization is recruiting through social media—it's about how they are leveraging social tools to achieve the biggest benefits. And this is not just a high-tech phenomenon anymore. With participants providing input from more than 50 different industries, we can see how social recruiting is now a universal hiring practice.
One of the things I personally find most interesting about our 2013 report is that it offers concrete proof that recruiting is essentially becoming marketing, and as a direct result, companies are seeing tremendous new value potential.
Social networks enable recruiters to take a highly efficient, multi-channel approach to hiring, in much the same way as marketers target customers. Through viewing candidates' social profiles and engaging with and nurturing candidates, social media enables recruiters to better understand candidates—and appeal to them—on an individual level. At the same time, by building and maintaining company pages that reflect corporate culture, businesses can more effectively communicate and evangelize their employment brand—a technique that helps build interest even among candidates not currently seeking new employment. Of course, marketers do this all the time to build new business. Now recruiters are catching on—and succeeding.
If you think this is all about saving money, think again. While some companies state in our results that social recruiting has helped to lower hiring costs, others believe the real advantage is in finding more qualified jobseekers, or upping their ability to attract passive candidates. These benefits have substantial, bottom-line value to companies, and we now have definitive dollar signs to prove it.
Other interesting results to note in our report:
Social media also empowers employees to more easily refer high-quality candidates, with referrals representing the highest quality source of candidates at 64%.
Candidates best watch what they put on their social profiles, as an overwhelming majority of recruiters form negative opinions from posts flaunting drugs, alcohol, and profanity—and 42% of recruiters have apparently reconsidered an applicant (either positively or negatively) based on what a social profile revealed.