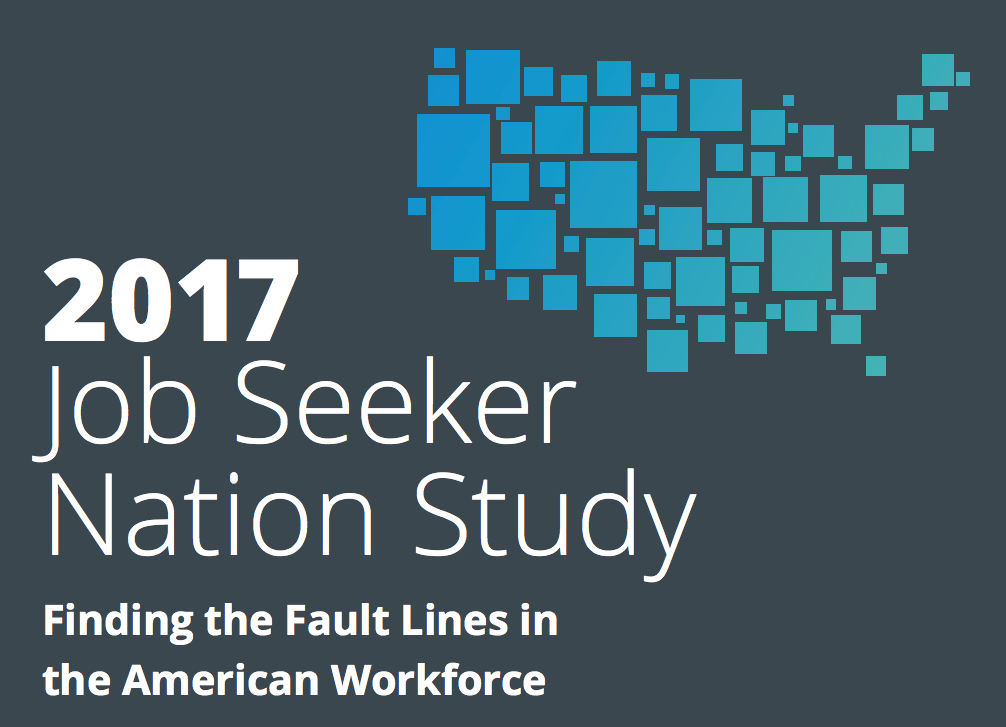 If there's anything America can agree on in 2017, it's that our nation is divided. In November, we watched the country split in two around our presidential election, and many gained a newfound understanding of the vast difference in daily experiences for others outside their particular slice of life.
After surveying over 2,000 workers in this country on the American work experience, conducted by Zogby Analytics, our data confirmed an important lesson: "Divided America" is a myth. While blue and red states border one another in almost every instance, our population isn't so easy to catalog — between our family lives, our careers, our finances and our hopes and dreams, the American experience is varied across thousands of fault lines.
In our 2017 Job Seeker Nation Survey by Jobvite, now in its 8th year, we seek to define these diverse workforce experiences, helping understand the distinctions and overlaps between the shades of the American job seeker. Some key findings include:
"Divided America" is a misleading oversimplification. Our survey found nuance, texture, and many different versions of the American job seeker experience.
37% of job seekers think job prospects will be worse in the coming years in light of the presidential administration — while 35% think they'll be better. In aggregate, it seems like the field is split, but when you dig in, that's actually not the case. For example….

Women and men can't agree — men feel more confident than women: 41% of males think prospects will be better, while just 29% of females agree.

Gen Z and Baby Boomers have opposite opinions too — only 19% of younger workers (18-22) believe that job prospects will improve, but 45% of older workers (55+) do.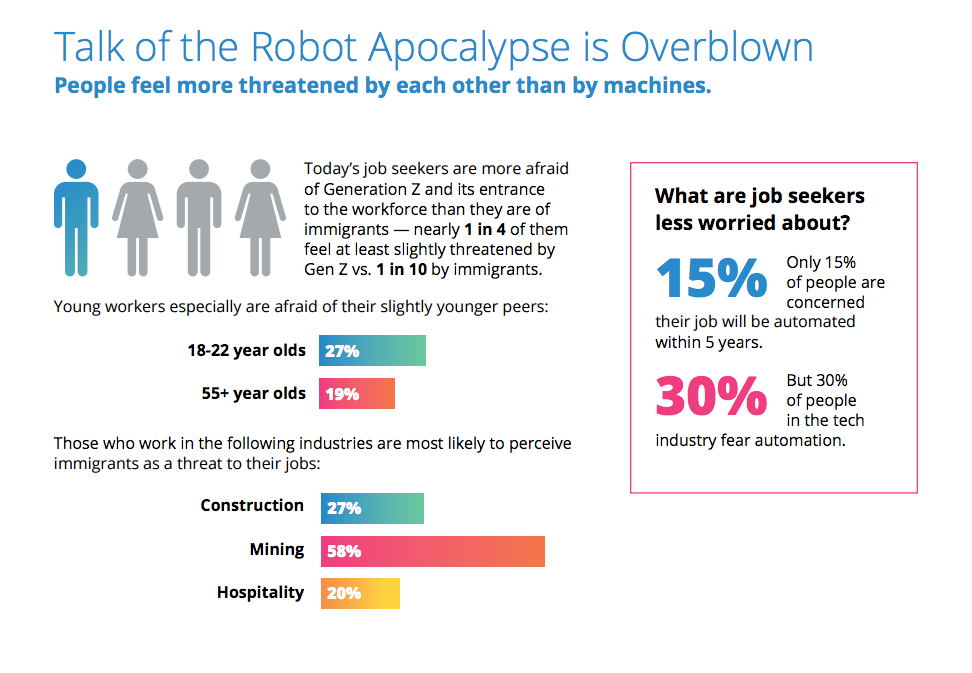 The biggest threat? Other people (not robots). People are most afraid of other people in the workforce, and don't feel all that threatened by automation. Here's a surprising finding: job seekers are more concerned that Gen Z will take their jobs, much more than the threat of immigrants or automation.
Today's job seekers are most afraid of Generation Z and its entrance to the workforce — nearly 1 in 4 of them feel at least slightly threatened.

Immigrants are perceived as a threat to the jobs of some workers (11%) — particularly those who work in construction (26%), mining (57%) and hospitality (20%).

What are job seekers less worried about? Automation — just 15% of them are concerned their position will be automated within 5 years.
Is it hard or easy to get a new job? It depends who you ask. Nearly half the workforce say it's harder to find a job than last year. However, certain groups aren't feeling the same pain — particularly high earners, those in large cities, and high-skill industries.
46% of job seekers report that it was harder to find a job than last year. It was much harder for those in mining (57%), real estate (30%), construction (25%) and services (23%). African Americans (30%) and people who make less than $25K (34%) also felt their job prospects were bleak.

But 15% said finding a job is easier this year than last. It was easier for those in large cities (19%), telecommunications (28%), finance (21%), technology (18%) and for people who make more than $300K (27%).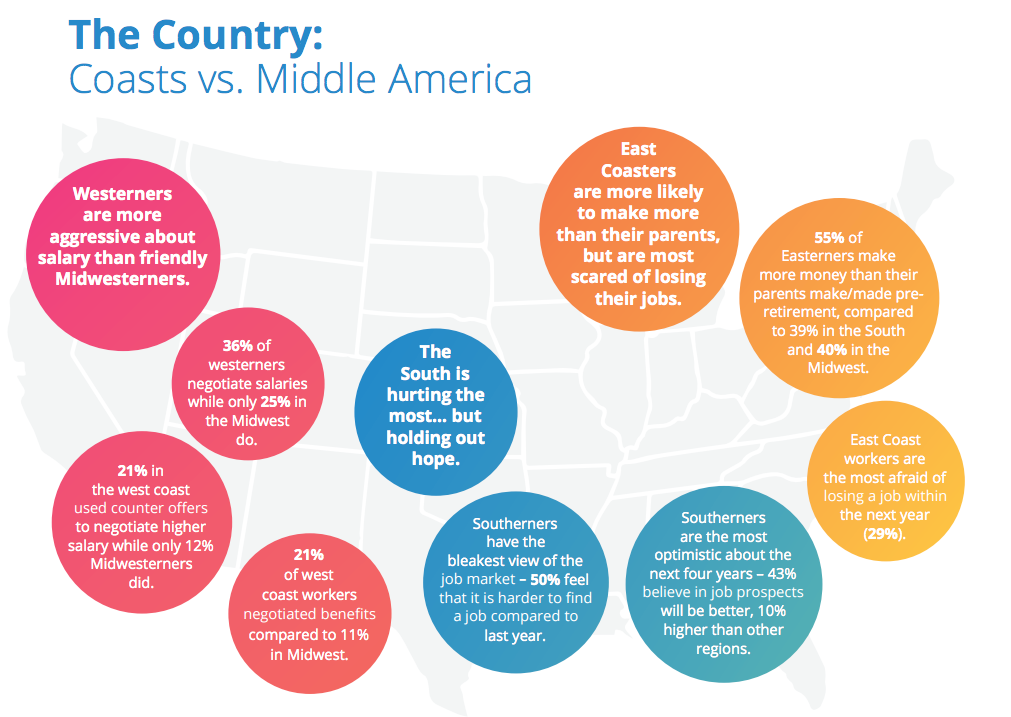 The rules of getting a job have changed. Traditional "rules of the road" like cover letters have been abandoned in favor of new job seeking practices — and staying at job for 4 years is no longer "required."
47% of job seekers did not submit a cover letter with their current or most recent job application.  And only 26% of recruiters say they consider cover letters important in their decision to hire an applicant (Recruiter Nation 2016). It's not just a generational thing, either: 58% of both younger workers (18-22) and older workers (55+) eschewed that tradition.

More than half of job seekers are satisfied at work (64%) — but 81% of them are open to new job opportunities.

Single people (33%), 18-22 year olds (60%) and people who make less than $25k (41%) change jobs every 1-3 years — we call them "hyper hoppers."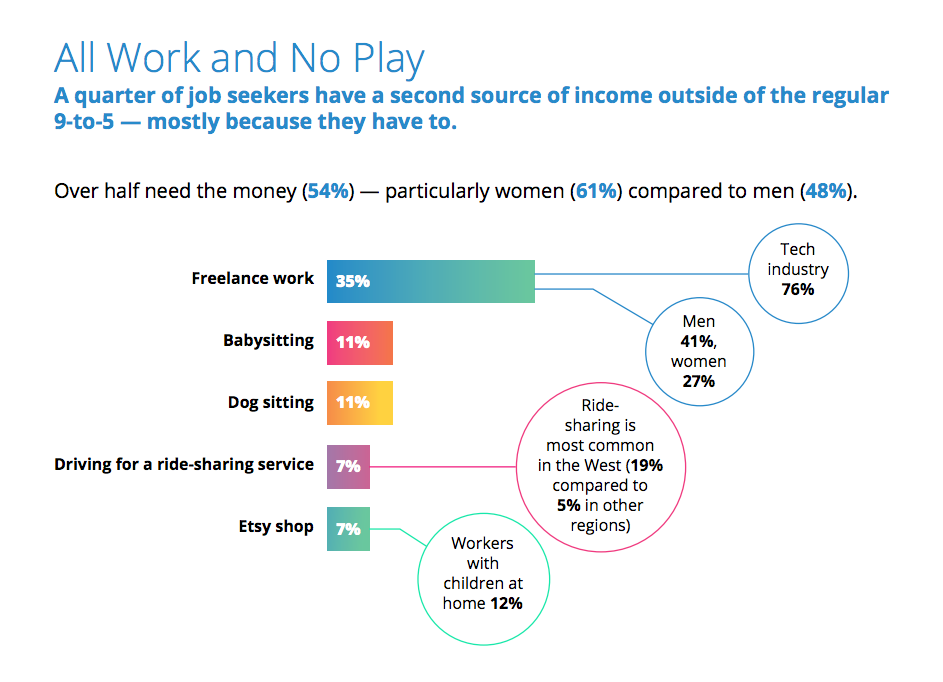 The side hustle is real. Second jobs and salary negotiations are top of mind. While we keep hearing that the economy is on the up-and-up, a significant percentage of job seekers still need extra work or higher pay to survive.
A quarter of job seekers (25%) have a second source of income outside of the regular 9-to-5.

Why? Over half need the money (54%) — particularly women (61%).

Just 29% of job seekers negotiated their salary at their current or most recent job — and 47% still don't feel comfortable doing it at all.

But for 84% of job seekers, negotiating resulted in higher pay — and for 1/5 of them, that was 11-20% higher.