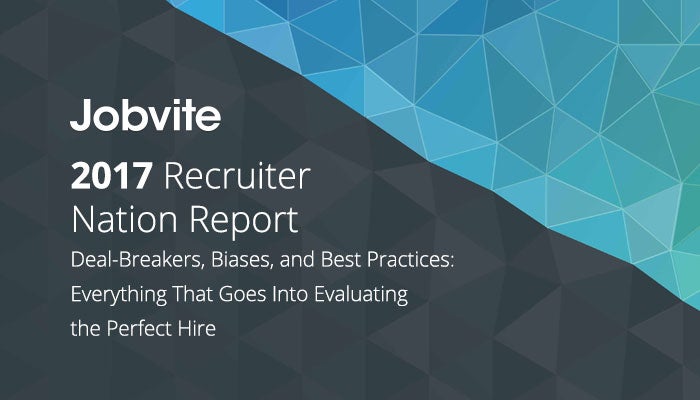 We've said it before and we'll say it again: people are the lifeblood of any company, big or small. Without talented, dedicated employees, any business ceases to function as it needs to.
For recruiters, that means the stakes are high. Bringing in talent — quality, enthusiastic, skilled, great talent, no less — has never been more difficult. It's a job seeker's market, as you know, meaning that recruiters are at the whim of what their candidates decide. As renowned author Flannery O'Connor once said, "A good man [or, in this case, employee] is hard to find."
At the end of the day, though, "good" talent is simply a reflection of a recruiter's judgment — whether they believe this person will be able to get the job done, get along with the rest of the company, and grow alongside it. So what goes into that judgment? A whole lot, from biases implicit and explicit to hands-down deal-breakers to key traits that have proven to make a solid employee.
It's the why behind these little judgments that can tell us about recruiting today — what matters, what doesn't, what's ethical, and what candidates can do from here.
In our 2017 Recruiter Nation Report, we delve into these attitudes, behaviors, fears, strategies, and predictions for how to build the best companies possible. We learned that, although the public discourse might say something different, bias in hiring does still exist. We learned that recruiters use their own personal judgments to do what they believe is best for their company — and sometimes, that's a good thing. We learned how much recruiters see, hear, and absorb on a daily basis, making them some of the most perceptive people in an organization.
And after surveying over 800 recruiters in all corners of the United States, we learned some major lessons about the importance of the recruiting function — the weight it carries and why recruiters can be a barometer of a company's cultural health. Some key learnings we discovered include:
In hiring, bias still exists:
A majority of recruiters (57%) believe implicit bias is a real problem within the American workforce. However, most recruiters say they have no goals in place to increase diversity:
52% say they have no goals in place for gender breakdowns and 51% say they have no goals for racial diversity in hiring.

Only 13% of recruiters ranked "increasing diversity at my company" as a top three priority for the next 12 months.
Some recruiters even see biased attitudes in action:
One-third (32%) of recruiters say they have observed or heard about sexual harassment/sexist attitudes from candidates, and about a fourth (27%) have observed or heard the same attitudes expressed toward a candidate.
Creating a positive culture starts with knowing what you value — all the way from the interview.
Recruiter Positives:
Conversational skills are by far the most important factor (92%) determining whether a candidate is a 'cultural fit'.

This holds true throughout the hiring process. During the first in-person interview, conversation skills (69%), knowledge of the industry (65%), and enthusiasm (62%) are the top three factors that positively influence recruiters.  
Recruiter Deal-Breakers:
Being rude to the receptionist or other support staff (86%), checking your phone (71%), showing up late (58%) and bad hygiene (52%) are the top bad behaviors to automatically disqualify a candidate during an interview.
Who we are impacts how we hire:
There are some major differences between millennial recruiters and their older counterparts when it comes to how they judge candidates. Millennial recruiters put more emphasis on conversation skills and enthusiasm while recruiters over 50 put relatively more emphasis on expressed knowledge of the industry and appearance.
Millennial recruiters put more emphasis on conversation skills (75% vs. 60% among older recruiters) and enthusiasm (73% vs. 60%)

Recruiters over 50 emphasize knowledge of the industry (71% vs. 60%) and appearance (33% vs. 17%).
When it comes to evaluating talent, men are more visual — while women more often judge on credentials:
Males tend to pay more attention to appearance/personal style (30% vs. 23%) and enthusiasm (66% vs. 60%)

Female recruiters particularly care about a candidate's college major (25% vs. 18%) and references (35% vs. 29%)