Last year, we published industry's first recruiting funnel benchmark report which was met with incredible feedback—from both customers and other practitioners in the industry—and a call for more data. We heard you. This year, we've gone bigger and better, with even more data that is ready for you to put to work. That's the driving force behind our benchmark reports—to make it easier for you to recruit top talent.
The 2017 Recruiting Funnel Benchmark Report is based on quantitative and qualitative analysis of Jobvite's Job Seeker Database, which houses data from over 69 million job seekers—the largest, most comprehensive collection of applicant data in the industry.
Take a look at how the funnel has changed since last year.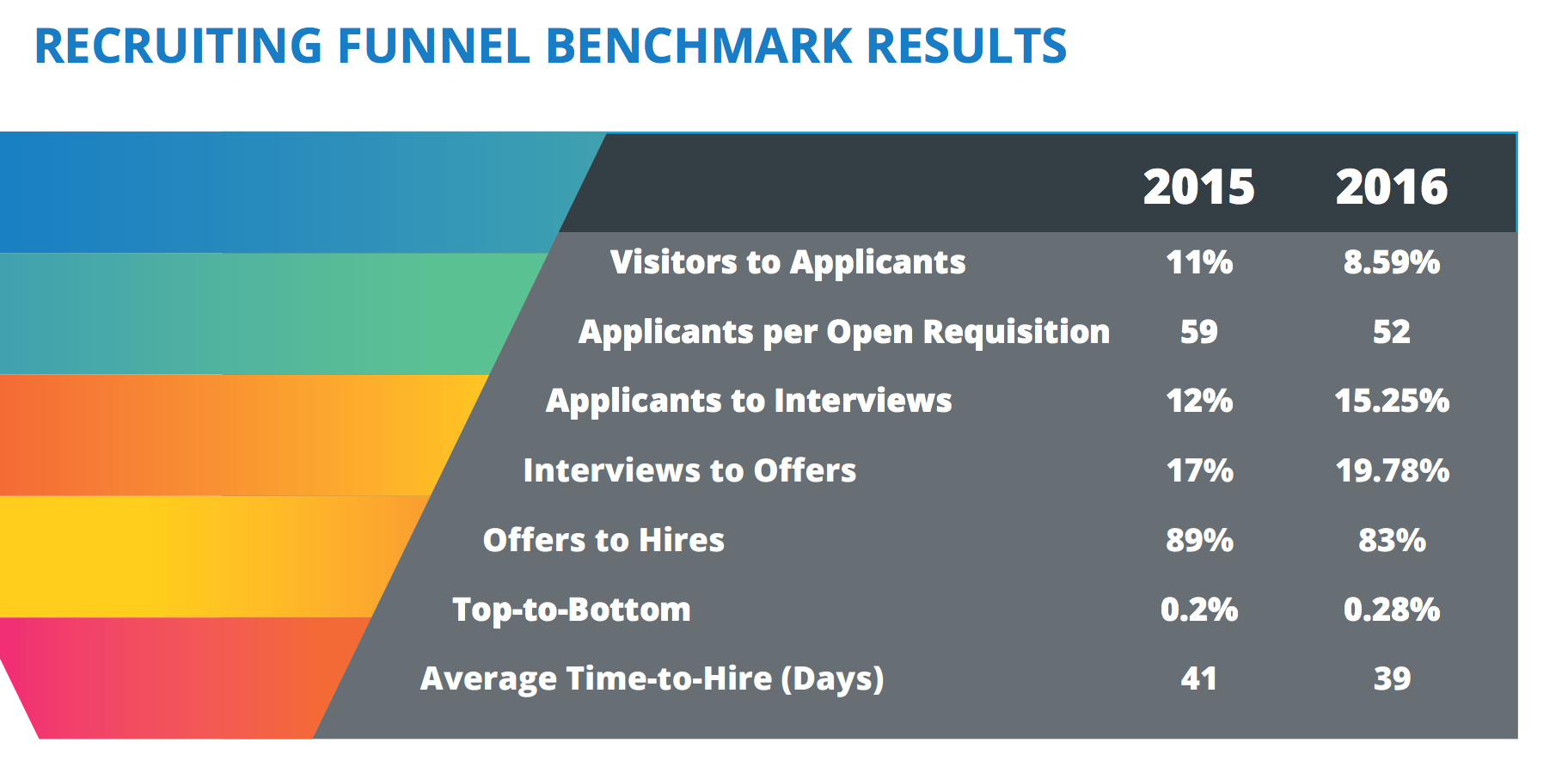 In addition to last year's benchmark data by company size, this year's report also includes benchmark data by revenue, by source of applicants and hires, and by industry.
We also compiled benchmark data for top ranked companies like the Inc. 5000 and Fortune 500 to help you compare your recruiting efforts to similar companies, as well as the best in the business. This is one of my favorite sections of the 2017 report, and I hope it helps provide the insight you need to understand what it will take to match the performance of those companies you're aspiring to emulate!
Once you figure out how you stack up, then what? To round out the report, we delve into actionable advice that will create lasting impact on your recruiting efforts. Armed with the data in this report, you can see how you stack up against your peers and those you aspire to grow into.
How frequently should you be benchmarking? Are you collecting nice-to-have or must-have data? We also include eight steps to take right now to bolster your recruiting strategy.
How do the metrics from the report compare with yours? Any advice you'd share with those companies that are significantly behind? What advice do you want to hear from those that are ahead? Share your comments on Twitter: @jobvite #recruitingfunnel.