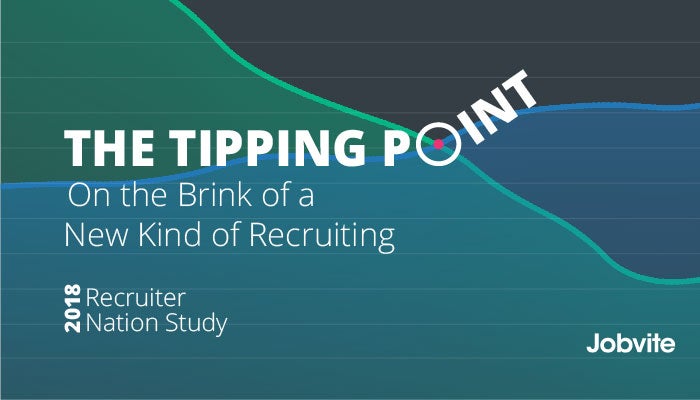 Right now, the recruiting industry is on the edge of a tipping point. After years of shifting economies and a move towards candidate-centric strategies, it's the dawn of a new era of recruiting. According to the Bureau of Labor Statistics, the United States unemployment rate fell to 3.7% in October 2018, a record low since December 1969 — meaning that while there's never been a better time to be an American in the workforce, it's also never been harder to be a recruiter
Navigating a tough talent market is not a new challenge. With more open jobs than available talent, and nearly all of today's qualified candidates comfortably employed, recruiters are forced to leave behind what they know and come up with creative ways to attract candidates. Today, there are new standards and success metrics that matter more than cost or time. Based on our survey results, recruiters are looking to things like retention rate and performance of hire to ensure they're hiring the best.
And with the candidate in the driver's seat more than ever, recruiters are engaging with potential hires in new ways. Texting candidates is growing in popularity — with incredible response from job seekers — and new channels like Instagram are becoming important for recruiters as they evaluate potential candidates. And once they've signed on, candidates will no longer accept a "good enough" hiring or onboarding process. With buyer's remorse on the rise among newly hired employees, recruiters are spending more time and resources getting employees up to speed during the onboarding process
With such complicated dynamics, recruiters are facing more intense challenges than ever — and this new era of the discipline is raising the stakes. In our annual Recruiter Nation Survey, we examined how a tight labor market is impacting the recruiting industry. Some key findings include:
Today's economy is raising candidate expectations and recruiting challenges.
A majority of recruiters (57%) believe implicit bias is a real problem within the American workforce. However, most recruiters say they have no goals in place to increase diversity:
74% recruiters believe hiring will become more competitive in the next 12 months.
31% of recruiters count quality of hire as the most important success metric, followed by retention rate (23%).
According to recruiters, the top investments for growing an employer brand are: social media (47%), company career website (21%), and marketing and advertising (12%).
Recruiters are updating how they engage with candidates.
25% of recruiters are investing in recruiting efforts on Instagram, especially millennial recruiters (35%) and those working at technology companies (63%).
43% of recruiters have used texting to reach out to candidates or current applicants — and 88% report a positive feedback from the job seeker.
Recruiters and job seekers are changing the market dynamic based on the supply gap: The need for strong conversational skills and enthusiasm decreased among recruiters by more than 20% across the board as compared to last year. At the same time, negotiating power is increasing on the job seeker side.
Over the past 12 months, almost 75 percent of recruiters have noticed an increase in salary negotiations from their candidates.
To read more about the Tipping Point in recruiting, download this year's Recruiter Nation Report in its entirety. The report was conducted by Zogby Analytics and surveyed over 800 U.S. recruiters.