When we began the Jobvite Social Recruiting Survey four years ago, social recruiting was a new idea to many companies. Between then and now, comScore reports that time spent in social networks grew from 1 out of every 12 minutes spent online to 1 in out every 6 minutes. Employers have clearly followed their target talent into social networks. Our 2011 survey found that 89% of respondents will recruit through social media this year, up from 83% in 2010.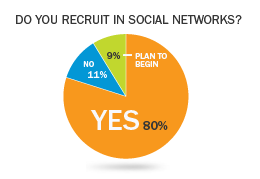 As competition for talent grows, social recruiting has topped the list two years running as the most popular area to increase investment. Not surprisingly, respondents' plans to increase spending on candidate sources are closely aligned with their views on the quality of those sources.
55% will increase their budgets for social recruiting; referrals, corporate career sites and direct sourcing are other top categories for increased investment.
Referrals, direct sourcing and social networks are the top rated external sources for quality candidates.
Only 16% will spend more on job boards and a third of respondents plan to spend less on job boards, third party recruiters and search firms.
Among companies anticipating increased hiring this year, 95% now use or plan to start using social recruiting.
Clearly, the connections, data and reach offered by social networks are increasingly valued by employers as an essential way to build relationship with prospective employees.
See the full report for 20+ pages of charts; there were many more questions asked and some interesting comparisons with past years. The embeddable charts and an infographic on our site are handy if you'd like to share the stats.