The hiring team—which includes hiring managers and interviewers—are busy enough with their day jobs. So, the last thing they have time for is logging into an Applicant Tracking System (ATS) to review dozens of candidates or write long interview evaluations. Because they are typically slow to take action, not only does your time-to-hire drag out, but you risk losing top talent because competitive offers come in faster.
Last year, we took on the challenge of making it easier and more convenient for teams to participate in the recruiting process head-on with our Hiring Team App. Instead of just duplicating the desktop experience, we thought through the most common use cases (or bottlenecks) and designed the app for everyone involved to make decisions, screen candidates, manage interview schedules, submit feedback, and collaborate with teams on the go.
Sure enough, it caught on. We have over 12,000 Jobvite users of the Mobile Hiring Team App for iOS. The mobile app users are from companies of all sizes including Blizzard Entertainment, Farfetch, Ingram Micro, ServiceNow, Xylem and more.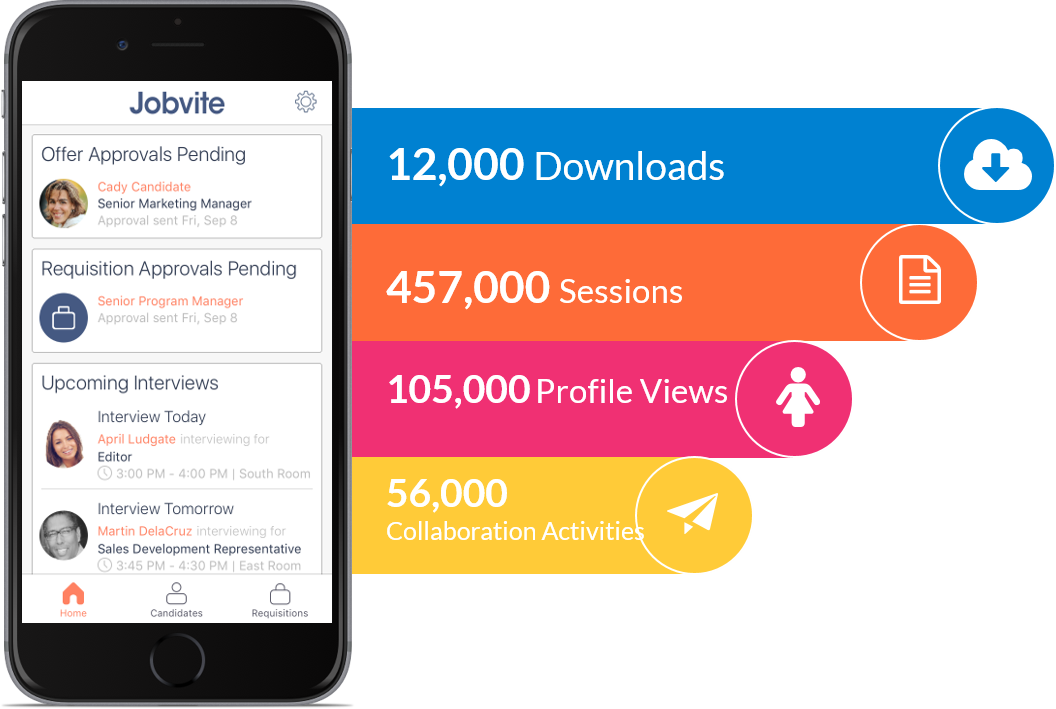 The Mobile Hiring Team App for Android Has Arrived!
Today, we are excited to launch the Android version of our Mobile Hiring Team app. Check it out in the Google Play Store here.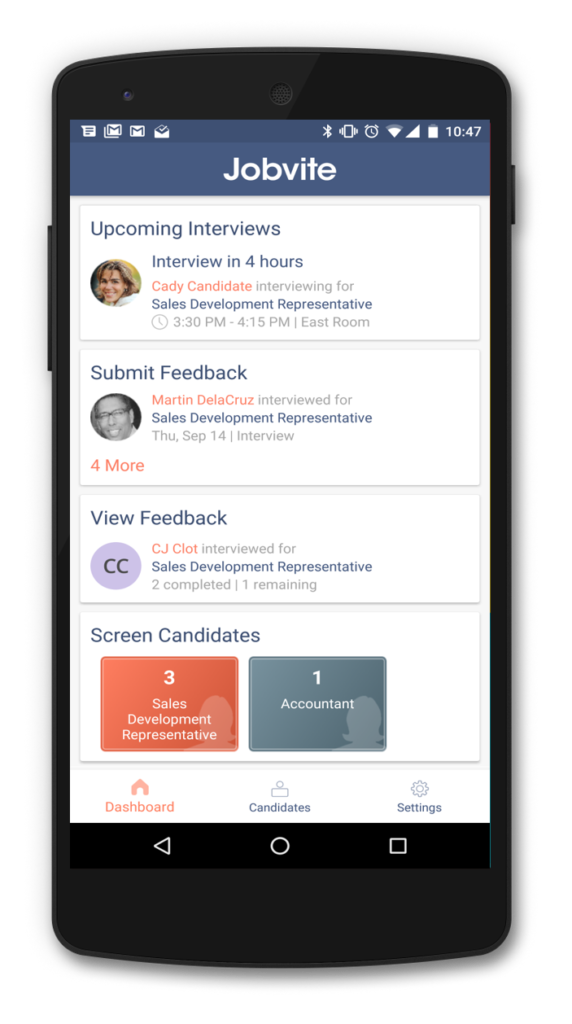 We've Come a Long Way
Of course, we didn't launch and leave. Instead, we've worked hard over the last year to make the Mobile Hiring Team App experience even better. Here are a few of the capabilities we added:
Collaborative Hiring:

Valuable insights from employees who are former colleagues of a candidate's, but not part of the core hiring team, often go undiscovered because there isn't an easy way to gather that feedback. Not anymore. Hiring managers can now share candidate applications with employees and gather additional feedback to reduce the risk of a bad hire. Hiring teams can also continue discussions in a social media style feed (post, like, and comment) to thoroughly assess a candidate's role and culture fit

Share Jobvites (Job invitations)

: We added the job sharing feature so you can boost employee referrals. Your employees can all now post open positions to their social network. In addition, they can also use text messaging apps such as SMS, Whatsapp, etc., or access contacts in their address book and send text invites to friends who might be interested in a specific job

Review and Submit Approvals

: Being away from your desk should not be a reason to slow down the approval process. Hiring managers can get notifications, access information, view the status of approvals, and approve offers and requisitions—all from their mobile device

Requisition Enhancements:

Recruiters or hiring managers, who are also tasked with recruiter functions, can view requisition details and take actions on candidates right from their smartphones such as sending rejection notices or setup delayed rejection notices
Learn more about the Jobvite Hiring Team App!
Get the latest and greatest Jobvite Hiring Team App (iOS and Android) and watch your hiring team bottlenecks disappear.