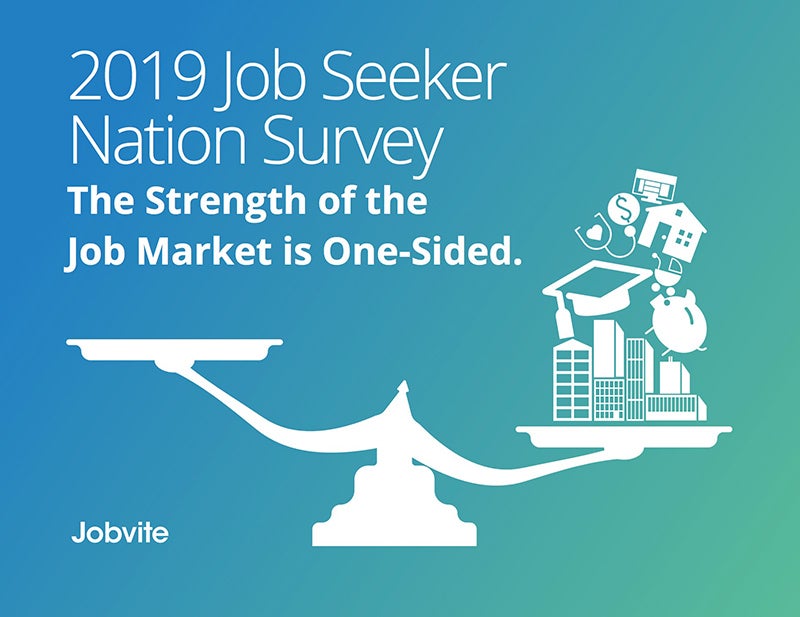 In 2019, one thing seems certain: it's a candidates' job market. With the U.S. economy prospering, headlined by a record stretch of low unemployment, all signs point to a tip-top labor market for American job seekers. In fact, from massive tech IPOs to more job openings than workers to fill them, the job prospects only look to perk up in the coming year.
Last year, we said recruiting hit its tipping point, and we saw candidates seizing their newfound power to negotiate salary more often, preemptively reject companies, and turn down signed offers in lieu of better ones. This new dynamic has forced hiring teams to get creative and explore unknown territories — like adding text into their recruiting methods and engaging candidates on social media — to reach candidates and find new talent.
But after surveying over 1,500 workers on the American work experience, we found this doesn't paint the full picture, and leaves out an important part of the labor market: the one that is falling behind. While some companies and industries report record growth and headlines paint a positive outlook on employment, not everyone is able to find work, stay sharp, or move ahead in today's labor market. So, "how hard is it to find a job today" actually depends on who you ask.
In our annual Job Seeker Nation Report, Jobvite looks at who is able to get ahead in today's economy, the opportunity costs for those falling behind, and the daily realities for workers when it comes to workaholism, parental leave, the gender pay gap, and more. Some key findings include:
It's Not Easy to Find a Job for Everyone

Despite the booming economy and hot streak of low unemployment numbers, 45% of job seekers say it's harder to find a job than last year.
But an increased number of job seekers (20%) also said it's easier finding work.
Those include workers…

With college degrees (20%)
Who live in big cities (20%)
From "high-skill" industries: Technology (26%), Telecommunications (23%), and Marketing (22%)
Who make more than $300k (26% said it's much easier)

Employed Workers are Better Equipped to Find the Next Gig

Employed workers can use professional networks to find that next opportunity versus those who are unemployed (38% vs. 18%).
Holding down a job emboldens you to "reach" for better opportunities. Compared to those without a job, employed workers are more likely (48% vs. 34%) to apply for positions where they do not meet the skill requirements.

Educated Workers are More Likely to Grow Their Skills

While the majority of workers today have taken additional educational or professional courses since entering the workforce, it's the already employed and already educated who are more likely to have done so:

College-educated (62%), city workers (53%), and those already employed (53%) are the most likely to continue their education.
Those who do not have a college degree (62%) and hail from rural areas (54%) and who are unemployed (51%) are the least likely to take more courses.

Workers Go for the Best Overall Offer

In an eight-point increase from last year's results, 19% of workers say that they have, at some point, turned down a job after signing an official offer but before their first day.

Better offers (58%) were the number one reason why.

For the first time, career growth opportunities now rank number one (61%) on the list of most important factors when looking for new opportunities — toppling long-time kings compensation (57%) and healthcare / retirement benefits (58%).

Especially for younger workers (65%).
Those who are unemployed are less likely to prioritize career growth (51%).
To read more information on how Americans are finding, keeping, and leaving jobs — download this year's Job Seeker Nation Report here. The report was conducted by Zogby Analytics and surveyed over 1,500 U.S. adults.