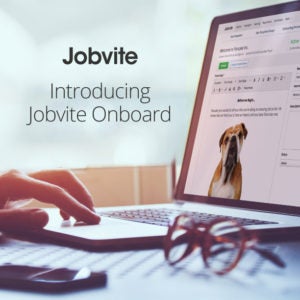 There was a time when recruiting success was defined almost solely by how many people were hired. Today, however, the best recruiters know that it's not just about filling requisitions — it's also about making sure that your top-notch talent sticks around for the long haul. Delivering a smooth process every step of the way, especially during the critical first few months of an employee's start date, is key to making employees at home. Often, this period of transition brings high potential for miscommunication, confusion, and frustration between new hires and the many different teams working to get them up to speed.  
Here at Jobvite, we believe it doesn't have to be that way. When new hires, recruiters, HR managers, hiring managers, IT personnel, and everyone involved in the process can all communicate and coordinate together, the onboarding experience is made immeasurably better. To that end, we're proud to announce the release of Jobvite Onboard: a new application within the Jobvite Platform specifically designed to help candidates complete onboarding activities with ease, while keeping all involved managers up-to-date on their progress.
Through Jobvite Onboard, new hires are guided through a structured, yet highly customizable workflow that can be tailored according to position, location, department, and more to help them get through the required onboarding tasks quickly and effectively. Additional features such as regular status updates, automation of processes like computer and seat assignments, and reminder notifications ensure that your team's newest members can get up and running as soon as possible, allowing for unprecedented efficiency and productivity.
Thankfully, our customers agree. "We really value our new hires, and we want to make their introduction to EMrecruits as smooth as possible," said Bobby Anson, VP at EMrecruits. "With Jobvite Onboard, it'll be easy for us to take someone from candidate to coworker without missing a step."
Other key features in Jobvite Onboard include:
Unlimited onboarding workflows

A mobile-optimized new hire portal

Built-in compliance with an I-9 and e-verify solution to streamline employee verification and is pre-loaded with over 140 other government forms

Enterprise-grade security with top-notch monitoring, encryption and data privacy technologies

Robust task management and status overview

Award winning customer support, with in-task communication support

Supports international languages (English US, English UK, French, French Canadian, German, and Spanish)
To learn more about Jobvite Onboard, click here.