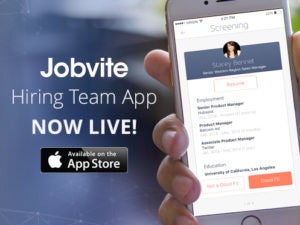 For many recruiters, the most difficult part of the job isn't the long hours, the steep hiring quotas, or the countless interviews: it's engaging with the hiring managers — and the entire hiring team — in the recruiting process. Things inevitably come up, hiring managers get busy, and it's tough to coordinate schedules, get them to make the time for interviews, and gather interview feedback. Needless to say, with all the best of intentions, hiring teams often slow down the recruiting process, which can result in losing the right candidate. Not a good scenario.
But when talent is what makes or breaks a business today, bringing recruiters, hiring managers, and interviewers together in a timely manner is critical. That's why Jobvite is excited to announce the general availability of the Jobvite Mobile Hiring Team app, designed to help recruiters accelerate the recruiting process, engage the entire hiring team, and collaborate on the go. The app, which works with Jobvite Hire,  gives the hiring team an easy way to screen candidates, review interview schedules, send messages to those involved in the process, and submit interview feedback — without typing a word. Plus, on that critical interview day, both recruiters and hiring teams can track who's interviewing the candidate at any given time within the app or through push notifications.
Although there are other mobile apps out there, this is the first one that has real-time collaboration capabilities built right in. Key features include:
Action-oriented activity stream to complete pending hiring tasks

Simple candidate screening tool to determine whether or not an applicant is a good fit

Robust, mobile-optimized candidate profiles to research talent on the go

Works with the iPhone keyboard to turn dictated interview feedback into text

Real-time interview schedules and day-of-interview alerts to ensure everyone is prepared

Powerful internal messaging system to ping your entire hiring team

Completely configurable evaluation forms to get the team's input
The Jobvite Mobile Hiring Team app is now available for iOS users. Download it from the App Store today.