Back in September, we shared the exciting news that G2 had awarded Jobvite with nine badges in its 2020 Fall Reports. Well, the Winter 2021 results are in, and they're better than ever! 
In addition, we've won two coveted Technology Excellence Awards in the Brandon Hall Group's annual Fall Technology program for 2020.
Read on for details! 
G2 Winter 2021 Honors
At Jobvite, we're committed to helping people and companies grow. Our customers have been generous with their feedback about our fully-integrated, end-to-end talent acquisition suite, sharing their positive experiences on sites like G2 and Trust Radius.  
Based on hundreds of those reviews, G2 has named Jobvite a "Leader" in 11 total categories in its Winter 2021 Reports — more than any of our competitors! These categories include:  
Applicant Tracking System (ATS)

 

Enterprise ATS

 

Mid-Market ATS

 

Candidate Relationship Management (CRM)

 

Enterprise CRM

 

Onboarding

 

Recruitment Marketing

 

Enterprise Recruitment Marketing

 

Mid-Market Recruitment Marketing 

 

Video Interviewing

 

Mid-Market Video Interviewing

 
We're thrilled to once again be named a Leader in our core competency, Applicant Tracking System — both in the overall category and the Enterprise and Mid-Market divisions. Our offering received high marks for Career Page Configuration, Job Posting, and Applicant Data Management. And despite the vast number of providers in this category, we've moved up in the rankings since the Fall 2020 Reports!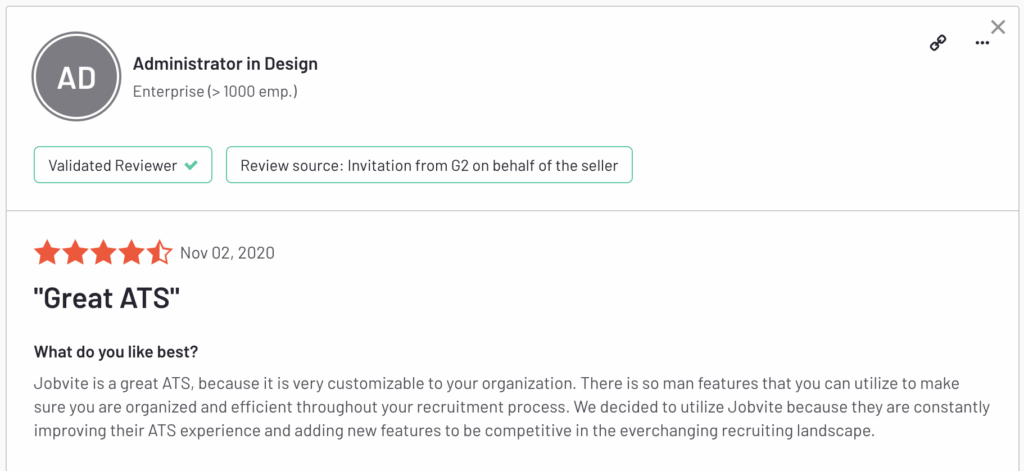 Candidate Relationship Management was another area of excellence, as Jobvite ranked #4 in the overall category and #2 among Enterprise providers — our first year being recognized in this division! Some of our customers' favorite features include our Cloud capabilities (93% satisfaction rating), Interoperability (90%), and Dashboard (89%).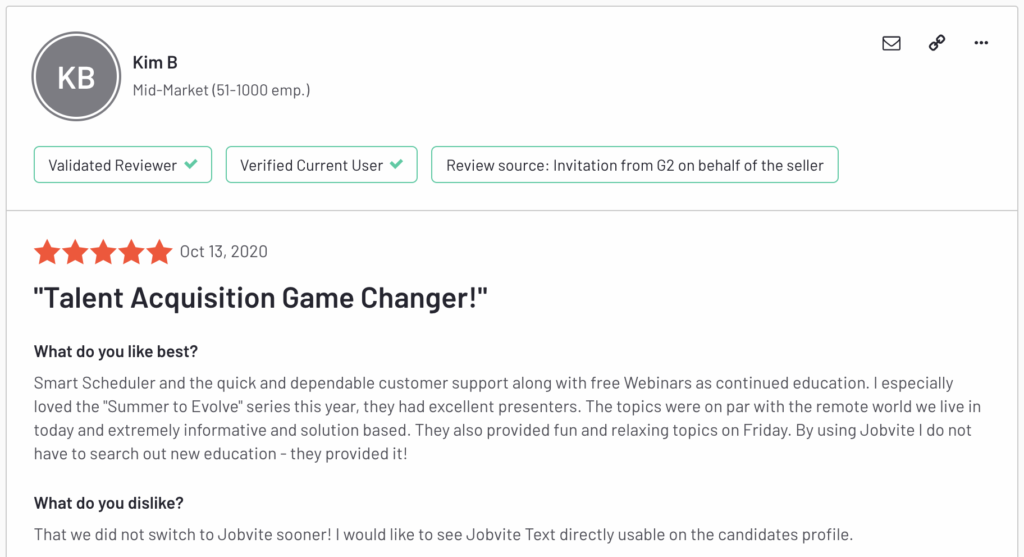 Jobvite received some of its highest ratings in Recruitment Marketing, where we were named a Leader both overall and in the Enterprise and Mid-Market divisions. In fact, 93% of customers rated us 4 or 5 stars for recruitment marketing! We received exceptionally high marks for our Employer Branding (95%), Social Recruiting (94%), and Digital Strategy (93%) — all above the average ratings for the category.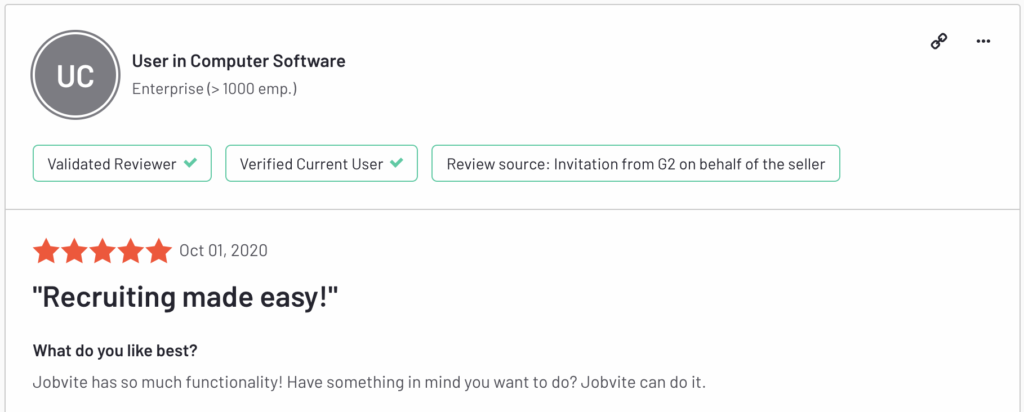 Rounding out our G2 badges, Jobvite was named a Leader for our capabilities in both Onboarding and Video Interviewing. Now more than ever, video interviewing is critical to the talent acquisition process — so we couldn't be happier to learn that 97% of customers rate us 4 or 5 stars, 94% believe our offering is heading in the right direction, and our Mobility capabilities received a 100% satisfaction rating.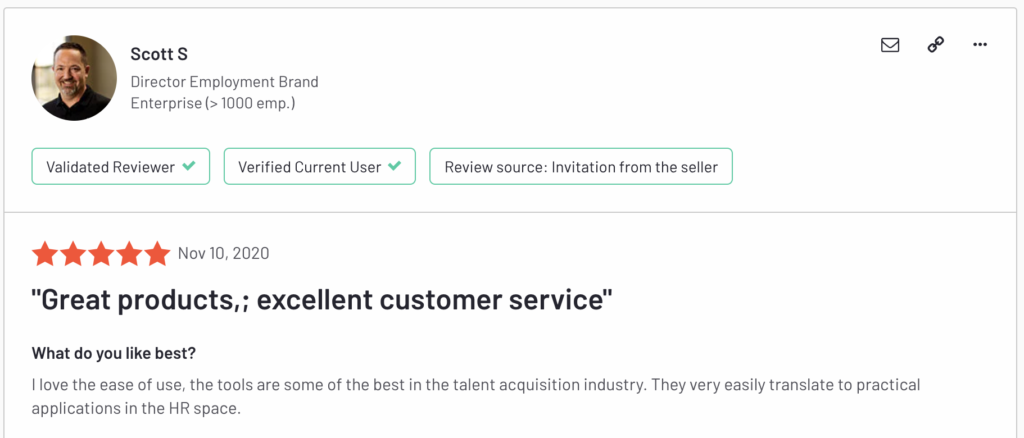 Recognition from Brandon Hall Group
The Brandon Hall Group's Excellence in Technology Awards recognize achievement in human capital management, highlight what's happening in the field, and share best practices by industry leaders. As ongoing disruptions force organizations to prepare for the future of work, the awards focus on the technologies, processes, systems and tools employers need to succeed. 
Jobvite was awarded two prizes in this year's Excellence in Technology competition: 
Gold award: 

Best Advance in Unique Talent Acquisition Technology

 

Silver award: 

Best Advance in Talent Acquisition Technology

 
Award winners are chosen for their unique differentiators, value propositions, and measurable results, as evaluated by a panel of industry experts and Brandon Hall Group analysts. Jobvite's winning entries highlighted our innovation in AI, automation, and analytics, as well as our proprietary EVOLVE Talent Acquisition Framework.  
We're honored to be viewed as a leader across so many facets of the talent acquisition journey — and we've got so much more to come. Jobvite has more exciting announcements in the works for 2021 and beyond. We can't wait to share them with you! 
To see more Jobvite reviews, check out our pages on G2 and Trust Radius. A full list of 2020 Excellence in Technology winners is available here.