This month we introduced the Jobvite Index which tracks actual social recruiting results.
For four years, we have conducted the Jobvite Social Recruiting Survey, polling human resources and recruitment professionals on their social recruiting activities and intentions.
But to discover the actual results for companies, we've introduced the Jobvite Index which aggregates social recruiting data drawn from Jobvite customers. Social recruiting applications by Jobvite are used by over 500 companies, such as Whole Foods Market, Starbucks Coffee Company, Zappos.com, Inc., Yelp and Etsy.
Social Networks Used for Recruiting
In the survey, we asked employers to report which networks they use for recruiting: 87% use LinkedIn for social recruiting (up from 78% last year), more than half (55%) use Facebook and 47% use Twitter. When asked 'through which of these networks have you successfully hired?' – a simple yes or no question – 95% said LinkedIn, 24% said Facebook and 16% said Twitter.
But with the Jobvite Index, we have data on the actual volume of social recruiting activities and resulting hires on each network. Over the last six months, data shows employers successfully hiring in the top three networks:
Overall, for all types of social recruiting – including direct sourcing and social referrals – LinkedIn is driving 73% of the hires, Facebook 20% and Twitter 7%.
When we look at social referral hires alone, we see employees of Jobvite customers using their social networks to generate referrals for jobs in their companies – and companies are hiring these referrals from all 3 networks: 43% of employee social referral hires on Jobvite came from Facebook; LinkedIn generated 41% and Twitter produced 16%.
LinkedIn users received 52% of all the social job referrals, while Facebook and Twitter each received 24%.
On the topic of employee referrals, the hiring data from the Jobvite Index supports the high rating this source gets for quality: 1 in 10 referral candidates are hired compared to 1 in 100 general applicants. That's why the use of employee social networks to supercharge referrals is so compelling.

Social Referrals Vary by Job Type
It gets interesting when we break down social referrals by job category to see how network use varies among those referring marketing jobs versus accounting jobs or engineering jobs.
On Facebook, where 24% of job referrals were shared overall, some job categories where shared a great deal more: 35% of marketing job referrals were shared here, 28% of customer support and 27% of internships.
On LinkedIn, where 52% of job referrals were shared overall, 67% of product management job referrals were shared, 63% of IT, 61% of Human Resources and 60% of operations.
On Twitter, where 24% of job referrals were shared overall, 32% of administrative job referrals were shared, 30% of accounting and finance and 25% of customer support.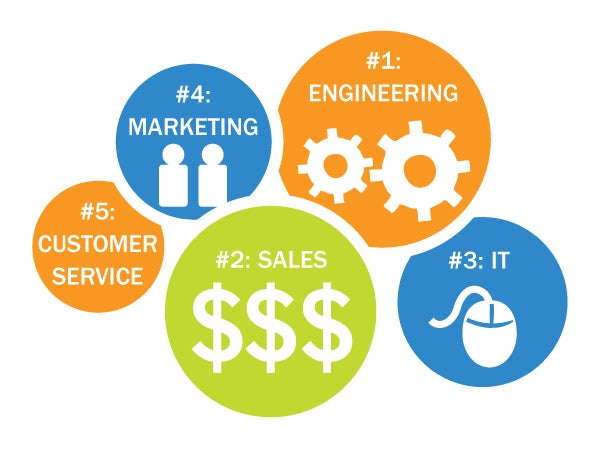 The debate about the value of LinkedIn vs. Facebook vs. Twitter is – for recruiting – somewhat moot. There isn't any value in putting all your eggs in any one basket, when you can just as easily use all three major networks…and beyond. Each network has a role to play in the recruiting process, and companies that want to win the war for talent will have them all in their arsenal. We'll publish the Jobvite Index regularly to see how social recruiting usage and results continue to develop.
For more details, see charts from the Jobvite Index on our site.