Almost exactly one year ago, Jobvite debuted our fully-integrated, end-to-end talent acquisition suite. But that was just the beginning!
Since then, we've continued to strengthen our commitment to helping companies recruit with purpose and hire with confidence. Through strategic acquisitions like Predictive Partner and Talentegy, as well as new offerings like our Diversity & Inclusion Pack, we've taken our solutions to the next level, ensuring that our customers have access to the most comprehensive, innovative talent acquisition platform on the market today.
Our customers have been generous about sharing their positive experiences with Jobvite on sites like G2 and Trust Radius. Based on their reviews and feedback, G2 has recognized Jobvite with badges in several categories in its Fall 2020 Reports, including:
ATS
Mid-Market ATS
Enterprise ATS
Recruitment Marketing
Mid-Market Recruitment Marketing
Onboarding
Enterprise Onboarding
Candidate Relationship Management
Video Interviewing
Following are a few details from the G2 Fall 2020 Reports, along with some of our favorite customer reviews.
Here's what G2 — and our customers — had to say
We're honored to be named a Leader in our core competency, Applicant Tracking System — both in the overall category and the Mid-Market and Enterprise divisions. Our offering received high marks for Job Posting, Hiring Processes Tracking, and Candidate Evaluations.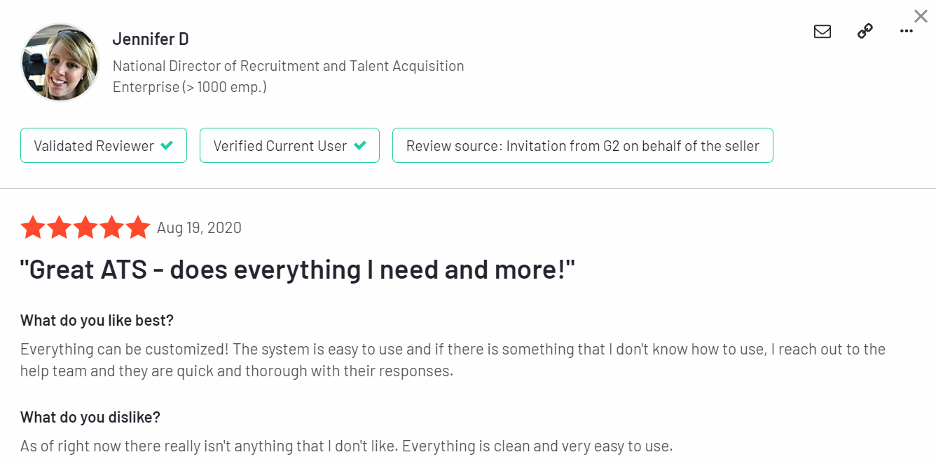 Jobvite's highest marks came in Recruitment Marketing, where we were named a Leader both overall and in the Mid-Market division. In fact, 93% of customers rated us 4 or 5 stars for recruitment marketing! We received exceptionally high marks for Employer Branding (97%), Integrations (96%), and Social Recruiting (95%) — all above the average ratings for the category.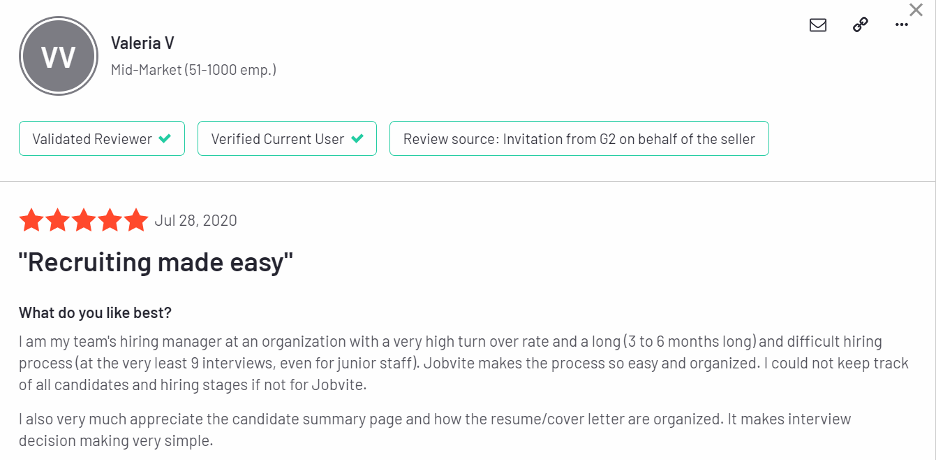 Onboarding was another area of recognition, as Jobvite was named a Leader in the overall category and a High Performer in the enterprise division. Some of our customers' favorite onboarding features included Automated Team Introductions (98%), Interview Scheduling (93%), and Offer Letter Approvals (93%).
Rounding out our G2 badges, Jobvite was named a Leader for our capabilities in both Candidate Relationship Management and Video Interviewing. Now more than ever, video interviewing is critical to the talent acquisition process — so we couldn't be happier to learn that 97% of customers rate us 4 or 5 stars in this area and 94% believe our offering is heading in the right direction.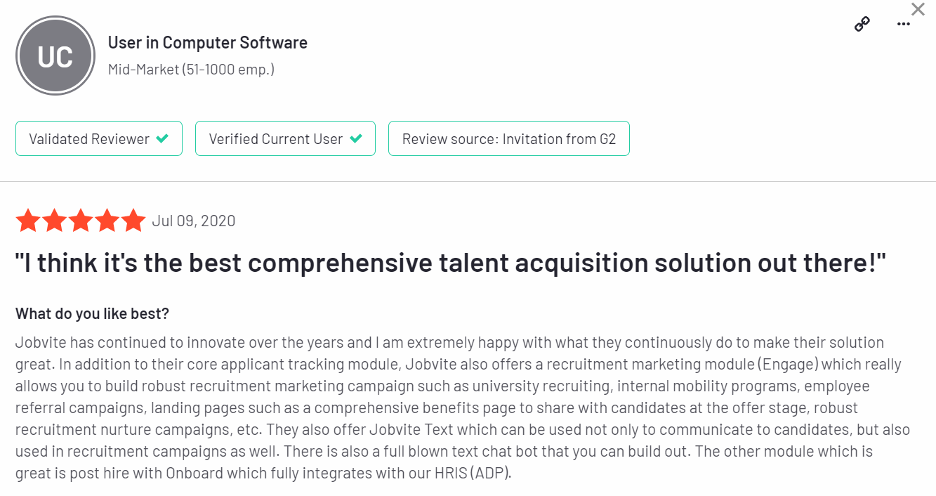 We're thrilled to once again be recognized as a leader by G2 — thanks to our amazing customers! We're also honored to be seen as a top provider across so many categories, which validates our commitment to supporting our customers throughout the entire talent acquisition journey.
To see more Jobvite reviews, check out our pages on G2 and Trust Radius.