Ask anyone. Candidate experience matters, particularly when starting a job search. It's about making sure that your employer brand and open positions find the right candidates at the right time.
That's why we are excited to share that we've partnered with Google by enabling all of our customers' job postings to appear in the new Google for Jobs search results, giving job seekers a much better search experience and our customers more access to great talent, on their turf.
Google is excited, too. Stacie Chan, the Global Product Partnerships lead in the Google Search group said, "Both Google and Jobvite are on a mission to improve the job seeker experience. Jobvite's collaboration with Google, and their deep expertise in candidate engagement has helped us develop Google for Jobs and this partnership is a natural extension of that early work."
Bad Search Results Means that Candidates Can't Find You, and You Both Miss Out
I was explaining this partnership to a friend and used this analogy. Imagine you're trying to find your daughter a local sports camp in your hometown. You start with a search engine and type 'sports camps near me.' Instead of what you asked for and expected, you receive hundreds of results about sports gear, clothing, tickets, and news—things related to sports—but not at all relevant to your specific search.
Both sides lose in this situation. You can't find a camp for your daughter and the sports camp misses out on having your daughter join, not to mention additional revenue.
This similar scenario is what job seekers have been experiencing until the launch of Google for Jobs.
What is Google for Jobs?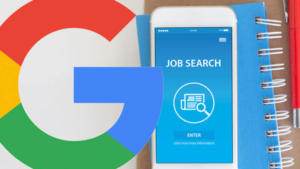 Google makes it easier for candidates to find the right job by aggregating job listings from career sites and job boards and displaying them prominently in Google search results. Through the Jobvite and Google partnership, any public posting that is created by a Jobvite customer will be automatically optimized and discoverable by job seekers using the Google for Jobs search tool—at no cost.
It's great for job seekers because they will experience:
A very familiar starting point for their initial job search, like any other Google search

More relevant job search results (i.e. based on type of job, skills, location proximity, salary, etc.)

A direct link to apply for the job on the company's career site (more on this below)
Organizations also benefit from this partnership because:
Job listings on Jobvite customers' career sites will now be displayed and searchable in the Google for Jobs search results

You'll get a bump in brand awareness and an increase in applications

Higher quality candidates will come through the door, based on their experience and location   
What does the experience look like?
Maria is trying to find a job as an Enterprise BI Architect in Irvine, CA. She searches for one with a standard Google search. The most relevant job postings near her will appear prominently in  the Google for Jobs widget search results.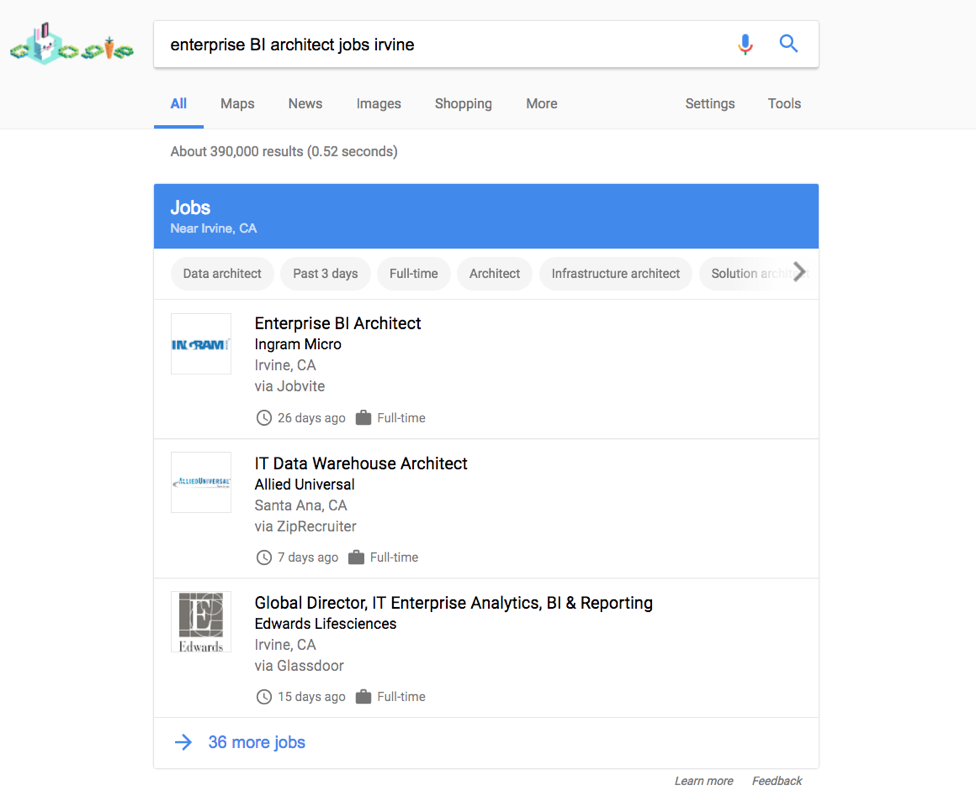 She then has the option to filter her results by title, location, posting date, type, and employer. At first glance, she seems to be interested in the top result—the Enterprise BI Architect role at Ingram Micro. She clicks on it and gets an extended view that tells her a little bit more about the role.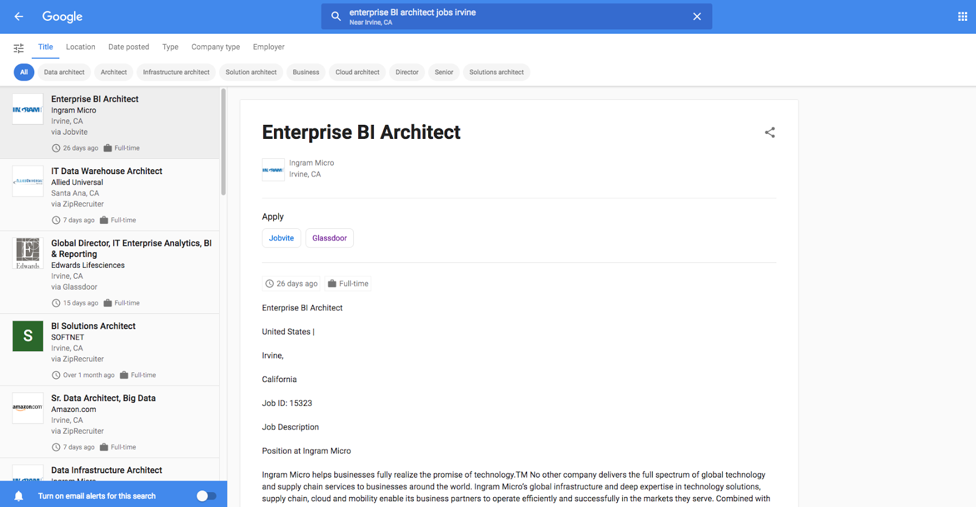 Oh yes, this sounds really interesting to her. She clicks on the blue 'Apply on Jobvite' button and it takes her to the Ingram Micro application page for that job. From there, she only has to put in a bit of information (no mandatory login), upload her resume, and click apply.
From the time she searched on Google for an Enterprise BI Architect role in Irvine to the time she completed the application process was just a few minutes. Oh, and it all works beautifully on mobile, too.

Speaking of Ingram Micro, Blake Wettstein, Sr. Talent Acquisition Program Manager at Ingram Micro is thrilled about the partnership. He said, "We're extremely excited about Jobvite's partnership with Google and how job seekers will now be able to find all our jobs with a simple search just like they would search for anything else on Google. But, it doesn't just stop there. When our job seekers come in to apply from Google for Jobs, we're able to keep engagement high and convert job seekers into applications with a beautiful, easy to use career website thanks to Jobvite Brand."
Thanks, Blake. Spot on. And tell Maria, who just joined your team, that Jobvite says hi.