Today we launched Jobvite Source and Jobvite Hire in the Google Apps Marketplace™, Google's recently launched online storefront for Google Apps™ products and services.This allows Google Apps customers to seamlessly access Jobvite products right from Google Apps. Google Apps is used by over 2 million businesses and now if they are looking for recruiting software, they need to look no further than the Google Apps Marketplace. Jobvite provides an integrated recruiting platform that helps Google Apps users manage the recruiting process.
Why is this important?
Jobvite was built with the belief that hiring is everyone's job in the organization and therefore everyone has a login to use Jobvite. Google Apps are used by millions each day as an essential part of their business. Now users sign in once, and can access Jobvite using the same links they use to navigate the Google Apps suite. Hiring managers and employees no longer have to remember yet another log in and password, they can just focus on helping the company find the best talent.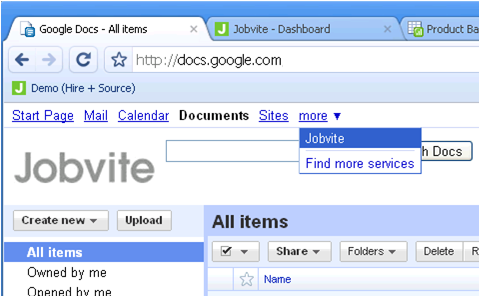 Google Apps provides businesses with key technology solutions that allows them to easily collaborate and share information. These organizations are growing fast and now they can seamlessly use Jobvite's leading recruitment solutions to grow their business while not slowing down for painful integration.
You can read the full press release here. There is also some blog coverage at ZDnet, Mashable, Venture Beat and TechCrunch.