Ever feel like recruiting is a race and you need to dash to the finish line, especially in today's competitive market? Then you'll love Jobvite's new Home Page Dashboard available now for Jobvite Hire customers. Our completely reimagined dashboard not only presents relevant information to recruiters, hiring managers and employees, but also makes it easy for you to take immediate action on tasks that matter—so you can get in, get things done fast, and move on.
Here's a little information about how the dashboard came about, how it works, and how you can use it to your greatest advantage.
Why build a dashboard?
We knew we needed to do something with the prime real estate every Jobvite Hire user sees upon login, and displaying a dashboard was a logical choice. The challenge was deciding just what kind of a dashboard made the most sense. We could see value in several options, including a strategic dashboard or an analytics display. But after much pondering within our team, and talking to our customers, we opted to build an operational dashboard, something that would help our users manage their day-to-day recruiting activities. And of course, we knew the final product would have to adhere to the three golden rules of any dashboard: It would need to be relevant, clutter-free, and customizable.
I am happy to say that, due to the fantastic efforts of our UX and Engineering teams, we have built a "Goldilocks" dashboard—one that's not too complex, not too trivial, but just right!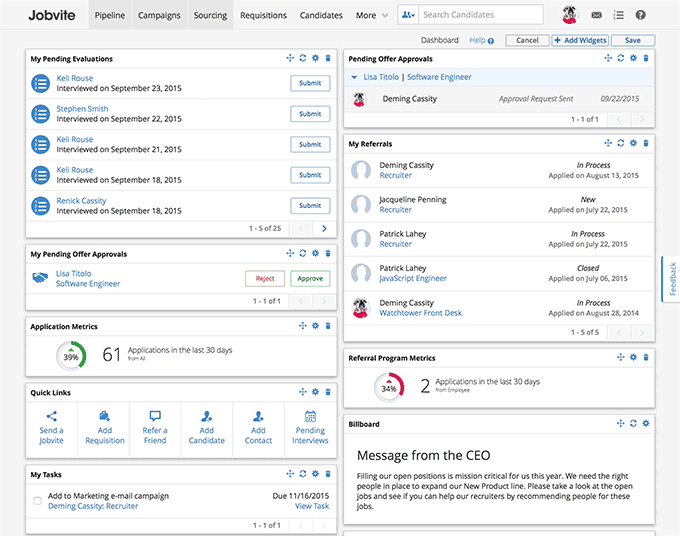 What does the dashboard do?
The dashboard, at its most basic level, consists of a set of widgets that are displayed to users based on their roles. Each role has a default set of widgets all laid out on a single page, but users also have access to a number of additional options from a Widget Library.
Examples include an "All Interviews" widget presented in calendar format, a "My Open Requisitions" widget, and a "My Referrals" widget.
The power of the dashboard, however, lies in the configuration, customization, and action oriented capabilities provided to users. Let me explain by sharing a few use cases.
You're a power recruiter managing multiple requisitions from different departments, and you need to prioritize where to focus. Simply add to your dashboard multiple "My Open Requisitions" widgets—they show the pipeline of candidates for your requisitions—and filter each by location, department, source, etc. For example, you'd use one widget to track Sales requisitions in New York, another widget to track Finance requisitions in San Francisco, and another widget to track all referral applications.
Or say you're a hiring manager, and you are interested in quickly and easily approving offers to candidates from your mobile phone while on the go. With the new dashboard, all you need to do is click on Approve in the "My Pending Offer Approvals" widget, and you're done. The entire dashboard is mobile-friendly, and you can approve or reject without ever having to leave the dashboard page.
Sometimes employees need to be able to refer candidates to an open job, or maybe even apply for an internal job themselves. For the former use case, add an "All Open Requisitions" widget to display external jobs only (so you can send Jobvites to referral candidates), and for the latter use case, add another widget to display internal jobs only (so you can evaluate an internal career move).
The layout of the dashboard itself is entirely customizable, in true drag-and-drop fashion. So if the first thing you do in the morning is look at upcoming interview schedules, just drag and drop the "All Interviews" widgets to the very top. If you want to get a quick update on the status of your referral candidates, move the "My Referrals" widget to the very top. Or if you don't use Jobvite's tasking system at all, delete the Tasks widget, or push it to the very bottom.
In short, we have designed a dashboard that, hopefully, anticipates the daily recruiting needs of our users, and provides a very easy way to take action on your critical tasks. We've also built a robust framework that easily lets us create widgets whenever a need arises. In fact, our mantra these days is, "There's a widget for that!"
Needless to say, we're excited about this new addition to your Jobvite system. We hope you are too, so let us know what you think!