Imagine that you are scheduling an onsite interview with a candidate who needs to meet with seven interviewers. You sift through each individual's limited availability. Trying to coordinate only one interviewer with one candidate can be difficult enough, but you also have to parse through a plethora of meeting rooms to find one that fits the 10 hour time block you are limited to. This is nothing new, as you are used to scheduling multiple candidates for multiple interviewers in multiple rooms. You're doing this not once or twice, but multiple times over several days.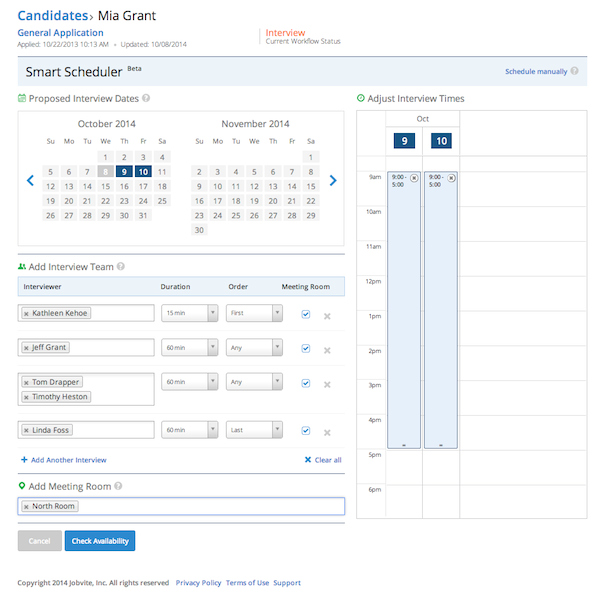 This paints a picture of the amount of time that scheduling interviews with candidates can take. Trying to schedule candidate interviewers can be a nightmare, but with Jobvite's Smart Scheduler it doesn't have to be. If you have either Google Calendar or are using our Outlook API then you can save countless hours sifting through a multitude of options. Thus, saving valuable time for those involved in the scheduling process.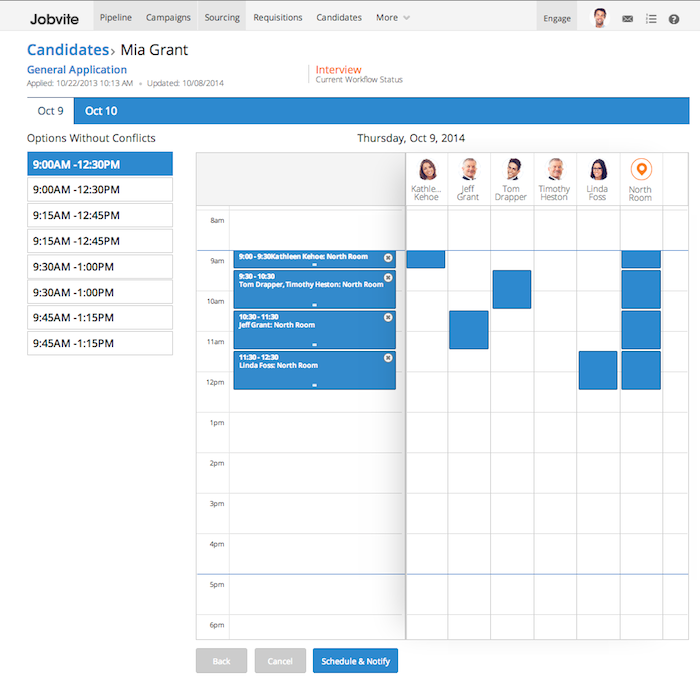 To use Smart Scheduler you simply plug in whom you need and when you need them; you can even specify who you want to greet the candidate or who should end the interview. The application goes over two hundred thousand permutations to find the best fit and gives you a plethora of options to choose from. If conflicts can't be avoided, the scheduling tool exposes options with the least amount of conflicts. It is a smart solution that makes scheduling much easier. If you are currently a Jobvite customer, you can access the scheduler by contacting your administrator to turn it on. For further instructions, access our community.