Introduction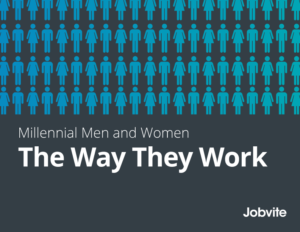 The differences between men and women have long been made into major hype — and now, a new generation is being subjected to comparisons and contrasts: millennials. If men are from Mars and women are from Venus, how does that all change when we look at millennial men and women — especially when it comes to how they work? What do we all have in common? What about this hype might actually be true?
New data from Jobvite, the industry leader in best-of-breed recruiting software, examines the differences between the work experience for millennial men and women: salary negotiation; side hustles; perk preferences; and more.
Exploring the Gender Pay Gap


It won't come as a surprise that women have historically gotten the short end of the stick in terms of salary trajectory. How are millennial men and women experiencing money differently today?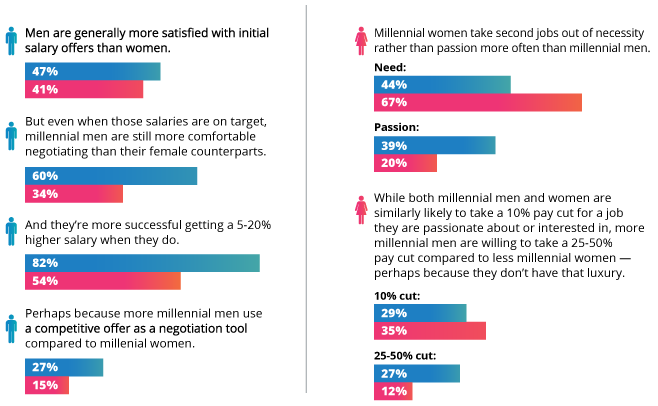 Culture, Perks, and Values
While perks like bean bag chairs and free lunch reign supreme in the modern workplace, benefits like salary and growth opportunities matter more to millennials than we usually give them credit for. Here's what millennial men and women value in a workplace.

Looking to the Future
In today's workplace economy, employee engagement is worth more than almost anything else. But millennials get a bad rep for being flighty — is there such thing as millennial engagement anymore? And how to they feel about their jobs in the future? Let's see how it differs by gender.

About the Study
On behalf of Jobvite, Zogby Analytics conducted a nationwide online survey of 2,287 adults (aged 18+), of whom 1,531 were participants in the U.S. labor force. Participants were screened based on their employment situation and attitude toward future career opportunities. The survey, Job Seeker Nation, included questions on current employment status, future career opportunities and workplace dynamics. The survey was fielded during March 2017. Respondents for this survey were invited to participate in the interactive Job Seeker Nation survey at random, from which this data was pulled from. Using information based on census data, voter registration figures, CIA fact books and exit polls, complex weighting techniques were used to best represent the demographics of the population being surveyed.