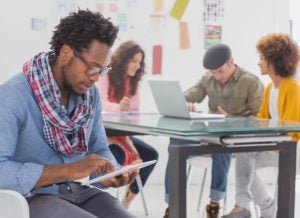 Today we announce the launch of the newest release of Jobvite Hire – and at the risk of sounding somewhat dramatic — I think this version of our already-popular applicant tracking system is truly revolutionary.  Despite the many advances in how people find, share and communicate on-line in the last few years, employers and job seekers still yearn for easier, more intuitive ways to connect. They want the kind of experiences they get every day from all of the "consumer" websites and applications they use everyday.  And, just as we have learned from last week's launch of the new iPhone 5, consumers have a "what-have-you-done-for-me-lately" need for newer, increasingly innovative features that make life truly easier and more delightful – and will rightfully complain when they don't get them.
We at Jobvite asked why the companies that make recruiting software and cloud services don't bother to meet these same consumer expectations.  So, we set out to do that very thing – create the same "out-of-the-new-package" glee one gets when they open their exciting new smartphone.  And, from what we are hearing from our first wave of customers, the new Jobvite Hire delivers on this promise like no other recruiting solution on the market today.
You can read all the details of the product announcement, but I'll summarize the key points:
We completely redesigned the user interface to provide a faster and more intuitive experience for recruiters and candidates alike.
We tailored the solution for seamless use across tablets, laptops, and smartphones.
We streamlined navigation and added other useful features like dynamic dashboards, activity feeds, scheduling assistants, and real-time analytics—so data is always where you expect it to be, right within the application.
We fully integrated social and collaborative tools, so candidates and recruiters can interact naturally.
In short, we have launched a new recruiting platform that not only everyone in your company can easily use – but will want to use.  Our founders' vision was simple.  Hiring is everyone's job.  I think this is a powerful idea.  First, more and more employees can now find the best candidates easily through their social network connections.   Secondly, recruiters are now responsible for supporting more and more hiring managers to fill their open positions with decreasing time and resources.  Finally, companies can ill afford to let top talent "fall through the cracks" of inattention and miscommunication when they are considering many opportunities at the same time.  In this hyper-connected, fast-moving environment, companies can only land the top talent fast enough by enlisting the reach and timely help from everyone in the organization.  I believe the new Jobvite Hire will enable this better than any recruiting solution available.
What you also get with this next-generation Jobvite Hire is something that our acquisition-happy industry has been lacking for some time: focus. Lately, we've heard a lot about super big companies buying out the smaller technology vendors in our industry.  After an initial period of chaos within the vendors organization and support services, what typically happens afterward is the acquired products are shoved into a larger "talent management suite" or bundle of loosely related, poorly integrated products.  Finally, all focus seems to move away from their on-going innovation toward the branding, marketing and selling of the whole product suite. No one's thinking about innovating within the applications anymore.
This (understandably) worries recruiters and hiring managers. While recruiting is most typically a "part" of Human Resources organizationally, it can be very different from the other HR functions.  Recruiting is a challenging mix of branding, marketing, sales, collaboration and analytics.  Recently, BCG released a study ranking recruiting as the HR function that can drive the most positive ROI to the company.  Which makes sense.  Getting the best talent in is crucial for building growth, culture and improving performance.  But, it is also the easiest business process to track progress.  In other words, if the open positions are not filled, everyone knows it – and it costs the company a great deal – and perhaps recruiters and hiring managers their jobs.
So, it is our mission at Jobvite to remain focused on helping recruiters, hiring managers – and applicants – the highest quality experience in a rapidly changing, interactive world.  I believe the new Jobvite Hire is a reminder to the broader HR software industry that focus matters when you're building technology. Without focus, you're likely to miss opportunities for innovation. And without focus, you're not close enough to your customers' challenges and opportunities to innovate in the first place. I believe Jobvite clearly understood, for example, that trends involving social media or touch-screen capabilities presented opportunities to simplify the hiring process and give candidates and recruiters features they would find instinctive—and consequently, more efficient. The ability to focus on and seize these opportunities is what distinguishes a best-of-breed company like Jobvite from the big conglomerates and "suites" trying to do everything all at once. Best-of-breed vendors are nimble, and we turn out on-point solutions.  We at Jobvite strongly believe that when you buy our product, you are not just buying what it is today, but what we will become.  For that reason, we will stay focused for you, the recruiters and hiring managers, to continually improve and innovate our products to help you build the best teams faster.
I want to thank all the Jobvite employees and customers who helped make the new Jobvite Hire possible.  We are all excited, and I hope you will be, as well, when you take a look.  I invite you to read more about the new Jobvite Hire and explore the ways we've put innovation to work for you.